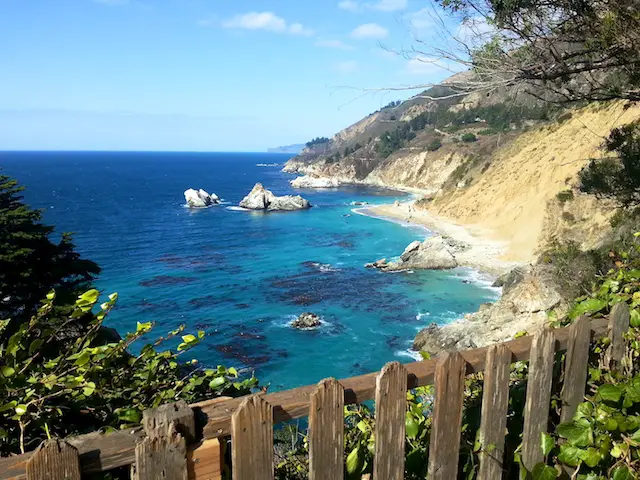 I'm planning a Big Sur road trip this summer," my grandma told me during one of her visits to our house in New Jersey.

"I want to go!" I burst out.  As a teenager, I was already 'California dreamin'."

She said, "let's do it!"
California Dreamin'
It was the summer between my junior and senior year of high school. I was about to turn 17-years-old and I was going to take my first trip to the west coast – a faraway land of sun and sand and cute California guys. It was a fantasyland that I'd only seen on TV an in movies. Although I wasn't sure if we would make good travel partners with me being more than fifty years her junior, but I really wanted to see California. So away we went.
Big Sur Road Trip
And now twenty some odd years later, I am finally back in beautiful California taking my own Big Sur road trip down Highway One.
This is where the western edge of the U.S. plunges dramatically into the sea. Here, Highway One, one of the country's most scenic drives, hugs craggy cliffs high above the ocean's rim.  Dramatic thousand-foot ledges drop off into the Pacific Ocean, stunning bridges span inconceivable chasms, and towering coastal Redwoods populate forests just uphill from the foamy sea. It's a wonderful mix of sea and forest air all in one dramatic and peaceful place.
Bixby Bridge
Bixby Bridge spans rainbow canyon and at 260 feet high, it is one of the world's highest single span bridges. Completed in 1932 for just over $200,000, it soars above the bottom of a steep canyon carved by Bixby Creek. The first time I was here, the frequent fog obscured most of my view…
McWay Falls
I was very excited to return to McWay Falls in Julie Pfeiffer Burns State Park, as it was one of the views I remembered most.  Why? Because as my love of photography grew in high school, I snapped a photo here with my Ricoh-XRM SLR that I was proud enough to use for my invitation to my exhibit at the Senior Art Show later that year. Check out the back of the card (the front was the photo) that was created on the first Mac I ever used in my art/photography class at Randolph High School. This was when Zaph Chancery was cool!
Where to Stay in Big Sur
I arrive in the dark of night, but I can already tell I love this place. The Ventana Big Sur grounds are landscaped in a way that seems natural, yet lovely. This is a special place where you come for those memorable occasions – honeymoons, anniversaries, milestone birthdays…and random blogger road trips like mine.
My 'Superior Fireplace' room is just the right combo of rustic and modern and feels like a little apartment. I love the natural stone tiles used in the shower and the cushy, comfy cloud-like bed. There's a wood-burning fireplace and an oversized tub nearly in the center of the room.
There's a fantastic restaurant on site, hiking trails, and two pools, one being clothing optional.
The Ventana Inn & Spa is smartly and respectfully carved into the forest. The property is meticulously landscaped and parts of the grounds have ocean overlooks while the rooms and cabin-suites are built around stately sequoia trees.
Read more about my stay at Ventana Big Sur.
Next up, I'll be heading into Carmel.
Disclosure: Samsung was responsible for my trip to California and for gifting me the Samsung Galaxy that shot some of the photos shown here.  As always the views expressed here are my own and do not reflect the views of Samsung.