Phnom Penh was a dusty and extremely hot city with the same Southeast Asian mix of tuk tuk and motorbike drivers competing for my rear end that I'd encountered in Vietnam. The city has come a long way since Pol Pot and had a lovely riverfront lined with many European-style alfresco cafes where you could sit under a refreshing fan and sip an iced latte.
But the primary tourist stop on most travelers' agendas in Cambodia is Siem Reap, which is home to some of the world's most amazing and best preserved temples including some that are nearly 1,000 years old.
The granddaddy of them all is Angkor Wat ('wat' means temple). One of the man-made wonders of the world (vote now for your 7 wonders!), Angkor Wat was a temple built for King Suryavarman II in the early 12th century as his state temple and capital city. It is the only temple here to have remained a significant religious center — first Hindu, then Buddhist — since its foundation. The temple has become a symbol of Cambodia, appearing on its national flag, and it is the country's prime attraction for visitors.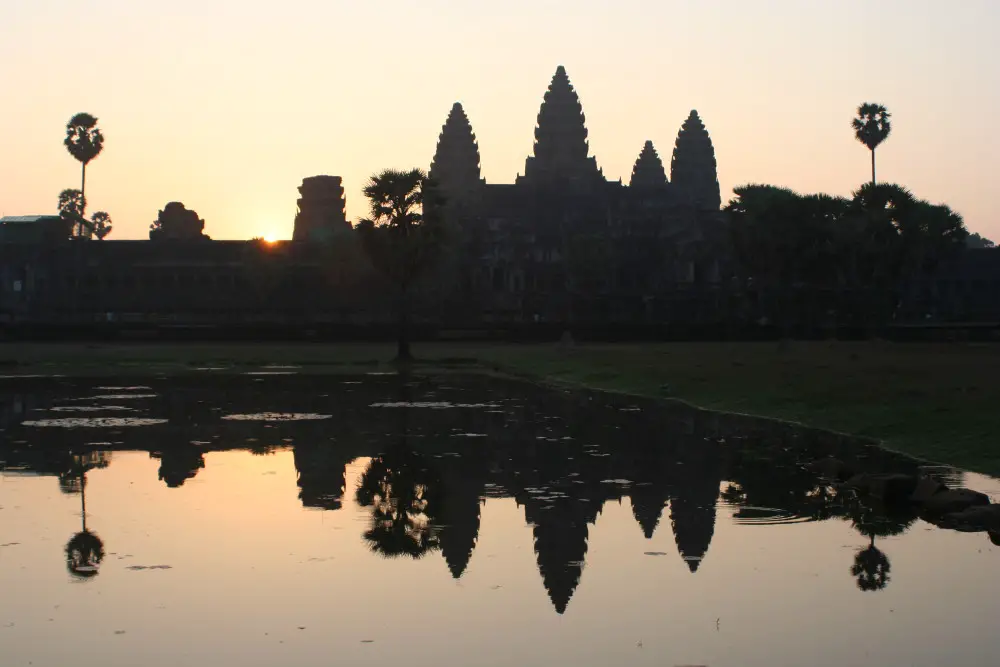 Although Angkor Wat was breathtaking and obviously grand, my favorite temple was Ta Prohm. The Ta Prohm temple is the only one where the forest and trees are being allowed to grow freely in and around the structure. Snarly roots wind around stone pillars and doorways adding to the beauty and eerie 'ancient-ness' of it all.
The site was home to more than 12,500 people (including 18 high priests and 615 dancers), with 80,000 in surrounding villages helping to supply the institution. After the fall of the Khmer empire, the temple fell into neglect for centuries. When the effort to conserve and restore the temples of Angkor began in the early 20th century, Ta Prohm was chosen to be left largely as it was found.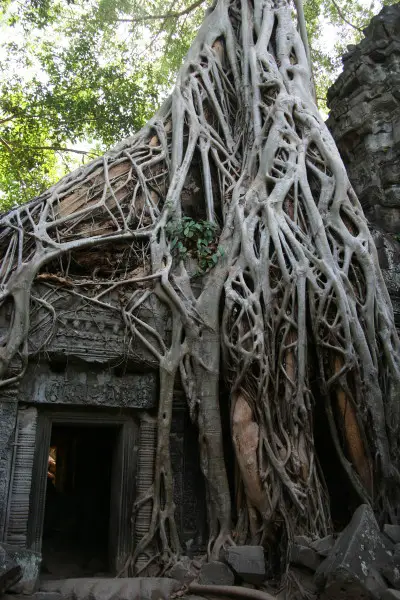 You may recognize the temple by it's new nickname–the "Angelina Jolie Temple" thanks to her not exactly Oscar-worthy film, Tomb Raider. Parts of the movie were shot around this temple in the jungle where nature and man mix together in beautiful harmony. Incidentally, Angelina has since adopted a child (cute and often Mohawk-haired, Maddux) from Siem Reap.