[updated December  2019]
Turkish men can charm the pants off you…literally. So be careful! While mostly harmless, their romantic and flirtatious ways can go a bit too far for the unsuspecting traveler. And in some cases, an Istanbul man may have ulterior motives.
On my first few days in Istanbul, I had a bit of trouble really "seeing" the city because I could not walk two blocks without Turkish men stopping me to "chat." They are very suave and charming (and yes, quite good-looking) so it's kinda hard to be rude.
Turkish Men
Turkish men pretty much all fall into the "tall, dark, and handsome" category with their sunken, dark eyes, espresso-colored, coiffed hair, and unabashed confidence. Of course, this is not all Turkish men, just many that work in hospitality.
Most Istanbul men that you will encounter are in the tourism business. They are sharp-dressed restaurant hustlers who want you to come inside and eat, or carpet shop owners looking to get another "genuine" handmade rug off their hands, but it may not stop there. Many feel that western women are on vacation and are looking to 'let their hair down' a little and have fun. The men here wouldn't think this way if they hadn't already experienced it (or at least seen too many Hollywood films).
You're an adult, so you can make your own decisions, but if you are looking for a relationship, this is likely not what they want. Hopefully this will prepare you, so you know that when approached for tea, etc it is: A. it's pretty normal, and B. it's pretty harmless for the most part. But it's often best if you simply say "no, thank you" and be on your way.
Read More: Learn about the best neighborhoods to visit in Istanbul
Istanbul Men Hard Sell
From my experiences in Istanbul, I can tell you that Turkish men can be VERY persistent. This does not mean of course that all Turkish men are this way. I am merely stating my own experiences when encountering Turkish men in Istanbul who mostly worked in the tourism industry dealing with and selling to Westerners all day.
While simply walking around and encountering a man in Istanbul, it goes a little something like this: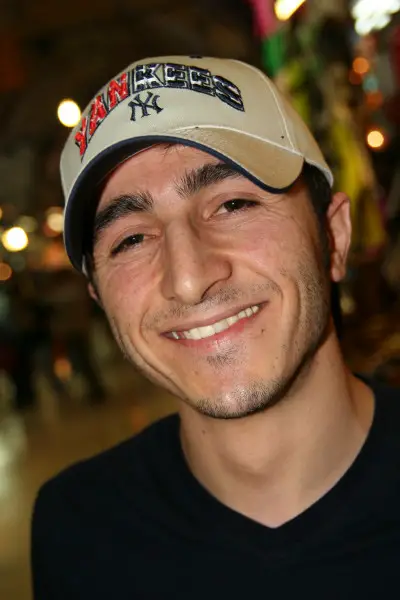 Turkish man: "Hello."
Me: "Hi."
Turkish man: "Where are you from?"
Me: "Chicago, USA."
Turkish man: "Ah, American. Michael Jordan. Obama. Where are you going?"
Me: "Just walking this way."
Turkish man: "Can I just ask you a question?"
Me: "No, I don't want a Turkish rug" or "I just ate."
Turkish man: "Would you like some tea?"
Me: "No, thank you."
Turkish man: "No, I just want to talk to you… you are so beautiful. How about some tea or coffee?"
Would you like some tea?
My first day walking around I wasn't completely hardened yet and definitely had trouble saying no, thank you in Turkish…so I drank a lot of tea.
I had tea in the morning with some random middle-aged, gray-haired carpet salesman (who actually lives in New Jersey part of the year). He asked me to dinner, but I said no.
Then I met another carpet guy who wanted me to chat and have tea, but I said no.
Then I met an Egyptian cardiologist who lives in Dubai (where I just came from) who is here for business. He just asked me to take a photo, so, I said yes (see, he doesn't really fit this equation. He was from Dubai—totally harmless).
Then while looking for a place to have a quiet, relaxing lunch, a cute guy offered me a mixed mezze platter (Turkish appetizers) that I couldn't refuse. And, of course, while I dined alone, he chatted me up and asked me to go for coffee during his break.
I said yes. :O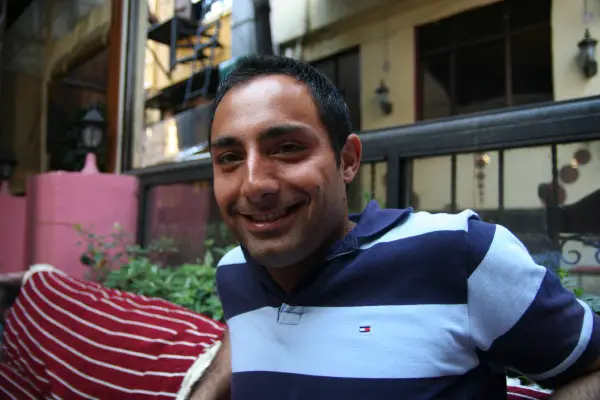 I guess I let my guard down. If nothing else, Istanbul men are keeping me quite caffeinated; I've never been more alert! In Southeast Asia, the poor salesladies badger and guilt you into buying something. Here in Turkey, the dark, sexy Turkish men charm and seduce you into buying something… or more. And, of course, they are all single… I'm sure.
Read More: What and Where to Eat in Istanbul
Tips for Dealing with Male Attention in Istanbul
Okay, in all seriousness, the unwanted attention can get to you. I actually lived in Istanbul for three months so I got used to it and also learned to deal with it better. Here are a few tips to help you navigate the persistence of Turkish men:
Just say no. The best thing to that helped me was learning to say "no, thank you" in Turkish. You can say either: Hayir sağol (high-yer sa-ool) or Hayir, teşekkür ederim (high-yer tesh-eh-kur e-der-em). And if that looks hard, check out my post on the easy way to learn how to say thank you in Turkish.  I found that knowing a little bit of Turkish disarmed them. Although be warned, some times it intrigued them even more!
 As North Americans it's our nature to 'be nice' and smile. Please be very aware of this because in other countries, it is often not the norm. A friendly, smiling woman who makes eye contact could be taken the wrong way. It could seem like an invitation to some men. It's just the way it is. Remember: your culture is not everyone else's culture.
Be firm. If you mean no, stick to it and walk on. Don't feel bad or try to toe some line — it will just cause confusion and in turn more pursuit.
Keep  your wits about you, but know that most of it is harmless chatter. These are sales guys doing their job. And their job is to get you into their shop looking at rugs or into their restaurant eating their doner kabab. They do this all day long and it often works with friendly tourists. You won't be insulting them…unless you literally insult them.
Hopefully you can move past this phase and actually make some local friends as I did. In general, Turkish men are more likely to be a bit domineering, but can also be very caring, attentive, family-focused, and devoted.