My very first trip to Europe (or anywhere abroad for that matter) was in 1996. My good friend Katie was living in the UK and invited me to come travel with her for three weeks. I'm forever grateful for her invite and that I said 'yes' as it set in motion the beginnings of a huge addiction not just to travel, but also a broader desire to experience new foods, culture, and people.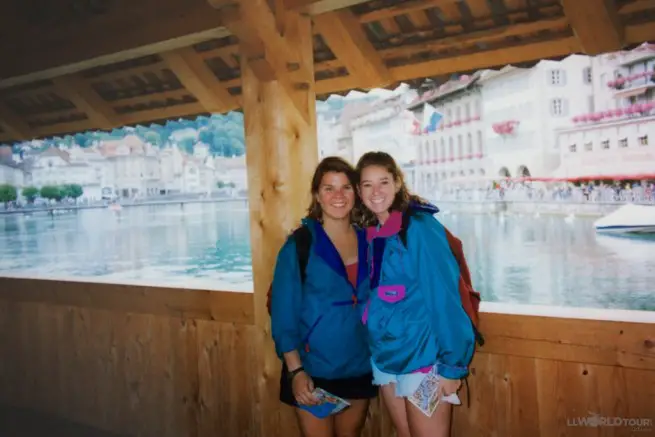 Eurail Pass Benefits
I bought a new backpack, pored over my thick, dog-eared "Let's Go" guide of Europe and bought my first Eurail Pass. Now, nearly 20 years later, there are still a plethora of Eurail pass benefits and it is still one of the best ways to get around Europe. With the plethora of low-cost air carriers, it's not necessarily always the cheapest way depending on how many places you are trying to see, but there's really no better way to experience the European countryside while relaxing with your thoughts at the same time.
Travel By Train
Traveling by train is still romantic and exciting at the same time. I love to watch charming, centuries-old villages zoom by outside the panoramic windows, or the snow-capped Alps just coming into view, or even that typical "hanging laundry" scene I always see in Europe. Plus I love the relaxing aspect of a "train travel" day to do some writing, do some gazing, and just to slow things down in between busy sightseeing days to collect my thoughts.
Cool Video from Eurail
Click here
to see this video on YouTube.
8 Reasons to Travel with A Eurail Pass
Freedom: Eurail Passes are synonymous with borderless travel. You can travel whenever you want, wherever you want across 28 European countries.
Flexibility: As a pass holder, you can take as many trains as you want on each travel day and adjust your itinerary to suit your needs.
Easy: One of my favorite benefits is the fact that with the train, you travel right into the heart of each city center, often walking distance to your hotel. No need to schlep an hour outside of town like you have to for the airport, where you also have to budget extra time for security and waiting to board the plane. Plus no extra luggage fees!
Variety: Eurail is a gateway to exploring the geographical, historical and cultural richness of Europe first-hand. There are several kinds of passes that are suitable for any kind of travel plan.
Environmental-Friendliness: Trains are often seen as one of the most environmentally friendly means of transport.
Authenticity: Traveling by train instantly immerses you in the cultural fabric of society. Few − if any − other modes of travel give a more authentic or romantic experience.
Meeting New People: Trains are the perfect way to travel around Europe from one city center to the next meeting new people, travelers and residents alike, from all over the world.
Extra Benefits: Eurail also entitles you to various other pass benefits including discounted and free transportation services, ferry crossings, accommodations, attractions and city tours.
Check out this list by post by Probe Around the Globe for even more reasons to travel by train across Europe.
Your Eurail Pass Primer
What Type of Pass do I Need?
A Eurail Pass, comes in a few different flavors so you can pick that one that suits you best. If you only plan to use a train a few times, it might be best to just buy regular one-way tickets. But if you plan to move around a lot, this is when a pass comes in handy.
There are currently four different types of passes for use by non-Europeans. Each one has choices of how many days you can use it.
Eurail Global Pass, for travel in 28 countries
Eurail Select Pass, for travel in 4 countries
Eurail Regional Pass, for travel in 2 countries
Eurail One Country Pass, for travel in 1 country

Where Can I go?
When I first went to Europe, there were only something like 17 countries covered. Today there are 28.
The current Eurail countries are: Austria, Belgium, Bulgaria, Bosnia-Herzegovina, Croatia, Czech Republic, Denmark, Finland, France, Germany, Greece, Hungary, Ireland, Italy, Luxembourg, Montenegro, Netherlands, Norway, Poland, Portugal, Romania, Serbia, Slovakia, Slovenia, Spain, Sweden, Switzerland and Turkey.
Tip: Take an overnight train to go farther and save on hotel costs by sleeping on the train. Get all the details on types of sleeper cars, costs, and safety from the Amateur Traveler's post on How to Use European Night Trains. 
What's New 
New Global Pass
5 countries in 10 days: This option gives customers five travel days anywhere within a 10-day span to visit non-bordering countries of their choice.
Kids are now FREE
Children ages 4 to 11 can ride for free with a family member or friend who is traveling on an Adult Eurail Pass. Up to two children per adult can travel free.
New 1st Class Youth Pass
Traveling with children or friends in the 12-to-25 age group has become easier with the introduction of the first-class Youth Pass. This pass was previously only available in second class. The first-class Youth Pass is now for sale at a 20% discount from the adult cost, so everyone can enjoy the journey together in first-class comfort.
Where are Eurail Passes sold?
The "Eurail" name is like a huge umbrella over all the different rail networks all throughout Europe. Each country and network has their own "way" of doing things, but Eurail sort of links all of this together for you.
Eurail Passes are available from a worldwide network of Authorized General Sales Agents.  They are also available from your local travel agent. Go to their main site for more info.
Rail Planner App
Also, if you do plan to do any train travel, download the new Rail Planner App. It still has the schedules in it even if you are offline. I like that!