Bosnia's capital is the culinary center of the country. From burgers to authentic Bosnian food, here's a guide to the best restaurants in Sarajevo!
It's no secret that people of Bosnia and Herzegovina love to eat. Food is a very important part of their tradition and culture, and that is best observed in Sarajevo. Bosnia's capital city is also the culinary center of the country.
Sure, we are not talking about a culinary hotspot like London with their extensive choice of restaurants. But there's certainly no shortage of restaurants in Sarajevo. From fast food and barbecue joints, to upscale restaurants and gastro pubs – there's at least one of each in every single neighbourhood in the city. But it's not always easy to tell which ones are actually worth visiting, which is why you need our help.
From fusion cuisine to authentic Bosnian dishes – here's an insider guide to six of the best restaurants in Sarajevo!
Bon Appetit
Bon Appetit is easily our favorite restaurant in Sarajevo. It's a small, moderately priced restaurant, located a couple minutes away from the Alta shopping center.
We have to recommend the chicken with fried gnocchi and smoked cheese sauce as your first dish here. The funny thing is that this is one of the cheapest dishes they offer, but it is also one of their best. Because, who can say no to juicy chicken, homemade gnocchi and stretchy cheese, served with fresh rocket on top? It's the dish that got us hooked on this amazing restaurant, and we guarantee you won't regret trying it.
Of course, there's lots of other delicacies to be had here. We've also tried their turkey steak with a side of freekeh salad, which was an absolute delight. And let's not forget about the beefsteak salad – our favorite, refreshing meal during hot Sarajevo summers. But it's definitely the gnocchi that had us coming back to this restaurant over and over again.
Mala Kuhinja
For an exquisite meal, head to Mala Kuhinja, one of the best restaurants in Sarajevo. This restaurant is located in the city center, just some five minutes away from BBI shopping center – the usual meeting spot for most Sarajevans heading into town.
Mala Kuhinja is a fusion cuisine restaurant. The chefs combine techniques and ingredients from different international cuisines, which allows them to achieve unique flavors. And you can actually observe them prepare your food – glass separates the kitchen from the seating area, allowing visitors to see exactly how a dish is prepared. Which is about a hundred times more interesting when the chefs are flambéing something.
This restaurant is unique because they don't have a menu. Instead, the waiter will ask you what you are in the mood for – fish, meat or veggies? You can then choose a side dish, and ask for any ingredients you want to have in the dish. We love this customized approach to dining out, since it ensures that you will enjoy the food that's on your plate. We had chicken fillets broiled with cheese, served with grilled veggies and a side of crispy potatoes, and it was easily the best dish we tasted this year. Couple that with a bottle of red, and you're in for a proper fine dining experience!
Burger Bar
There are a lot of places in Sarajevo where you can have great burgers. Some of the favorite local spots are the cheap barbecue joints that serve sinfully greasy burgers. They're great if you want to feel amazing for five minutes and then hate yourself for the rest of the day. But none of them come close to Burger Bar.
Burger Bar is a joint in Sarajevo city center, which serves some of the best burgers in the city. We keep coming back here for their wasabi and mayo sauce, which goes incredibly well with their American Wedges (crispy potatoes).
And the burgers are even better than you expect. The meat is fresh, fried to perfection and incredibly juicy. You have to try their American Dream veal burger with caramelized onion – its only fault is that you will eventually finish it. And if you're feeling brave, try The Firehouse burger. It is served with a roasted chili pepper, and it is so spicy that it had us crying and chewing at the same time. But we powered through and finished the whole thing – the cold draft beer helped put out the burn.
Mrvica Cafe Bakery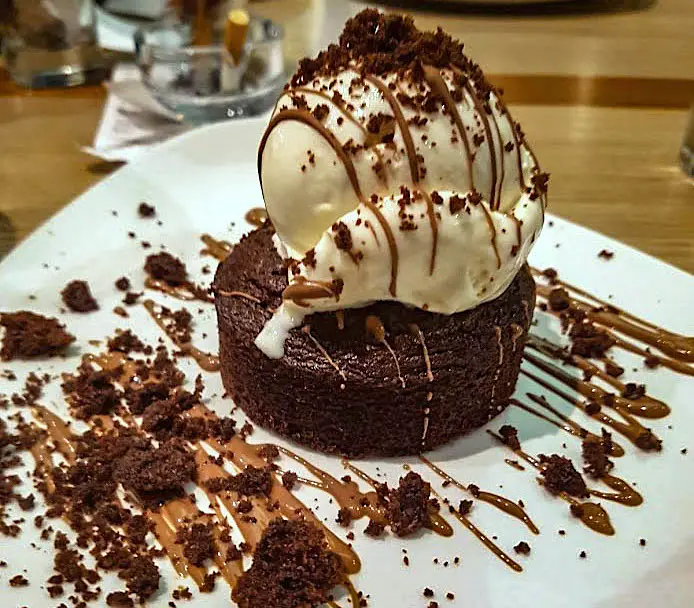 If you're craving delicious desserts, Mrvica is the best destination for you. Even though it's not a proper restaurant, the cafe bakery that has the best macarons in the city deserves an honorary mention. Especially because you can have a proper meal here.
It's a great spot for everyone, whether you just want to sit down for a cup of coffee or have a quick lunch. The cafe bakery serves all sorts of chocolaty goodness; our favorite desserts are the creamy triple chocolate cake that just melts in your mouth, and the hot brownie that is served with a scoop of ice cream on top, which melts all over it.
Mrvica is also a great place for breakfast or lunch. They have excellent savory dishes as well, ranging from all sorts of breakfasts and sandwiches to some of the best salads you can have in the city. If you love spicy food, you have to try their sweet chili chicken salad – it is absolutely amazing. And the portions are rather huge, making it almost impossible to actually finish an entire salad.
Zmaj
You can't go to Sarajevo and not try ćevapi – it would be like visiting Paris, and not going to see the Eiffel Tower. Ćevapi are minced meat kebabs, served with chopped onion and somun (flatbread). The individual kebabs are finger sized, and depending on the size of the dish you order, you can get 5, 10 or 15 of them.
You can have ćevapi in any ćevabdžinica in the city. Those are barbecue joints that mostly serve ćevapi, but other dishes with grilled meat as well. And while it's impossible to say which ćevabdžinica is the best in the city (because we don't want to anger people), you'll find that most Sarajevans agree that Zmaj is one of the top three.
This restaurant is going to be paradise for meat lovers. You can have virtually any kind of grilled meat that exists, including sausages, chicken fillets, burgers and steaks. But we recommend that you try ćevapi before you think about trying anything else. Order 10 of them in half a flatbread, with extra chopped onions and a side of kajmak – you'll thank us later for the insider tip.
 The Singing Nettle
Enough with the international restaurants, fusion cuisine and fast food joints. Let's talk about a restaurant that serves authentic Bosnian dishes, and that easily wipes out all the competition. The Singing Nettle is a traditional Bosnian cuisine restaurant, just two minutes away from Sarajevo's Sacred Heart Cathedral.
We don't have a photo for this one because we were so incredibly hungry when we were here that stopping to take a photo was not a luxury we could afford. Actually, we devoured the entire Sahan "Žara iz duvara"  in about 10 minutes – considering the amount of food on the plate, we should have gotten an award.
Bosnian cuisine is very meat heavy – most dishes call for stuffing various vegetables with ground meat. However, The Singing Nettle serves vegetarian and vegan versions of traditional Bosnian dishes, making it the best place in the city for those of you don't eat meat. As you can guess from the name, a lot of their dishes have nettle as the star ingredient. We particularly loved their ravioli with nettle (vegetarian version of traditional 'klepe'), and the vegan dolma.
Where to Stay in Sarajevo
Pin it for later!
Author bio: Mike is addicted to both adventure and travel, so decided to combine the two to form TheAdventourist. There he shares his journey from one adrenaline rush to another, always exploring new places as he goes. You can find him sharing his travels on Facebook.