During all the years I lived in Chicago (ugh…I still don't like that that is past tense!), it was hard to leave the city to see other areas of the Midwest when there was still so much to see in the city!
But I did eventually take some road trips from Chicago and you know what? There's a lot to love about the Midwest! I've been pleasantly surprised by vibrant cities like Indianapolis and Milwaukee, which are both experiencing renaissances. But what about some other midwest getaways?
From Michigan to Wisconsin to Indiana, here are some of the best weekend trips from Chicago!
Holland, Michigan
2.5-hour drive from Chicago
At just two and a half hours from the Loop, Holland is one of the easiest and best weekend trips from Chicago. From the award-winning downtown to the white sandy beaches, Holland is brimming with small-town charm and big-city amenities with a touch of the Netherlands. You can browse downtown boutiques and galleries, hit one of the best farmers markets in the state, dine along the waterfront and visit local distilleries and breweries, hike to the top of a sand dune or climb to the top of a Dutch windmill, and go sailing and catch the brilliant sunset over Lake Michigan. Plus, don't miss all the nearby trails and views at nearby Holland State Park.
Where to Stay
City Flats Hotel – hip, eco-friendly, LEED Certified boutique hotel
Traverse City, Michigan
(the next three destinations could be combined in the same road trip)
5-hour drive from Chicago
Traverse City's small-town lakeshore charm and art deco architecture make it one of the best road trips from Chicago and a perfect gateway to Northern Michigan's breathtaking sights. Stop in for a glass of beer or wine at one of the many famous wineries and brewpubs, like Mari Vineyards or Mackinaw Brewing Company. One of my favorite breweries was Hop Lot Brewing Company in Sutton's Bay.
Dine at some of Michigan's best restaurants. Take in art at galleries and museums, and enjoy beach strolls before heading into the wilderness.
From Traverse City's quaint streets, you can head north and explore the Leelanau Peninsula, or veer west to Sleeping Bear Dunes National Lakeshore, one of the country's best stretches of shoreline, with incredible dunes and westerly views revealing some of the best sunsets east of the Mississippi. You're also within a stone's throw of the coastal M-22, one of the most scenic drives in America.
Where to Stay:
Tamarack Lodge – a resort-like hotel offering luxury waterfront accommodations
Charlevoix, Michigan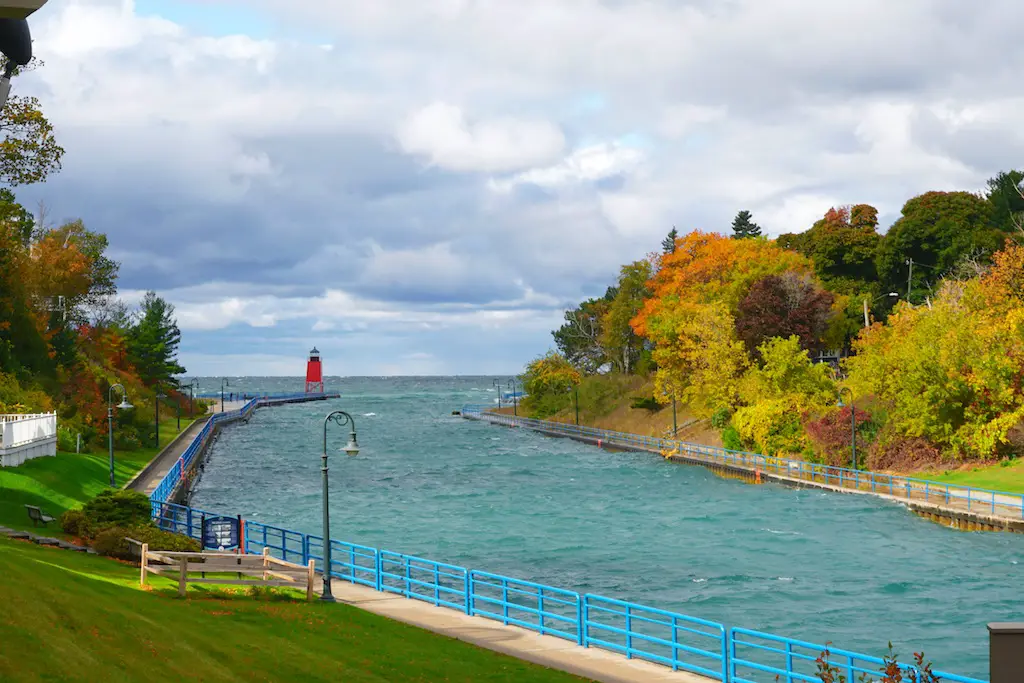 5.5-hour drive from Chicago
Charlevoix is an artsy little beach town filled with galleries, boutiques, and local restaurants. You can walk the Charlevoix South Pier to the lighthouse at the end or bike down the 26-mile Little Traverse Wheelway rail-to-trail bike path. Hunt for Petoskey stones — fossilized coral rocks exclusive to Michigan — at Fisherman's Island State Park. Take a day trip out to Beaver Island, the largest island in Lake Michigan with over 100 miles of hiking trails and pristine waters for kayaking. Check out the architectural "Mushroom Houses" of Charlevoix, which look like hobbit huts. Plus, thanks to the area's low levels of light pollution and dark night skies, the stargazing is wondrous. Watch the stars, Northern Lights, Milky Way, and meteor showers.
Where to Stay
Inn at Bay Harbor, An Autograph Collection Hotel – a resort destination in itself
Hotel Earl – brand new, mid-century modern, lux boutique hotel
Airbnbs:
➙ Need a place to stay? Use my airbnb link for up to $40 off your first stay!
➙ Need an easy way to get around? Sign up for Uber or Lyft and get up to $10 in ride credits!
➙ Take a local tour in Michigan with Get Your Guide, offering unique city tours all over the world.
Harbor Springs, Michigan
6-hour drive from Chicago
Harbor Springs can also be a day trip from Traverse City or Charlevoix. Situated on a beautiful natural, deep harbor, this tiny, waterfront community has a wonderful downtown business district with shopping and dining overlooking the water. Four seasons of outdoor fun offer amazing opportunities for families.  View the beautiful fall colors and drive the famous Tunnel of Trees on M-119 north of town, which provides a stunning drive along bluffs overlooking Lake Michigan.
Lake Geneva, Wisconsin
1.5-hour drive from Chicago
One of the easiest and best weekend trips from Chicago is a quick drive up to Lake Geneva. Lake Geneva has been an escape place for Chicagoans for more than a century.  You can enjoy the cute shops in the historic downtown or get out on a boat on one of the many boat tours of the lake itself. One of my favorite things to do is stroll the 26-mile Lake Geneva Shore Path, a walking path that circles the entire lake.  It cuts right through the pastoral backyards of some amazing mansions that dot the lake. For more, check out my full post on things to do in Lake Geneva, Wisconsin.
Where to Stay
Madison, Wisconsin
2.5-hour drive from Chicago
Madison boasts an inviting downtown situated between two lakes and the beautiful campus of the University of Wisconsin. This quintessential Midwestern city also happens to be the state capitol.
There are water sports, tons of hiking and biking trails and heaps of green space (260 parks and beaches!).  Don't miss the Madison Museum of Contemporary Art or the Dane County Farmers' Market, the largest producer-only farmers market in the United States.
Where to Stay
The Edgewater – Top-rated hotel
Airbnb  – Modern Lakeside Home
Door County, Wisconsin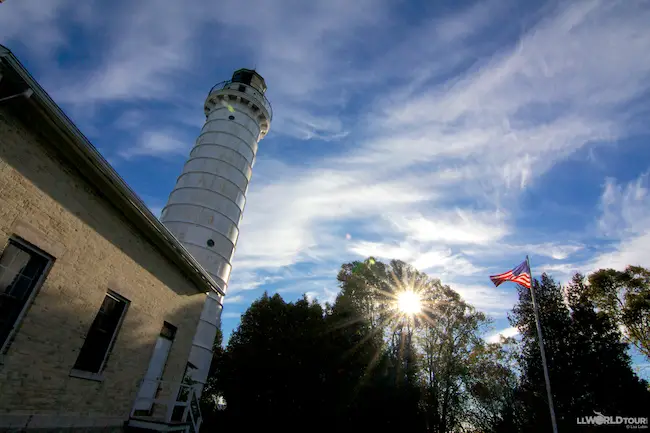 3.5-hour drive from Chicago
Famous for its family-friendly attractions and 300 miles of gorgeous shoreline, Door County sits on a 75-mile-long peninsula sticking out into Lake Michigan. The Door Peninsula has more miles of shoreline, more state parks and more lighthouses than any other county in the United States. The area is full of wooded and winding country roads, quaint apple-picking farms, and sandy shores. It's gorgeous in any season, but spring and autumn are pretty magical. Think Cape Cod or New England.
Just some things to do: boating, hiking, boutique shopping, lighthouses, and apple orchards. Eat at a fun, traditional Scandinavian outdoor fish boil and get ice cream at an old-timey ice cream parlor.
Where to Stay
Airbnb
Elkhart Lake, Wisconsin
2.5-hour drive from Chicago
Elkhart Lake is a resort village that focuses on wellness, whether at the Aspira Spa, the healing waters of spring-fed Elkhart Lake, or the organic gardens of The Osthoff Resort. But if wellness isn't your top priority, don't worry — the town also offers history, motor sports, boating and other lake activities ((kayaking, paddle boarding, boating), hundreds of miles of trails for biking, hiking and running at nearby Kettle Moraine State Forest, golfing, shopping, cooking classes, wine tastings, and unique bars and restaurants to keep the whole family satisfied.
Where to Stay
The Ostoff Resort – highly rated, all-inclusive, lakeside resort and spa
Airbnbs
Pin it!