A decade of blogging, traveling, and living as a freelancer

Ten years ago, I quit my well-paying, secure, 15-year broadcast journalist job.
Ten years ago, I started this blog.
Ten years ago, I sold a bunch of my stuff, gave up my home, and said goodbye to my life as I knew it.
Ten years ago, I got on a plane and left the United States to see the rest of the world.
Ten years ago, I made a choice. I took a leap, a risk, and that has "made all the difference."
Ten years.
An entire decade has whizzed by. Man, we know "time flies," but wow. I can't believe it's been 10 years already. This chapter of my life has been…everything: exhilarating, scary, wonderful, exciting, insecure, confusing, fuzzy, and heartwarming. And I'm grateful for all of it – the highs, the lows, and everything in between.
How do you define a decade?
It's likely the best decade of my life thus far. And it's certainly been the most intense. There's been buzzing highs, shattering lows, love, heartbreak, deep conversations, and so many new friendships formed around the world. I am so grateful for the connections I've made. The line has blurred if they were possible due to travel or the internet and social media or both. Without the internet and this blog, I would not have had a way into your home and life and you would not have had a way into mine. From folks reaching out to get coffee and chat about travel to old and new friends saying that I inspired them to take a leap and live life more fully (thinking of Dave N. and Jannell and Alex B. and Priya and most recently Marla…but there are so many others). And those I never got to meet like vibrant traveler Reed). I can recall countless folks who have sent me comments about how I inspired them, but it was they who inspired me all over again. We all need positive vibes of encouragement as we muddle through life despite what our "highlight reel" on Facebook belies.
It's about choice
I wasn't "lucky" as if my experiences landed in my lap like a winning lottery ticket. I worked hard. I had a successful career. And, not only did I make smart financial choices, which allowed me to save much of what I made, I have always been frugal and instinctively just put my money away rather than spend it carelessly (thanks dad for teaching me this by example early on!). I don't like buying and consuming things that I simply don't need. I'm not into cars. I'm not into fashion (while others were spending much of their paycheck on expensive shoes, trendy purses, and name-brand makeup, I was socking funds away for travel and just to save).
Plus, traveling around the word for a year, isn't a vacation. It's your life. I spent less on my life those few years than I would have if I'd stayed and lived in Chicago. I wasn't staying in fancy resorts or hotels. I was on a budget. I just wasn't making money for the first time in my adult life, so I needed that year of savings.
And I'm grateful for the privilege of who I am and where I'm from that allowed me to do so.
Now, in hindsight, I can see that all the choices I made created little outcomes that turned into bigger life changes. And whatever seems scary at first quickly just fades into a new reality. There really is no right or wrong, just little decisions that steer us around.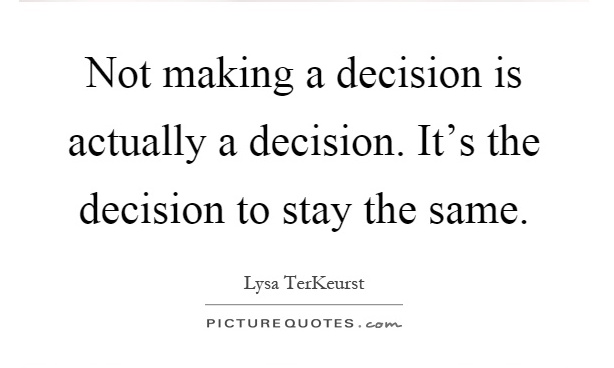 But make those decisions! Because by NOT making any decision, it's still a decision by default to keep drifting, to keep you careening a bit less mindfully down that well worn path that "normal" society has laid out for you.
And that was not feeling right for me.
I didn't know exactly why or what I would do until I did it. But the travel bug made me really examine my life and what I really wanted to be doing with it. We have this precious and short life on earth and I am still trying to squeeze everything out of it that I can…on my own terms. Today, sometimes that means sitting home alone with my cat because I want to. Or it means traveling halfway around the world to experience something new.
In ten years I've:  
Fell in love
Had my heart broken…twice
Started composting
Made a homemade rain barrel
Started a garden
Adopted 2 cats
Fostered dozens of cats
Chose to be freelance and make less money, but have more time—the thing I cherish much more than things.
…and turned down more trips than I go on.
And, of course, this is sort of the accomplishment "highlight reel."  Amidst the good times and happiness, I also cried, felt lonely, sad, depressed, scared, angry, and lost.
And what am I doing now? 
I am constantly helping others…to take their own long term trip or career break or helping freelancers navigate travel writing or improve their photography and video production.
Since quitting full-time television producing 10 years ago this summer, I've created a new freelance career for myself—one of writing, photography, consulting, producing, speaking, and a dash of sales and project management.
Nearly every week when I tell someone that I am a travel writer, he/she inevitably says to me "you have the ultimate dream job."
But do I?
I feel I can never complain or tell them 'not really.' I mean I am so fortunate to do what I do.
I have amazing freedom.
I am my own boss.
I set my own pace and keep deadlines to a minimum.
I can travel when I want, mostly where I want.
I am invited many places now and have some lovely perks.
But….
I am always still searching.
I rarely feel satisfied. And I feel incredibly guilty for feeling this way. I mean I have everyone's dream job, so I can't feel this way, right?
Or…is this what I always go through? Every 5-10 years, I simply get bored. I move. I move on.
I want new challenges, new adventures.
I want to keep learning, growing, trying and doing.
I am forever curious.
So what is next?
Well, first of all, just because it's officially my ten-year anniversary, does not mean I have a nifty, new milestone decision on how to live my life. I continue to take life as it comes and do what feels right. And for right now, right is actually traveling less and recommitting to my other love: Chicago.
For a few years now I've been saying I am "trying to travel less." Sounds insane, right? Who would want to travel less? But it's time. Time to slow down. Time to enjoy my favorite city in the world. Time to experiment and try other things.
Lately, I'm doing more and more freelance photography, mostly food and real estate (and travel of course). It's been a passion of mine since high school working in a photography store (when those still existed!) and developing my own film in the darkroom. It has always been the thing I've done the most. I am teaching more travel photography as well and continuing with some video consulting clients.
I am now volunteering more with animals—something else I've felt strongly about since I was a kid. It's time to do more with it. I volunteer at a cat shelter and I foster cats when I can, but have also started working with a local organization, Crate Free Illinois, which works to promote the welfare of farm animals. I've been on a mostly plant-based diet for the last five years due in large part to our factory farming system. I struggle with eating meat because I know I would just crumble if I saw how each animal was raised in horrible conditions for any living being and treated inhumanely. I would never treat them that way, so how can I eat the meat if I know it happened? It is something I struggle with a lot.
Last year, I took real control of my health and made a lifetime commitment to daily exercise (not the on and off exercise I used to do) and watching what I eat. This year, I'm working on the inside. I will always be a work in progress, but am inspired to keep becoming the best version of me that I can!
I'm excited for the next 10 years. If my history proves itself a pattern, I will be continuing to reinvent myself and take on new challenges.
And I appreciate YOU!
So please comment! (Yeah, you!)
Your comments help connect me with you. Your comments help sustain me and keep this blog going—otherwise I feel like I'm writing in a vacuum.
Tell me why you are here. Why do you like reading my blog and what do you want to read about??
…oh and by the way, if you are still reading…today is also my birthday! 🙂