Read my honest feedback in this Briggs and Riley Torq review. The light, sleek hardshell, 4-wheel spinner carry-on has more pros than cons, but one main problem.
---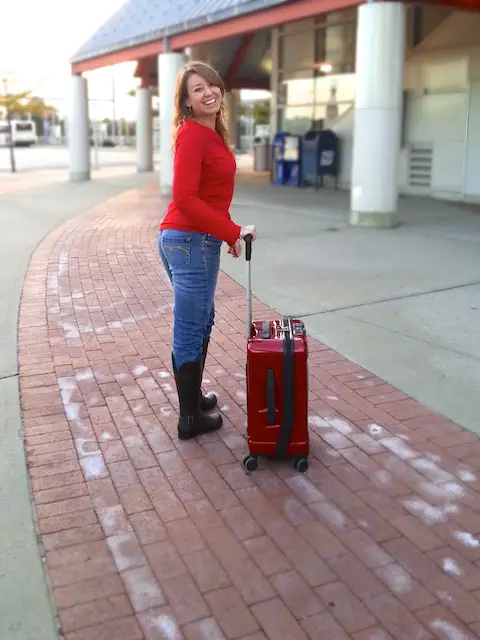 Since I retired my travel backpack, I had been using the same Delsey rollerboard bag for several years. It was sturdy, fit a lot, and I really loved it. But it was just that borderline size that sometimes fit and sometimes didn't fit in the overhead bin on planes. That little bit of unknown stress is a pain for me – each time boarding and now knowing whether it will fit or not. Okay, really only once it  didn't fit, but it's often very close.
It was time that I tried something newer. Something sleeker. Something sexier.
Enter the Briggs and Riley Torq International Carry-on Spinner.
Briggs and Riley Torq Review
This bag is hot. She's sleek, sexy, and yes, red. She glides wherever I want thanks to the four spinner wheels and she fits anywhere. 
The Good
The Look
The Briggs and Riley Torq just looks cool. A bit sci-fi, a bit urban gloss. It's stylish and compact and definitely more chic that my previous suitcase. It looks like it could win a race.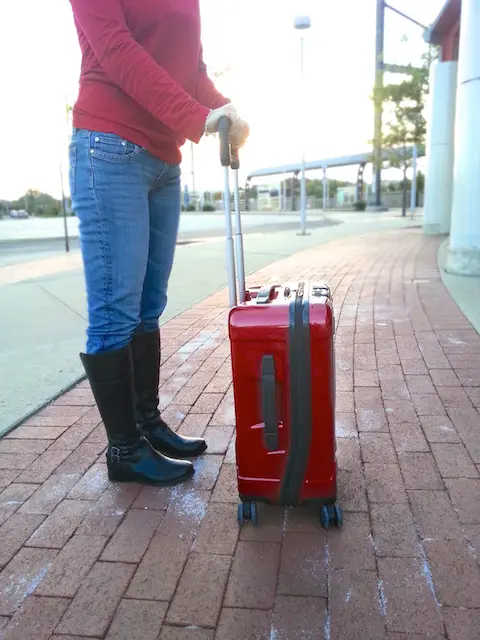 The Control Panel
This is basically just a built-in TSA-approved lock, but again, it looks cool. And my favorite part? The little slots that each zipper pull fits into – very neat and clean and brain-soothing for Type-As like me. Plus it also locks the front compartment which I'll get to shortly.
Lifetime Guarantee
You can't beat this. Brigs and Riley offers a lifetime guarantee on any of their bags. If your Briggs & Riley bag is ever broken or damaged, even if it was caused by an airline, they will repair it free of charge – simple as that!
Double Spinner Wheels
The four wheels on the bottom spin so easily, they glide across most surfaces better than any case I've ever had.
Lightweight
The polycarbonate (It's Makrolon®) exterior makes this suitcase super-light. I really did notice this difference when hoisting it into overhead bins on trains and planes. I often think differences like this can be minimal, but this is a noticeable plus for me, as on occasion, lifting my old heavy bag over my head caused me to strain my shoulders and rotator cuff! The polycarbonate is not only light, but durable and crack resistant. Win-win.
Retaining wall
This tiny flap does a small, but important job. Pack your stuff in, and make sure it's flipped up which makes zipping up a stuffed bag much easier. And for someone that packs and unpacks a lot (and loathes it), this makes it a bit easier.
Laptop Compartment
This is perhaps the pièce de résistance of the new TORQ bag. Now, at the push a button. I can slip my laptop inside the front of the bag. No need to schlep it in my backpack which is already weighed down with camera gear and other electronics. One place this comes in most handy is on the security lines. It's now a cinch to remove my Mac Powerbook to place it in a bin. Of course, luckily now with TSA Pre-Check, I will hopefully be doing this less and less anyway.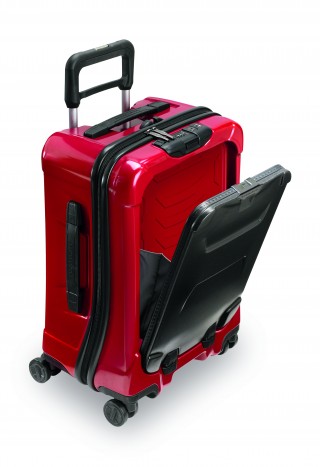 Bars outside
The pull handle stem is on the outside of the bag, so the surface inside is flat for easier packing and allowing more room for my stuff and things.
Bad
Small
Compared to my former Delsey carry-on, this bag has less room on the inside. Now as I mentioned earlier, my other bag was right on that border between carry-on and checked luggage.  Each time I boarded a plane, I was playing baggage roulette.  On some planes it fit, but on others at best I had to store it in the luggage bins horizontally instead of vertically (exactly what they ask you not to do) or, at worst, it didn't fit at all and I had to check it at the gate (but still avoiding to pay those silly baggage fees – blech!).  I am getting used to the less room, but because it's a hard shell, there's not much room for stretching or squeezing…so I've just become even more of a fierce light-packer than ever.
Wheels
These make the good and bad list. I really love them. BUT, one tiny thing that I wish was somehow taken into account. For a city gal like me, they present a problem on the bus and train. They roll so well that I have to hold onto my bag during my entire commute so it doesn't careen down the aisle and crash into other passengers. On the bus in Chicago, every time we stop the Torq wants to lurch forward. Some kind of tiny wheel locks would be great in this situation
Laptop Pocket
The front pocket inside the laptop compartment seems to take away a good bit of room for the rest of my things. Plus my 15" Macbook Pro does not actually fit in the inside pocket. It fits into the compartment, but not into the nice padded sleeve that seemingly will only fit a smaller laptop or tablet. That is a bummer. But it still works.
Handles
I'm being nit picky here, but the pull handle is a bit harder and more square than my old one. I wish it was a bit more ergonomic and comfortable to hold.
I also wish there was one more handle on the outside of the bag. There's one on the top and one on the side, but I always loved having one on the bottom of my old suitcase, as I used it all the time when grabbing it out of the overhead bin or off the baggage carousel when it came down inverted, it was still easy to grab in the middle of the baggage scramble.
From the Briggs and Riley Site
The TORQ™ collection features:
Briggs & Riley Control Panel (patent pending) that locks contents in the main and front compartment for the ultimate protection of valuables
Backed by the Briggs & Riley unbeatable warranty – TORQ™ is the world's only hardside collection to be protected by an unconditional lifetime warranty
Briggs & Riley's proprietary Outsider® handle system, TORQ™ provides a flat packing surface and greater interior packing capacity
TORQ™ boasts a unique "secret middle layer" that is flexible and forgiving – preventing it from cracking
The ergonomic top and side carry handles are soft to the touch and the interior is fully lined with soft high-quality nylon
TORQ™ cases are made of Makrolon™, a high-performance material that can withstand the roughest handling, and is known for its resilience and pop-back properties
The carry-on boasts a lockable hardside front compartment which is gusseted and zipperless, sitting flush with the bag when closed
TORQ™ bags have a unique 80/20 top-lid opening, opening like traditional luggage, rather than the 50/50 clamshell opening and packing limits of other hard sided options on the market
Briggs & Riley designed TORQ™ with an exceptionally wide, tilt-resistant wheel base and proprietary recessed spinner wheels, providing for smooth and dependable wheel motion and gliding – allowing the bag to be tilted and carried on two wheels, or glided on four
Overall, I highly recommend the Briggs and Riley TORQ. If you're contemplating getting a hard-sided carry-on bag like I was, you won't go wrong here!
Pin It!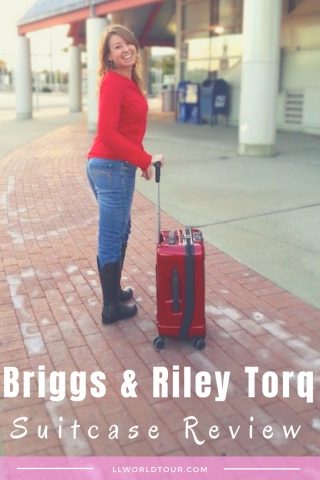 Disclosure: I was given the Torq International Carry-On Spinner by Briggs & Riley to review. But I've been using it for several years now and as always, all opinions are my own.