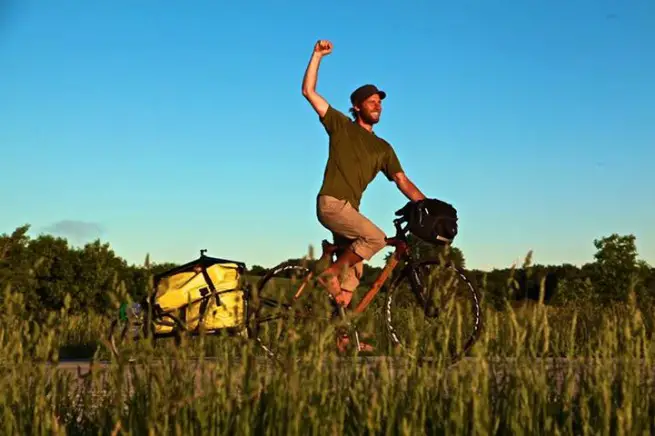 Rob Greenfield's mission? To make the world a happier and healthier place. No short order for this 28-year old, Wisconsin native.
He calls himself an American adventurer, environmental activist, and entrepreneur and is best known for Off the Grid Across America, a bicycle tour across the USA on a bamboo bicycle to inspire Americans to live a more sustainable lifestyle.
And now? He's dumpster diving across America to raise awareness of all the perfectly, good, clean food that grocery stores throw away.
See my interview with him here:
We produce enough food in the U.S. to feed twice our population yet 1 in 7 Americans is in need of food.  Rob is cycling across America eating solely food from supermarket dumpsters where he finds brand new food to eat — food that isn't really trash at all. The only reason it has this misnomer is the fact that it was put inside a dumpster. He is calling for a citizen patrol to tell grocery stores to #DonateNotDump and to even further show how much food is going to waste he's hosting Food Waste Fiascos in different cities.
The media has been covering his story since he started the campaign in Wisconsin and change is already in the making. Do you know what your grocery store does with slightly bruised or outdated food? Most likely they are not only not donating it or at least composting it, they are just throwing it away, right into the landfill. And not just produce, but boxed crackers, cookies, bottles of water and more.
Did you know that in 1996, President Clinton signed the Good Samaritan Food Donation Act?  This law protects supermarkets from any liability if someone gets sick from donated food. So there's no excuse for stores to not join a donation program, to save food from going in the landfills, feed hungry people, and even get a tax write-off.
Follow the #DonateNotDump hashtag on Twitter to see what Rob's up to next.
For More info: