For spectacular scenery take the Norway in a Nutshell tour of Norway's magnificent fjords and go across the country by train, boat, and bus.
Norway is a spectacularly green and sparsely populated country (the second least populated in all of Europe) with about five million folks living here – roughly the same as the Greater Boston Metropolitan area.  So it's not really the cities that are the draw here. It's the majestic fjords and snow capped peaks in the country's interior that shine.
Fjords of Norway
Fjords are basically deep-cut, sea-drenched valleys that were gouged by massive glaciers roughly two million years ago. Masses of tourists come here for the famous "Norway in a Nutshell" tours. You can take a confusing amount of different routes and tours by ferry, bus, and train. But the way they are organized cuts out a lot of the work for you and allows you to just enjoy a well-tested trip.
Norway in  Nutshell
I combine a bit of what's called Norway in a Nutshell and Hardangerfjord in a Nutshell.  I highly recommend taking your time as you venture across the country from Bergen to Oslo and not to do it all in one whirlwind day.   Do yourself a favor and stay in some of the lovely fjord towns overnight.  The tour boats head out leaving you in a peaceful and idyllic setting to relax and enjoy.
Ulvik, Norway
This tiny town at the end of the Hardangerfjord is one of the most picturesque I've ever seen – pastoral and majestic at the same time.  A stay at the Brakanes Hotel is like a slice of "Dirty Dancing" complete with the white washed, old-timey resort feel and a gorgeous 'backyard' which sits right on the water's edge.
Cider Route of Ulvik
Not only is Ulvik a great jumping off point for hikes, glacier treks, cycling, and fjord adventures, it has a one-of-a-kind new 'cider route' which takes you to the fields and tasting rooms of three fabulous fruit farms. The small Syse Gard cider farm has been in the family for generations.  Out of their cute shop, the lovely couple, Gro and Hans Uglenes, offer up homemade apple juice (seriously, the best I've ever tasted – like drinking a real apple), jams, and cured and smoked meats.
Just down the road, Nils Lekve runs a slightly bigger operation, Hardanger Saft- og Siderfabrikk (Hardanger Juice and Cider Factory), making his own alcoholic cider and apple brandy. Both offer guided tours and tastings. The cider route is brand new and in just a few years I can see this becoming like a small Sonoma, but with apple orchards instead of grapes – although it looks quite similar as modern orchards today are almost grown like grapevines and kept short with lots of pruning. 
Flåm, Norway
Flåm is famous for the Flåmsbana or Flåm Railway, which is ranked by National Geographic Traveller as one of Europe's most beautiful train journeys.
This 70-year old railway takes you from Flåm at sea-level and rises up into the mountains through 20 different tunnels blasted into the rock until reaching nearly 3000 feet just one hour and 20 kilometers later.
At one point we disembark the train to admire the massive waterfall, Kjosfossen, to our left. It is so close, in fact, that we all get a slight soak from the spray. Despite the powerful waterworks in front of me, something else distracts me.
I suddenly tune in to some haunting music that is wafting out from the mountainside and then I see her–some kind of bizarro witchy woman, swaying to the music, disappearing and reappearing several times in the mist. She is Huldra, the Scandinavian legend of a "wood nymph" who tries to lure men into the forest for a good time.  She does entrance me for a bit, but mostly I just wonder how bad of an acting gig it must be to get drenched everyday gyrating like a banshee.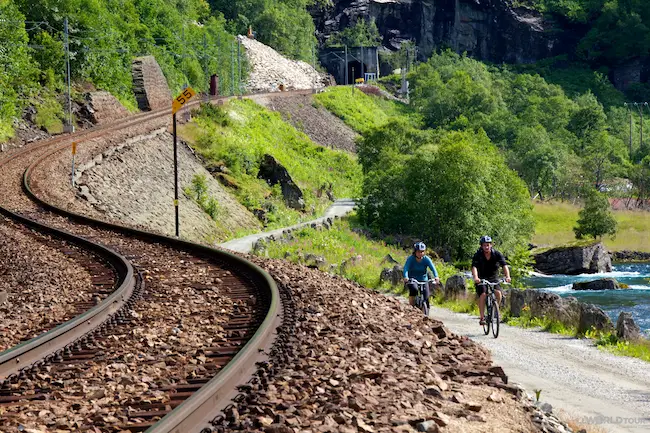 Bike Flam
This is a spectacular journey on the steepest railway in the world. Even better? You can easily bring a bike on board (they hold them all in a special) car and when you get to the top, you can cycle all the way down.
I hop off just past the steepest part (glad I did – it is VERY steep!) and am able to stop and enjoy the incredible views of snow covered peaks, deep gorges, and dozens of mighty waterfalls cascading off the mountainside – I've never seen so many in all my life.
The history of the train is covered in the free Railway Museum right at the train station. Check it out to see how this marvel was carved into the mountainside.
For more on Norway, check out my other posts
Visit Bergen
Video: Norway in a Minute
Norway Facts
Photo Essay: Oslo
Breakfast in Norway
Kayaking Flam
Flåm sits at the edge of the Sognefjord, the world's deepest and second longest. This year round destination has tons of outdoor activities including hiking, biking, kayaking.
"I love sea kayaking because it's peaceful and you can see things from a perspective you don't get while walking or driving," says Noora, my kayaking guide for the afternoon.
Njord Kayaks  is owned by a Norwegian and run by an American.  I take their three-hour tour of the fjord area around Flåm while learning some little stories and factoids.
The best stay in town is the historical Fretheim Hotel. Built at the end of the 19th century, the former farm house overlooks the fjord waters and feels like a grand old holiday retreat.  The main part of town in front of the hotel is unnaturally flat and 'relatively' new. It was created by all the rock blasted out of the mountains to create all the tunnels. Smart way to recycle the earth. 
And the best spot after a day of cycling and kayaking? The award-winning Aegir Brewery. Enjoy a beer tasting ($22) or pint ($17 – yes, food and drink in Norway is über-expensive) inside the cozy wood and stone pub after a day scampering around the fjord.
The next day I hop back on the Flam Railway, back up the mountain, but this time to connect with another train to make my way east towards Oslo, my final stop on my Norwegian adventure.
: : :
Disclosure: During my time in Norway, I was a guest of Visit Norway and Fjord Tours, but as always all opinions and writing is my own.