[updated March 2020]
LL World Tour is a participant in the Amazon Services LLC Associates Program, an affiliate advertising program designed to provide a means for sites to earn fees by linking to Amazon.com and affiliated sites.
For more info see my privacy policy.
Gift buying can be fun and stressful all at once. It truly is heartwarming to 'give' and show someone you're thinking about them. But what about great gifts for the traveler in your life (or yourself!)? When looking for gifts for someone going traveling you want to give something that you know they will love AND use (because the last thing we want to do is create more waste).
So whomever's on your list, here are the best travel gifts for her or him recommended by myself and more than 25 of today's top travel bloggers.
Great Gifts for the Traveler
Luggage and Bags
*Lisa's Picks*
Light, Hard-sided Rollerboard
On nearly all of my trips over the last decade or so, I have traveled with one of the two suitcases that I own. One, my nifty 'red rocket' Briggs and Riley Torq Spinner, is perfect for short trips or summer trips when my clothes are smaller (read: less fabric!) and take up less room. Plus it keeps me honest and always packing light! It's awesome and light and has that great laptop compartment in the front. I really love this bag.
Light, Soft-sided Rollerboard
For all my other trips I took another carry-on rollerboard that was a little bigger and just made it onto some flights because it bordered on being too deep. That was until recently. After fifteen years of using that suitcase, the wheels literally came off. Well, their outer rubber coating did at least. On our way home from Italy recently, I felt a bumpiness to my roll. Sure enough, the wheels were shedding their skin.
So, long story short, it was time to finally gift myself a new carry-on. Enter the awesome Travel Pro Maxlite 5 Rollerboard suitcase. Little did I know how heavy my last bag really was until I picked up (with my pinky!) this under five pound bag. Wow! Travel Pro touts this as being one of the lightest around and I'm so excited about it. It's sleek and has a pocket for my laptop and is actually a joy to lift overhead on flights and will always fit with no stress.
---
Backpacks
The best gift for someone going traveling is, hands down, an Osprey Farpoint 40L. This backpack is extremely comfortable to wear and it holds an incredible amount of things.
The features I love the most in it are the zip-away harness and the padded hip belt. It might not sound important, but these items make my life much more comfortable while carrying wearing or it. No matter where I go, to a city trip in Europe or to a hiking vacation in South America, this is the best backpack to have. It offers a ton for an affordable price. Besides, Osprey has an almighty guarantee. And, it was a gift after all. But to myself.
Recommended by Bruna Venturinelli of Maps 'N Bags. Follow her on Facebook.
•••
If you're looking for a great personal backpack for travel, we'd recommend the North Face Borealis. As travellers with the backpack ourselves, we use the Borealis as our go-to travel daypack and it has served our needs quite well over the years.

We love the Borealis because it has a small profile but can hold a surprising amount of gear. The laptop sleeve in the back compartment is great for keeping our computer safe, while the dual external water bottle holders are deep and secure.
The front compartment is full of really handy smaller pockets for cords, chargers, and even pens — while the top small zippered pouch is great for those "quick grab" items. The straps are ventilated, the snaps are strong, and the backpack comes at a really affordable price point — what's not to love?!
Recommended by Eric and Lisa from Penguin and Pia. Follow them on YouTube.
•••
Packing Cubes
*Lisa's Pick*
This is probably my most recommended item when people ask me for my best packing tips. I simply love packing cubes. And I should know because I've been using the Eagle Creek Packing Cubes for about 20 years now. I can't imagine not using them now. They've improved upon them over the years and now all come in this lightweight yet strong compression material. They allow you to separate your clothes into groups (shirts in one, pants in another, and undies in a third), and keep them compact and organized. So when packing and unpacking on trips, you don't have to think much, you just keep stuff where it belongs and it's easier to find and easier to pack. Plus it keeps your overall bag neat and tidy, which this Virgo, type-A traveler loves!
---
I have been quite late to game when I discovered packing cubes. Previously, I have been a notorious over-packer and I hated dragging around my extra-heavy suitcase. On the lookout for smarter ways to pack, I encountered packing organizers, lucky me! As an avid traveller, I love them as they keep your things organised, separate and wrinkles in your clothes will soon be a distant memory. Also, I learned that when the packing cube is full, it's full, which has prevented me from over packing. There are lots of different options out there, some cheaper, some more expensive. I love the OOE 7 pieces Luggage Packing Organiser simply because you get multiple pieces (which you'll need) and they all have a durable zipper, come with handles to hang up if needed and are machine-washable!
Recommended by Carolin at Breathing Travel. Follow her on Instagram.
•••
Messenger Bag
A gift for the traveler that I would recommend is a Travelon Anti-Theft Messenger Bag, available in a variety of styles.
I love my crossbody in classic black, because it goes with most of my outfits, and I can wear it so the bag is in front of my body when I am walking. I have used it on several trips to Europe and it still looks and functions like new. The bag has individual clip locks for every compartment that aren't easy to undo unobtrusively. You can lock it to your chair at a restaurant, and it has RFID pockets for valuable documents. It even has a side pocket you can open out to hold your water bottle. It's large enough to just fit one day's needs, including a pocket camera and a light scarf, so it's the perfect gift for someone going traveling.
Recommened by Dhara from It's Not About the Miles. Follow her on Facebook.
•••
Wallet
The Secrid miniwallet is a perfect pocket-sized gift for travellers. I love this wallet because it is compact, stylish, and functional. It has many attributes which are beneficial to travellers including an aluminum card protector that protects your cards from bending, breaking and unwanted RFID and NFC communication. Another great feature is the mechanism of the wallet, which provides a simple and fast way to access your cards. The money holder inside the wallet is flexible and can fit different kinds of currencies, a necessity for any globetrotter.
Recommended by Lora at Explore with Lora. Follow her on Instagram.
•••
Travel Paraphernalia & Goodies
Water Bottles
A great gift for a traveller should be useful and sustainable – a reusable filter water bottle goes one better and helps them save money on an ongoing basis. The world needs less plastic and the traveller needs more money for travelling, always, so why not help the traveller in your life with the gift of a reusable water bottle with a filter? I save on average US$425 a year just on water by using a filter water bottle everywhere. I use it in every country, regardless of whether the tap water is potable or not. It saves me buying bottled water and I can confidently remove Giardia and Cryptosporidium as well as other bugs, which can cause nasty gastrointestinal diseases. If the only water source is a river or a stream, or even a muddy puddle, then my bottle cleans that up too!
Recommended by Sarah from ASocialNomad. Follow her on Facebook.
•••
One great gift for someone going traveling that I would recommend would be the Sigg Hot and Cold Flask. I've had the flask for over a year now and it's been on many trips with me. The Sigg Hot and Cold makes a great gift for travellers visiting cold weather countries. It was perfect on my Iceland trip whilst hiking on the glacier to keep me warm. But it's also the best gift for your hiking buddies too, especially on those cold winter days or chilly summits on mountain days, a hot chocolate or coffee if the best way to warm your body up. So treat the traveler you love to an awesome present.
Recommended by Becky the Traveller. Follow her on Instagram.
•••
Ear Plugs and Eye Mask 
For us, the greatest travel gift is one of the cheapest and most useful: ear plugs and an eye mask. This makes the perfect stocking stuffer! We're both light sleepers and noise can make it nearly impossible to sleep. Whether it's noise on flights or poor sound-proofing in hotels, we find it can be difficult to get a quality slumber. The ear plug/eye mask solution is a mandatory piece of travel equipment.
Recommended by Lance and Laura of Travel Addicts.  Follow them on Facebook. 
•••
Travel Pillow
One of my favorite travel companions is my compressible Thermarest pillow. I'm not a huge fan of those round neck pillows, as I think they're uncomfortable and a little bulky, but this fluffy pillow is really comfortable and folds down to the size of a water bottle. I use it for plane rides, camping, and in any hotel or guesthouse where I need an extra pillow. In over 3 years of use, it still self-inflates to be as firm as it was the first time I bought it. 
The compressible Thermarest pillow is the perfect gift for travelers on the go because it's lightweight and versatile, and as a bonus, it comes in a bunch of cute colors! If I got another one of these as a present, my heart would be full of joy.
Recommended by Kay from Jetfarer. Follow her on Facebook. 
 •••
Microfiber towel
I love my microfiber towel and would definitely recommend it as a gift! As a backpacker, I used to bring my (fluffy) home towel when traveling especially when camping or staying in hostels. However, it is bulky and takes time to dry. Buying a microfiber towel changed my life!
A microfiber towel is light and compact so it fits easily in your backpack or luggage. It's highly absorbent and dries very quickly. As a bonus, it also has antibacterial properties. I use it not just for myself, but also for patting dry clothes that I have to wash and dry overnight.
Recommended by Katherine of Tara Lets Anywhere. Follow her on Facebook.
 •••
Language Translator
One of the coolest gadgets I take on my travels is the Langogo translator.  This pocket translator is made for global adventurers as it automatically translates over 60 languages and does it very quickly.
The translator will translate conversations in less than one second just by pressing the translate button and speaking into the microphone.  This device makes it so much easier to communicate with locals.
I've used it in Morocco where I can switch between French and Arabic depending on who I am talking to and it automatically detects the language as well.
Recommended by Nicole at Nicole Labarge. Follow her on Instagram.
•••
Travel Journal
A great gift that any traveler would love is a travel journal. Every traveler could use a journal to take notes or write down their thoughts and impressions while traveling. It is much lighter to carry and easier to pack than a laptop, you don't have to worry about running out of battery, and it's definitely more affordable! A travel journal can also make for a great memento of your trip. There are simpler journals available but you can buy this travel journal for an affordable price. It has a beautiful vintage design and inspirational travel quotes printed on some of its pages.
Recommended by the Travel Sisters. Follow them on Facebook.
•••
Games
When people ask me what's a great gift to give a traveller, without any hesitation I say, a travel board game. A lot of people don't realize that many popular games come in travel sizes. Some even can be expertly packed to fit in a bag on your journey. The reason they make such a good gift is because they are light, fun to use, and can be fit into most bags easily. Another reason I started carrying games with me is because they act as a social ice breaker. Start playing a game in the lounge of your hostel and just wait, curious travellers will definitely ask to join you. It's great for a person like me who is always hesitant about approaching new people. You'll be surprised how easy it is to make friends after that.


From Penny at Globe Trove. Follow her on Facebook.
•••
The next time you're at a hostel, be the person that starts a game that gets everything having fun. Forget Uno, don't bother with a deck of cards, and ixnay on Cards Against Humanity. Let's have some fun in ways that don't intentionally offend every player at the table.
I'll highlight two games I've played and enjoyed.
Travelin' is all about, well, traveling. For the gamers, this is a set-collecting, card-drafting game. For everyone else, you're racing around Europe visiting countries and taking some actions to score points. This is produced by a traveling indie designer, and the website has a great map of places to find it across Europe.
Sushi Go isn't about traveling, but has plenty of thinky strategy you can understand in about five minutes. Cards score points in different ways, and just like a sushi restaurant's conveyor belt, the cards go around the table.
Recommended by Chris from USS Nomad.
•••
Pocket Knife
If there's one gift I'd recommended for a travel it is a decent pocket knife, and my trusty Leatherman Wingman has been with me on adventures around the world! Whilst it's a bit bulkier than a Swiss Army Knife, it makes up for it by being incredibly robust, and having features that you wouldn't see on a smaller version, such as pliers.
It has the right tools to make it perfect for travel. I find the scissors particularly handy, something you don't find on most pocket knives. The screwdrivers and knife itself have also come in useful on a number of occasions as has (ahem) the bottle opener!
It is also a good value gift, though factor in a little bit extra to get a decent nylon case for it. Just make sure you pack it into your checked luggage, not your carry-on! My first version is in an airport somewhere in South Africa!
Recommended by Ben at the Sabbatical Guide. Follow him on Instagram.
•••
Travel Tech and Gadget Gifts
*Lisa's Picks*
Mirrorless Camera
The Sony Alpha A6300 mirrorless camera is a great quality camera that is much lighter and more portable than the SLR I've been lugging around for a couple decades. It shoots 4K video, can do better slo-mo and time lapse, has some tricked-out focusing capabilities, and lots of customizable pre-sets. The rear LCD screen does tilt, but can't swivel around 180 degrees. But Sony's "Precious Memories" app, I can use WiFi to share the LCD screen onto my mobile screen, therefore if I am shooting myself, I can see it in my hand so I can check composition and focus when not behind the camera!
Gimbal Stabilizer
I've been doing more filming on my new Samsung Galaxy as the quality has increased a lot for Samsung. In order to keep my shots stable, and my arm from tiring out, I use a Gimbal Stabilizer. This one is from DJI, one of the most popular drone companies. The quality is top notch.
Phone Lavalier Mic
Another great item for filming on-the-go with my phone is this awesome little Rode Smart Lav+ lavalier mic from Rode. Rode has become very well-known for their mobile audio gear and having this for quick interviews is way better than using the built-in mic on your phone.

Tripod
I finally treated myself to a new tripod and love it. The Vanguard Travel Tripod is lightweight, easy to use, and comes in a nice, compact carrying case. I love that it collapses down so small (the top half folds into the legs) and has a leveling bubble built in. The only caveat is the height. If you are interviewing anyone over 6 feet tall, it might not be at eye level, but it hasn't affected me yet. 
Cable Caddy
Virgo heaven for cables! I got this Skooba Cable Stable as a travel gift a few years ago from my mom and I love it. I hate all the cables we now need and how they can get all janky and tangled up. This caddy keeps all your cables in one low profile case. I picked the mini size and just slip it into my backpack and never have to dig around for a cable again.
Wifi Hot Spot
I  love my Karma wifi hotspot. I purposely just have a pay-as-you-go plan on my mobile to save money, which means I don't have data. But with the Karma, I can now get online whenever I want with their little device and similar pay-as-you-go plan. Plus when anyone connects to my Karma wifi hotspot (for free), I get free credits as well. Hence the sharing of good karma!
Surge Protector
I love this little Compact Surge Protector…and mostly because of just that, it's little! I had a larger one and as a minimalist packer, this works for me. It is a surge protector plus has a USB input to charge all your MP3 Players, iPhones, and Android devices. 
---
Phone Camera Lens Adapters 
We bought a lens adapter pack from Struman Optics to give my phone a greater range of photography, and it's working really well! It is only a small pack so it's great for travelling with, and the lens quality is excellent. I can now take incredible close-up pictures, fisheye and wide-angle shots, and super zoom photos with the included mini-tripod too. I can't afford a professional camera just yet, but this pack has enhanced my photography capabilities for a much lower price. And they can be used on my husband's different phone and our iPads too!
From Emma Walmsley at Small footprints, big adventures. Follow her on Facebook.
 •••
Power Bank
Keeping electronics powered up on the road can be a Sisyphean task. There may be issues with adapters, long bus journeys, and hiking trips that may prevent you from keeping your electronics fully charged. In these situations, having a fully-charged up power bank is indispensable. The one I use is the Aukey 12000 mAh power bank. If it's charged to capacity, it can repower a phone from completely dead to fully charged about 4-8 times, and can last even longer for top ups. It also has two ports so you can charge more than one device at once. In addition to being a portable power source, it also has a built-in flashlight in case you're ever caught in the dark without power.
Recommended by Zen Travellers. Follow them on Instagram.
•••
Books
*Lisa's Picks*
Honeymoon with my Brother by Franz Wisner was the first book I read on my 'round the world trip when I left back in October 2006. I devoured this journey about the true story of the author, who's fiancée called off his wedding just days before. He goes on his honeymoon with his brother instead and heals through the power of travel and connection which totally resonated with me!
One Year Off by David Elliot Cohen
I read this book about a year before I took my own "year off." And it had ahuge impact on me in reaching that tipping point from dreaming about travel to actual doing it. Over the course of six months, David and his wife sold their house, cars, and most of their possessions and took their on a rollicking round-the-world journey filled with laugh-out-loud mishaps, heart-pounding adventures, and unforeseen epiphanies.
A Trip to the Beach by Bob and Melinda Blanchard was another huge inspiration to me. It's the true story of a trip about a husband and wife (who I'd previously booked for an interview segment on my former ABC TV show) who escape civilization to build a small restaurant on the island of Anguilla. It's about the maddening, exhausting, outlandish complications of trying to live the simple life — and the joy that comes when you somehow pull it off.
Just a few months ago, I read A House in the Sky by Amanda Lindhout. She wrote about her fifteen month abduction in Somalia. It's the New York Times bestselling memoir of a woman whose curiosity led her to the world's most remote places and then into captivity. Aspiring to understand the world and live a significant life, she backpacked through Latin America, Laos, Bangladesh, and India, and emboldened by each adventure, went on to Sudan, Syria, and Pakistan. In war-ridden Afghanistan and Iraq she carved out a fledgling career as a television reporter. And then, in August 2008, she traveled to Somalia—"the most dangerous place on earth." On her fourth day, she was abducted by a group of masked men along a dusty road. It's a page turner and even more relevant to travelers who crave that adventure and drive to keep discovering the world.
Taking inspiration from their six-year journey across the seven continents, my friends Mike & Anne of Honey Trek have written National Geographic's first book on couples travel. They've compiled their absolute favorite 75 destinations and best tips for couples adventure travel. The gorgeous guide is full of off-the-track gems, touching stories, and sound advice for anyone looking to make travel a bigger part of their lives. It's a perfect gift for any couple on your list. Grab a copy of the Ultimate Journeys for Two on Amazon.
Think outside the big-box hotels and discover North America's most inspiring outdoor getaways. Written by my friends Mike and Anne of HoneyTrek.com, Comfortably Wild pinpoints the 70 best glamping destinations on the continent and the deeper meaning of this trending travel style. More than a collection of gorgeous accommodations, this guide-meets-coffee-table book offers transformative experiences and practical advice to mobilize a lifetime of unforgettable adventures.
---
Kindle
If I was a traveller marooned on a desert island (or at a bus station, airport or ferry terminal) the one luxury item I couldn't live without would be a Kindle. I resisted buying one for a long time because I love books and felt that an electronic version wouldn't be the same. But when I was packing for my solo trip to Southeast Asia I realised that I couldn't possibly fit all the books I'd need for the journey into my backpack. Since then, my Kindle has become an absolute travel essential and I think it's the nicest possible gift you can give a traveller — especially to anyone travelling solo.
It can hold thousands of books, and a selection of classic novels from the days of yore can even be downloaded for free. Plus, it's lighter than a single volume. And they'll think of you every time they pull it out at a pavement cafe or on a long flight! 
Recommended by Maire from Temples and Treehouses. Follow her on Instagram.
•••
Clothing & Shoes
*Lisa's Pick*
Toe Warmers
The combo of living in Chicago and having Reynaud's Syndrome (basically bad circulation to the extremities which causes numb and very cold fingers and toes), means I am a very avid user of toe and hand warmers. No matter how many socks I wear, it does not matter. To spend any time outdoors in the winter, I have to wear these. They work great and last for at least five hours. If you have cold hands or feet like me, these are a lifesaver. Trust me.
---
Camera Scarf
My favourite travel gift has got to be my camera scarf neck strap. After receiving a new DLSR camera from my husband for my birthday I found that the strap it came with was uncomfortable and chaffed my neck. After doing some research I found the perfect replacement – a camera strap that was also a scarf. Stylish and comfortable and with the added bonus of a hidden pocket to store my camera cards this is the perfect gift for friends and family photographers.
I find it much more comfortable using the scarf camera neck strap and am able to have my camera on hand to take the perfect shot!
From Tracy at Tracy Travels in Time. Follow her on Twitter.
•••
Compression Socks
These socks are an ideal gift for travelers who spend a considerable time on planes, especially those who have bad circulation. Compression socks help your veins carrying blood to the heart. During a long-haul flight, due to the restriction of movement, there is an increase stenosis of blood in the leg. This situation can cause blood clots leading to Deep vein thrombosis (DVT) or even pulmonary embolism. For all these facts compression socks are an important item in every traveler's baggage. When selecting the best compression socks it is very important to choose the right size, or else the compression gradient is unbalanced. Also, you should be aware of the material and the compression rate of the socks. There are several types of compression socks, but bear in mind you want socks with good quality so they don't lose the compression gradient with time.
Recommended by Jorge and Claudia at Travel Drafts. Follow them on Facebook.  
•••
Flip Flops
No matter the size of my bag, I always try to squeeze in my Gumbies when travelling. They are the comfiest pair of flip-flops I have ever owned — no rubbing or blisters for me. I love that they are also environmentally friendly, with a recycled rubber and jute sole. The canvas upper means my feet don't slip out easily and, unlike other pairs I have had, they don't absorb the sweat — so no embarrassing odors!
They're perfect for on the beach, or for slipping on after a long day in heavy hiking boots. I have even done a mountain hike in them, they have a surprisingly good grip, not that I would recommend that though.

They are more expensive than a standard pair, but they are mega durable and mine have seen a lot of action. I wouldn't be without them.
Recommended by Gemma from a Girl and her Dog on the Road. Follow her on Facebook.
•••
Running Belt Waist Pack
A great gift that I highly recommend for travel, is the Running Belt Waist Pack for mobile phones. Carrying a secure backpack style purse when traveling, my phone wasn't ever convenient to get out. So, I was missing photo opportunities. Now, I keep my phone convenient and safe, in my waist belt. This belt is so great because it is slim, stretchy and adjustable. It fits nicely over the top of pants (or shorts) and can be hidden under a shirt. It is super comfortable, water resistant, and it holds a smart phone tightly in place. Another great feature is the small velcro pocket, which is the perfect size for earbuds, a key… This is one of my favorite, must-have travel accessories, and I now take more photos than ever before!
Recommended by Whitney of Designs For Travel. Follow her on Pinterest.
•••
Dive Watch
A gift we recommend for travellers, particularly adventure travellers, is a diving watch. Whenever we travel, we always try to incorporate snorkeling and/or scuba diving, and seek out the best spots for this.
For Stefan's birthday, Seb bought the Suunto Essential Carbon diving watch, which is absolutely terrific. We've been using it a lot snorkeling in Cyprus. The screen is huge since it's meant for viewing underwater. It tells us the time (obviously!) as well as the depth we've gone down to, for how long, the temperature of the water and if scuba diving, the intervals you need to take in between each dive. It also has a very bright backlight that you press to see the screen of the watch better underwater. It's certainly very impressive and has completely transformed our diving experiences.
Recommended by Sebastien and Stefan at the Nomadic Boys gay travel website. Follow them on Instagram.
•••
Eating on the Road
Utensils
If you are buying a gift for a fellow traveler, it's often difficult to know what to get. They probably don't have much space in their bag, and they may well be environmentally conscious after experiencing so much of the world's beauty.
That's why I'd recommend this reusable bamboo utensil set. It contains a reusable bamboo knife, fork, spoon, pair of chopsticks and straw that is all beautifully handmade in Bali. And it comes in a small Bali-designed carry case which you can even take on the plane so you won't have to use the disposable cutlery that's often given out!
Plus, it comes in totally zero-waste packaging and is designed to last 3+ years, which means it should be the ultimate sustainable gift for any zero waste traveler.
From Harriet at Hats Off World. Follow her on Facebook.
•••
Travel Coffee Maker
Sometimes, all you need is a good cup of coffee and that can be hard to find on the road.  Now, you can bring along your own portable coffee maker. The Aeropress Coffee and Espresso Maker is the best travel coffee maker and it is easy to use!  The Aeropress makes both coffee and espresso.  You don't need any electricity and it doesn't take much effort to clean.  It is convenient whether you are camping, on a road trip, or staying at a luxury hotel.  It is small enough to fit in your carry on luggage and is made of durable plastic. Some people (including us) like the coffee that the Aeropress makes so much it has become their coffee maker at home too.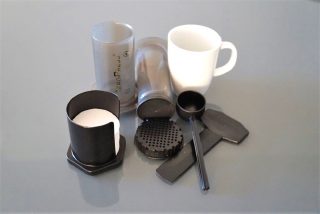 Recommended by Anisa of Two Traveling Texans. Follow them on Instagram.
•••
Family Travel
Car Seat Alternative
Want to make any traveling parent's dreams come true? Give them the gifts of less-encumbered travel, pain-free backs and easy airport taxi rides by buying them an alternative to traditional, bulky car seats! If their child is at least 3.5 years old and reasonably mature, the Ride Safer Delight Travel Vest is a wonderful, safe alternative to a forward-facing car seat or booster seat. It only weighs about two pounds, versus full-sized car seats that weight between nine and 30 pounds — perfect for traveling families.
Recommended by Melissa from the Family Voyage. Follow them on Instagram.
•••
Trunki Ride-on Suitcase
One of the best gifts you can give a family with young kids is a ride on suitcase. These can be a lifesaver for long airport corridors – and great fun for the kids too. The Trunki is probably the best-known children's ride-on suitcase, and comes in a fun selection of colours and designs including ladybirds, zebras, London buses and pirate ships.
Trunki have thought of everything when it comes to the design. It has an 18-liter capacity, making it big enough to hold everything the kids need on the plane, including books, water bottles, changes of clothes etc. In addition to carry handles on the top, the pull along-strap also doubles as a shoulder-carry strap for those inevitable times when parents end up carrying the kids luggage.
The hard shell is robust enough for kids to sit on it without anything inside getting damaged and is extremely hard wearing – our Trunkis have been bashed about endlessly and are still in good shape!
Recommended by Marianne from Mum on the Move. Follow her on Instagram.
For even more recommendations, head over to my Amazon Shop.