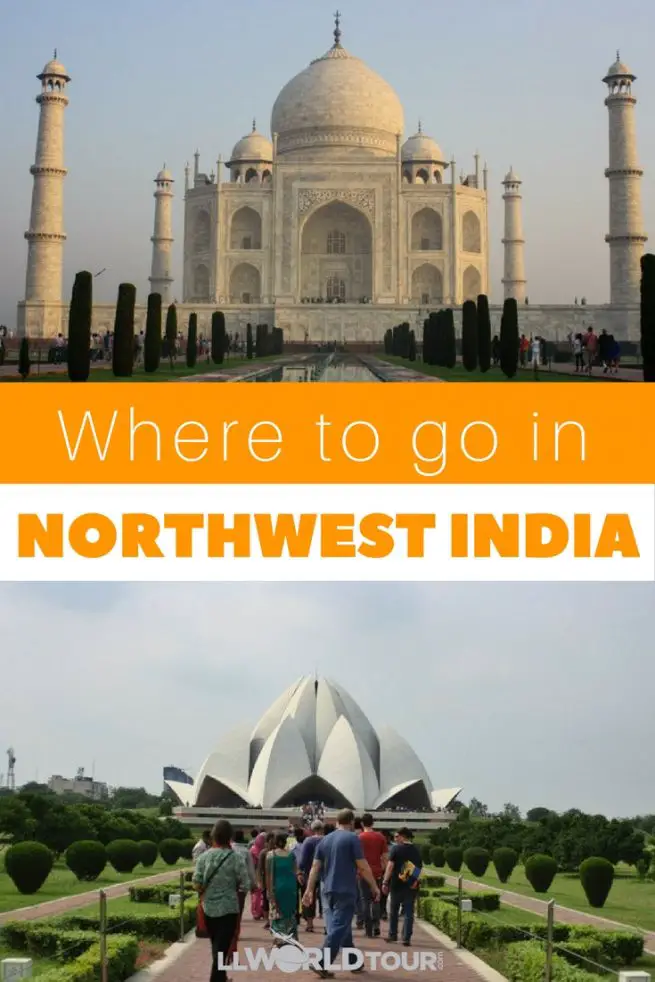 In my last post about India, I mentioned how travel to this country can be challenging for Westerners. There's no shame in deciding that you don't want to spend your vacation time struggling to stay healthy in India or trying to interpret head bobbles.
However, if you're not deterred by the potential challenges India presents, and are maybe even intrigued by them, this post is for you and can help you discover where to go in Northwest India.
Where to Go in Northwest India
I spent 3 weeks traveling around the states of north west India on a tour organized by Wandering Earl, so, needless to say, I haven't been everywhere.
In fact, some of India's most popular tourist destinations are located in Rajasthan, a state I haven't visited yet. I want to see the beautiful architecture in Jaipur as much as the next person, but here's my advice for what you should see on your first trip to north west India.
Delhi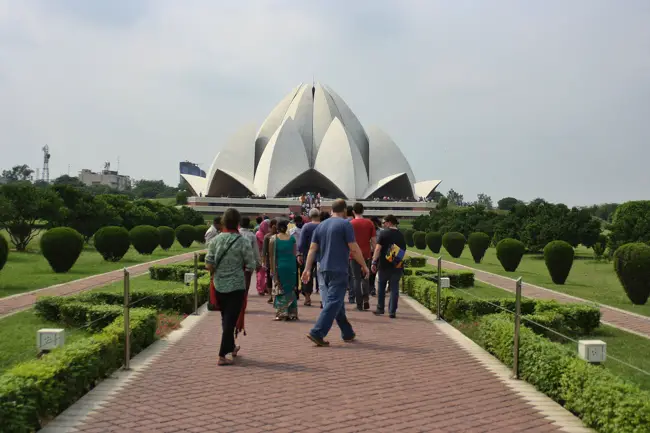 If you're traveling in Northwest India, you'll probably fly into Delhi and, while it's a fascinating city, it makes for an overwhelming introduction to the country.
Delhi sprawls, the streets are crowded, the smells are strong, the metro is complex, and the air quality was lower than I was used to. I mention all of this because, although I think you should spend some time in Delhi, I don't think you should navigate this city first. My first days in India were a jetlagged blur, and I was much happier once we got to McLeod Ganj, which you can read about later in this post.
When you head back to Delhi to explore, start in New Delhi, which is full of wide avenues, gardens, and monuments built by the British. Then visit some of Delhi's famous temples, such as Akshardam — a pink-sandstone temple complex, which teaches visitors about Hindu culture and history.
Also be sure to see the beautiful Lotus Temple — a Bahai House of Worship open to people of all denominations, which nearly made me cry with its quiet, spiritual atmosphere.
In Old Delhi, head to the main thoroughfare of Chandni Chowk, and then wander off down a narrow side street to join crowds of shoppers marveling at textiles, metalwork, and jewelry.
Agra
Tourists visit Agra for the Taj Mahal, and not much else — the city is dusty, dirty, and expensive (at least for India — you'll pay four times as much for a meal as you would elsewhere in the country). If you want, you can make Agra a day trip from Delhi, but it's 6 hours round trip and you'll be visiting the Taj Mahal in the heat of the day, so, it's not ideal.
My group arrived the evening before our visit to the Taj Mahal. We got up early to visit the building just after sunrise. I loved seeing the Taj Mahal in the changing morning light — first it was shrouded in mist, the white marble looking faintly pink, then golden, and finally its true white.
We finished looking around by 10:00 am when it was starting to get hot and crowded — the marble might shimmer with different colored hues, but in the end it's white and reflects the sunlight fiercely.
For some, there are other considerations to take into account. Check out this great guide for visiting the Taj Majal with kids.
Check out my other posts on India:
Varanasi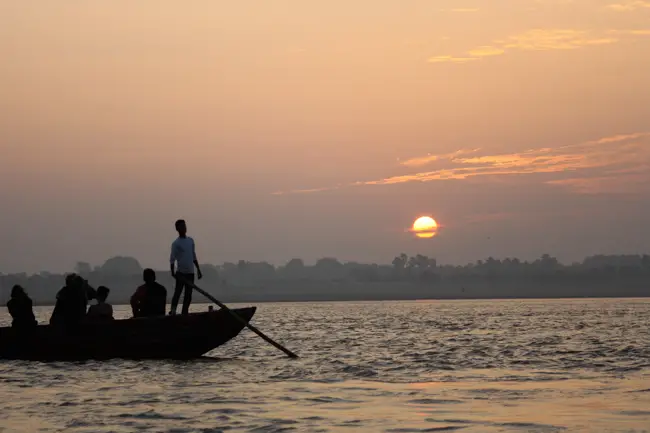 Varanasi is one of the seven holy Hindu cities, and one of the oldest continuously inhabited cities in the world. Located along the Ganges River, the city is organized around a series of ghats (stairs leading down into the water), the most famous being Dashashwamedh Ghat, where a Hindu aarti ceremony happens every night, and the Manikarnika Ghat where open-air cremations occur.
When devout Hindus die, their bodies are wrapped in orange shrouds and burned on wooden pyres along the water's edge. Then their family members cast their ashes into the river. Tourists can view the burning ghat from a balcony above, but be respectful and don't take photos or stay too long. Of course, you probably won't want to stay too long because the air is thick with smoke, and its an intimate experience to intrude upon. The men who worked burning the bodies wore no protective coverings over their mouths or eyes, but I couldn't watch for more than 15 minutes despite my sunglasses and scarf.
Another way to see the burning ghat and the rest of the ghats (where people wash clothes, bathe, and pray) is by taking a boat ride along the Ganges. The river is most alive at sunrise and sunset, and I went on a sunrise boat ride. It was beautiful watching the sun come up on one side of the river and the city wake up on the other.
Finally, for a truly delectable gastronomic experience, wander through the old part of Varanasi until you find Blue Lassi (it's near the burning ghat, and there are signs helping you to find your way). Lassis are delicious yogurt drinks, and the ones at Blue Lassi are made with fresh fruits in a wide variety of flavors — pomegranate, banana, orange, coconut, apple, papaya, even chocolate.
Rishikesh and Haridwar
Another of the seven Holy cities in India, Haridwar is worth visiting for its aarti ceremony — a evening prayer and series of offerings to the Goddess Ganga. Haridwar plays host to many Indian pilgrims, but doesn't see a lot of Western tourists, so, if you like the feeling of being the only foreigner around, this is the place for you.
Just an hour away, Rishikesh makes an interesting contrast to Haridwar. Both cities are located along the Ganges River but, in Rishikesh the river has just come out of the Himalayas, and the water isn't yet polluted. If you want to take a dip in this holy river, Rishikesh is the place to do it. I only walked in the water rather than submerging myself fully, but it was cool and refreshing if not spiritually cleansing.
When visiting these cities, my tour group stayed in Rishikesh, which is full of hippies and yoga studios, including Maharishi Mahesh Yogi's ashram, which The Beatles visited in 1968. There are plenty of cafes to appeal to Westerners including The Office, which is known to have some of the best chai in India. I'm an obsessive tea drinker (I have a feature on my blog called Tea Tuesday) so, when I say I drank one of the best chais of my life there, you can rest assured that I have a large sample size with which to compare.
McLeod Ganj
McLeod Ganj is in the foothills of the Himalayas, and home to the Tibetan government in exile. A small town home to Buddhist monks, hippie expats, and Tibetan refugees, McLeod Ganj is the perfect place to relax and experience a different side of Indian culture. You can walk around the Dalai Lama's temple complex and admire the prayer flags and mountains, then give the prayer wheels a spin before heading inside where you might see young monks practicing debating.
There's a nice, short hike outside of town along a river and up the side of a waterfall. Parts of the trail are steep I found the experience draining because I was hiking while recovering from a stomach sickness. Plus, McLeod Ganj is at a height of 6,800 ft and I'm used to walking around at sea level. Most people, however, should have no issues with this walk, and they'll be rewarded by a small cafe serving chai at the top of the waterfall.
Did you like this post? What did we miss? Let us know in the comments.
You may also like:
Visiting Bhutan
Trekking in the Bumthang Valley
Why I Love Traveling
Before you ever get to India, you need to sort our your Indian Visa. Head over to Breathe, Dream, Go for all the info you need on filling out your Indian Visa application.
Pin It!
: : :
Emma Holliday is a freelance writer and travel blogger currently based in Boston. When she's not busy wishing she were a polyglot, she's backpacking Europe, working on an organic farm in Hawai'i, or drinking copious amounts of tea. Read more of Emma's writing on her blog, An Opportune Moment.