[updated February 2020]
I arrived in Spain for the very first time by way of the coastal city of Valencia, the third largest city in Spain. It was a sunny and tasty way to start my month in Spain. The highlight here is the amazing City of Arts and Sciences, Valencia.
Bienvenidos a España. I can not believe I am nearly all the way around the world in Spain. I just left perfect, straight-laced, efficient Cologne, Germany for Valencia, Spain. On first glance the city is magnificent. It's full of lively plazas and grand baroque buildings and gothic churches. And tapas, delicious mouth-watering tapas.
Hispanic Day in Spain
My first night in town I was back to traveling alone after quite a long streak of a month and a half of being with various friends. I wandered the streets around with the rest of the Valencians and joined their siesta stroll. Not only was it a Friday, it was also October 12, Spain's "Hispanic Day" or, as we know it, Columbus Day, so the masses were out in force.
So much so, that I was almost without a place to stay. There was not a bed to be had at a hostel or hotel. The morning I flew to Valencia I called one last chance place who didn't take reservations—you just had to call them the day of arrival—and fortunately they had one double bed left. Phew.
Tapas and Toothpicks
I popped into a friendly-looking tapas place and filled my hungry tummy with delectable treats served on thick slices of baguette—tuna topped with an anchovy, chorizo sausage, prosciutto ham and cheese, and a Spanish Tortilla (omelet) filled with potatoes, onions and ham. I sat at the 'bar' where there were cases lined up with these morsels—you just take what you want out of the cases and save the toothpicks so you can pay according to how many toothpicks you have — genius, or too trusting considering how easy it is to toss a toothpick on the floor.
It was like a "sushi Train" restaurant where the little fishes 'swim' by you on a conveyor belt — leave it to the Japanese to dine with super efficiency. Makes we wonder why the Germans don't have some kind of Wurst Wheel or something. The sushi train color codes its plates so when you are done you are charged by the amount of small plates you've stacked up. I washed it all down with a cold cerveza and my whole dinner of 4 tapas and a beer cost me six Euros. I love Spain already.
History of Valencia
During its 2000-year history, Valencia has been occupied by Rome, the Visigoths, the Moors, and the Spanish Kings. The cobblestone lanes of the city are filled with history at every turn and amazingly ornate baroque buildings in every square.
City of Arts and Sciences Valencia
But one of the most impressive sights here is La Ciudad de Arts y Ciencias (the City of Arts and Sciences, Valencia), world renowned architect Santiago Calatrava's big masterpiece for his own hometown. Just approaching this museum complex had me in awe.
The structures are, to say the least, oversized and in your face modern. There is a planetarium, Oceanographic Park, Opera House, a Science Museum, and outdoor garden. Every structure has its own distinct organic shape, but all are connected with the same shiny white mosaic tile clad shells.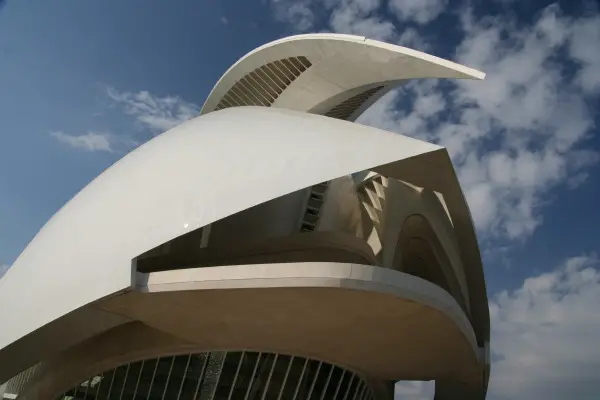 It was a joy just to walk around them and gaze up at the work of this master who recently designed the Transportation Hub at the new World Trade Center in New York City.
Getting Around Valencia & Spain
I mostly walked around Valencia. After a week there, I headed toward Madrid by bus. Spain is a big country, but it's really easy to get around because of their modern trains and buses. There are high speed trains between the larger cities  like Barcelona and Madrid. For the best deals on flights, trains, and buses in Spain, check out the Omio booking platform.