"We have 500 reservations tonight.  How fast you can eat?" a harried woman wearing a headset says to us as we ask for a table at Hiltl in Zurich.
Since we don't have a reservation, they can seat us, but we have to vacate our table in one hour. It feels a bit rushed, but I am hungry and ready to take it.
"It's like everything here is a negotiation," says my friend, Maurits, who I'd met at a Berlin hostel five years earlier. He took the train from Basel to see me here in Zurich and it is great catching up with him, as if we are old friends, even though we'd only spend a couple days together in Berlin. That's traveling solo for you.
He barters with the woman to see if there is at least a table that would give us about two hours to eat — instead of a more 'binge and run' affair. Yes.  We are sold.  She hurries us over to a two-top, slaps down some menus and a tiny sign that reads: "Tisch frie bis 20:00." Table free until 8pm. How tacky.
World's first vegetarian restaurant
Hiltl proclaims itself as the world's first vegetarian restaurant. It's supposedly the oldest continuously operating vegetarian eatery. Although the Swiss have always been a pretty meat-happy bunch, that didn't deter Ambrosius Hiltl. Back in the 19th century, the Bavarian cobbler adopted a vegetarian diet to alleviate pain from rheumatoid arthritis on the advice of his doctor (who professed that a diet of raw vegetables, fruit and nuts could heal most ailments).  It was opened in 1898 and is now a huge success and business and has mushroomed in size with seating now for about 500. So much so that unfortunately, it feels like a factory churning its customers in and out like widgets.
Dinner at Hiltl
We were both expecting more of an old-timey wooden-beamed historical place, and instead it feels like a cross between a cruise ship and a south Florida buffet where the retirees rush to the early-bird special. They even have some kind of nightclub with DJs here on the weekend now. Bizarre. It is a huge place with some 1980s looking glass and pink décor with huge chandeliers overhead and sadly a Twitter feed projected on the wall. #Blech.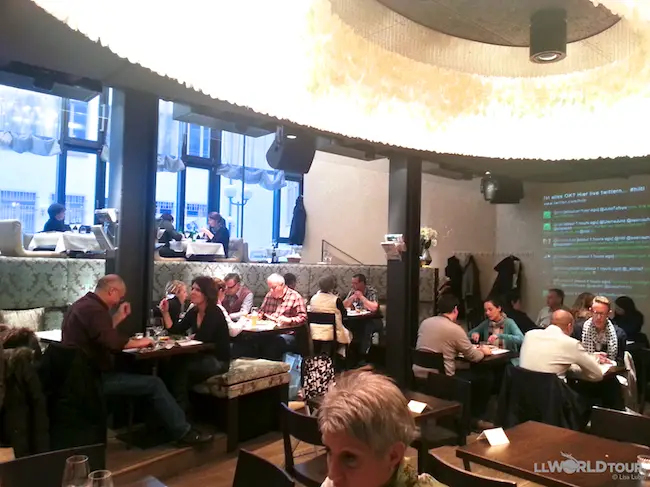 Next, we learn how it all goes down. Instead of your average buffet where you just pay a set price and then happily go up time and time again and stuff yourself until your pants nearly burst, this place charges by the gram. Every kilogram (a bit more than 2 pounds) of food is 55 CH (about $60). Ah, Swiss prices! So we have to thoughtfully consider every little morsel we choose.
"Don't get any cucumbers. Too heavy," Maurits warns. "Just fill yourself up with heaps and heaps of lettuce."

The jokes went on all evening: bread is lighter than meat. Artichoke hearts take on all that water and can be heavy. Good thing I don't like potatoes. Rice is light and fluffy.
We wander around the huge salad bar taking  note of all the heavy items to avoid. It has more than 100 dishes each night. There's  vegetarian cuisine from around the world like Indian, Thai, Greek, Lebanese and Italian – salads, rice dishes, quinoa, tabouli, hummus, guacamole, curries, samosas, falafel, lasagna, on and on. I glance over and so far all Maurits had in his plate was some "light" basmati rice.  At some point, I just couldn't worry about weight and just got what I wanted.
Once you choose your food, you put your plate on a scale and a receipt prints out which you later hand over to your waitress.
When we return to our table, I am happy to see he's filled his plate.
"I've failed miserably," Maurits feigns utter disappointment.  Or maybe he's dead serious? He says in the end, his choices were weighty errors that now he simply can't take back. It's not like you can put food back that you  already took and weighed.
Our waitress comes by and takes our weight receipts. She soon returns them after scribbling something on them.
"Ah, now it's too late. We are already in the system," Maurits says, shaking his head.
"In the system?" I ask.

"Yes, see she's made a mark on the receipt in red ink. There's no going back now."
We were doomed to overpay for our food! It felt like a strange sci-fi movie. At one point Maurits accidentally drops a piece of food on the floor. "Oh no!" he bursts out. "Now I have to eat off the floor. I can't waste this, I already paid for it."
Seriously, this is how we should think about all our food. We waste so much, that the pay-per-gram method was really making us think hard about each thing on our plates.
The place is a bit odd, but Maurits makes it a hilarious evening and honestly, the food is really tasty.
When I can't eat any more, he is very disappointed in my efforts as I am failing to get all my money's worth.
"But you have a good paying job at a pharmaceutical company in Switzerland. Should you be worrying  about money?" I ask.

"But you don't understand," he says. "I'm Dutch."

Wow, a Dutchman and a Jew trying not to overpay. And I thought I was the frugal one.

"Oh no, I was raised to pile onto my plate at buffets that were one-price," he says.  "My mom taught us early on how we must save as much as we can and get the most out of our meal."
Maurits finally comes up with what he feels is their mission. Eating dinner out is usually about enjoying yourself and wasting time. Here their mission is speed and efficiency:
Use every minute and every gram wisely.
We spend the rest of the night scheming on ways to undermine the system. Maurits suggests that we take a little food, then weigh our plates and get that receipt, and then illegally take more food!  Scandal!
"Don't you worry that there is someone watching to make sure no one does this?" I ask.

"Nah, not at all. The Swiss would NEVER break the rules. So they aren't expecting that at all."

 
Disclosure: During my stay in Zurich, I was a guest of Zurich and Switzerland Tourism.  I was not a guest at Hiltl, nor did they know I'd be writing about it. As always, all writing and opinions are my own.