"Is that all you have?"
I often get asked by not only friends, but also by other experienced travelers who still can't seem to learn how to pack light.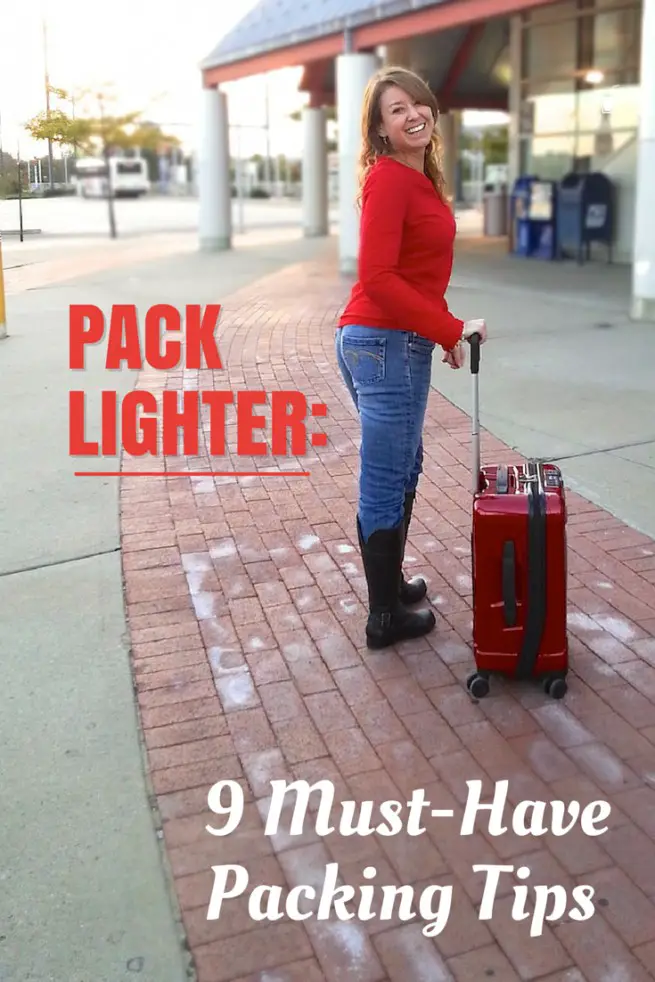 Okay, so I've come to terms with the fact that I am officially a travel expert. It takes a long time for me to humbly admit I am an expert at something. But after traveling abroad for the last fifteen years of my life, three years of it being non-stop, solo traveling, with more than fifty countries under my belt, and traveling by planes, trains, boat, rickshaws, and camels, I kinda know what I am doing. And even when I am with fellow travelers, I still get asked how I pack so light.
The less I carry with me, the less burden I feel and I do like the challenge of keeping my things to a minimum (in my bag AND in my life in general). After packing and unpacking likely hundreds of times, I have become a master, a Jedi at packing. This year I started using an even smaller carry-on, my "red rocket" or Torq International Carry-on Spinner rollerboard and it forces me to pack even lighter.
Why Pack Light?
Allows for carry-on only – less time at airports, no chance of lost bags, and no baggage fees (on most airlines)
Easier to carry and get around nimbly
Extra room in your bag in so packing is a breeze
Less stress and burden on your shoulders and your mind
9 Must Have Packing Tips
1. Pack Half
You've heard it time and time again: less is more.  Or in this case: Less is best.
Pack what you think you need and then eliminate half of it. I always lay all my clothes out on the bed and then with some thought, ruthlessly remove a few things. And I NEVER miss them. In fact, I still sometimes return without having worn that cute top that I've never worn, but I just know I will wear at the beach. Wrong. Don't bring it. In fact, give it away already! Remember, you will be dealing with all this crap everyday. It will be your home and your best friend. You don't need the added mental stress of worrying if your pack will close each and everyday. Or worrying what kind of overcharges you will incur because your bag exceeds the airline's lovely limit. Plus you need to leave a little space for things you may pick up along the way (even though on longer adventures – you will have to mail most things home).
2. Use Packing Cubes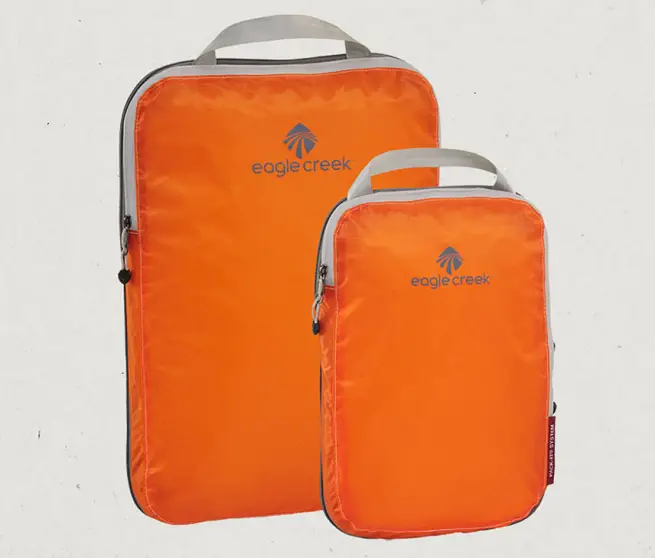 The best thing I did for my round the world trip and continue to do is use Eagle Creek packing cubes and folders to keep my clothes contained and organized inside my suitcase. I cannot stress this enough. When you pack and unpack as many times as I do, it saves some sanity to always know my pants go in my Eagle Creek folder, my shirts go in a vacuum bag (although I don't use these anymore), and my underwear and bras go in a smaller packing cube. This way each time, I do not have to think and figure out where to put each item. There's an assigned place for everything. I recently upgraded my collection after eight years of using the same ones (and they still virtually look brand new!) to include their new Specter Cube set in a thinner, water-resistant Nylon material and bright orange color. They're fun and now I prefer this for my shirts as it's easier than shoving into a plastic vacuum bag each time and having to push the air out of it.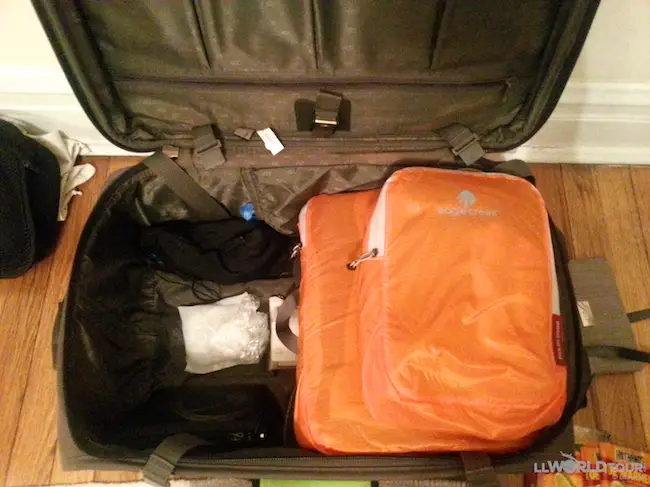 3. Small Bottles & Toiletries
On most trips, you do not need more than travel sizes, so why schlep more? And even if you're going on a longer trip, you can replenish as you go and often find cheaper alternatives abroad. Plus it's a fun challenge finding new products or translating that shampoo bottle in Romania.  Have an almost finished toothpaste tube back home? Boom. Now you have a travel-sized tube. Don't finish it, save it for your next trip. I also love my folding travel brush, mini-floss (free from the dentist after each check up), and old Altoids metal container perfect for a supply of headache pills or other meds.
4. Layers
You've heard it from mom and you're hearing it from me. Wear (in other words, pack) layers! Days might be warm and nights can get chilly. Instead of bringing one bulky sweater or coat, pack thinner layers that you can wear on different occasions or pile on if it's cold. Which leads us to:
5.  Travel in your Bulkiest Items
If you need a coat, bring it on the plane with you, it's usually cold anyway. If you have to bring a pair of boots, those will be worn on your travel days and they are hard to fit in your bag. Bringing a bulky sweater? Wear it on the plane coming and going.
6. Pack for One Week…or less!
I am always asked how did I manage to "pack for one year?"
I didn't.
Anytime I go away, I pack for 5-7 days, no matter how long the trip is. People do laundry all over the world…and so can you. Pack enough clothes only for about one week or less. Finding a place to do laundry is often fairly easy (and other fun challenge on the road). And yes, unless it's super hot and sweaty out or you are doing heavy labor, you can wear your clothes more than once. Or even twice. Horrors!
7. Buy Stuff if You Need It
Everywhere you go, you can normally buy things that you might need and oftentimes cheaper than in the US. Don't get stuck in the mindset that if you don't pack it you will be without!
8. Keep it Simple
When traveling around the world, I didn't take a bulky blow dryer or really any hair tools at all besides my foldable brush and some small barrettes and hair bands. It was the year of natural curls for me and certainly made life easier. If you are staying in hotels they often already have blow dryers. Instead of bringing a special 'evening shirt' just layer a scarf over any black cotton shirt and bam! …instant dress-up style.
9.  Pack Matryoshka Style – Put Things Inside of Things
Pack small items like socks or even chargers into your shoes to save room in suitcase. Use every nook and cranny of that suitcase and shove something into it, rather than smushing on top.
And now traveling is a breeze and instead of stressing about whether your suitcase will close, you can just enjoy the ride!
What about YOU? Tell me your packing tips?? Share your secrets with us in the comments below!
Want MORE great tips? Sign up for my email list. Plus, I recently released the second edition of my Travel Tips book on Amazon. Get it HERE!
No spam, really, I promise!
Disclosure: Eagle Creek sent me some of their products to try out. As always, all opinions here are my own.