It does not feel like Christmas here at all. Besides the fact that it's summer here in the Southern Hemisphere and the weather does not match the holiday season I've come to know, there seems to be a lot less decoration and overall Christmas hoopla around. Maybe we just go so overboard in the US with the commercialization of Christmas that I've gotten used to it and maybe here it's just right. Not sure. But I have to say I kind of miss being force-fed Christmas songs day and night and being bombarded with tinsel, snowmen, and Santa everywhere I go. Guess you don't know what you got…'til it's gone. 😉
The day after I arrived here in Sydney, I was lucky enough to go to a free show in the park called Carols in the Domain. Thousands of Aussie folks flock to this festive Christmas concert every year. It is held in a huge outdoor park and is a beautiful sight. Before I arrived, I could hear the music floating through the city air. This was what I needed to get into the Christmas spirit. Then, I rounded a corner and was in awe of the sight before me.
Literally thousands of red twinkling lights flickered in the night. Almost every person held a candle wrapped in red paper that was given to them as they entered the park. It's was just beautiful. Onstage, some of Australia's top performers and stars belted out their renditions of "Jingle Bell Rock," "Rocking Around the Christmas Tree," and "White Christmas." Although, they'll have to keep dreaming because I don't think they've had a white Christmas here ever—unless you count the sand at Bondi Beach. It was good family fun.
In fact, since it looks like Daley will be our Mayor again (and perhaps until 2025!), I would like to continue my ongoing conversation (okay it's one-sided!) with him and formally pitch this idea. I can see it now: "Carols in Millennium Park" with performances by Cheap Trick, the Ides of March, and of course, the Jesse White Tumblers!
So, here I am in this big city and it's Christmas Eve and I'm feeling a bit lonely with nothing to do. I really longed for a cool dinner party with some real Sydneysiders. But in the week I'd been here I wasn't really meeting any real locals. As a traveler, the people you tend to meet the most are…well, other travelers. And in my hostel there were plenty, but it just wasn't my scene. The place was filled to the brim with young Brits and Germans on holiday. Most of them were much younger than me and here for one thing only—to party! Getting drunk every night is not exactly why I came on a trip around the world.
On Christmas Eve day we had a big barbecue at the hostel, which was actually quite fun. There were sausages and chicken and all kinds of potato salads and summer BBQ type dishes. It felt more like the 4th of July than Christmas, but at least it was festive. I ended up going out that night with two cool gals, Ruth and Kathryn, from Manchester, England. We went around to a few bars and ended up at one in Newtown not far from our hostel. We weren't there for 20 minutes when they were calling 'Last Call.' I guess it was Christmas Eve. I randomly met these two gay guys at the table next to ours—they were laughing and being silly and I easily began chatting with them. In less than 5 minutes they'd invited me over to their house for Christmas Lunch the next day.
"What are you doing tomorrow?" Sean shouted over the bar's loud music.
"Absolutely nothing." I whined back.
"Well, then you have to come over to our house!!"
I was so happy—I'd have somewhere to go on Christmas and it was the real deal—Christmas in Sydney with locals!
I arrived at their cute house in the neighborhood just to the west of mine at about one-thirty in the afternoon on Christmas Day. They were so elated that I actually came and I instantly felt welcome and at home. Sean and Craig had lived together for awhile but were just good friends. Sean worked in finance with mortgages and house closings and Craig was a buyer and display designer for home décor. And their home showed this—various cool design elements were sprinkled about with a Zen-like Asian theme. Very cool. Sean's mom, Robyn, was there visiting from a suburb about an hour away and one of their good friends, Helen, was also joining us for the day.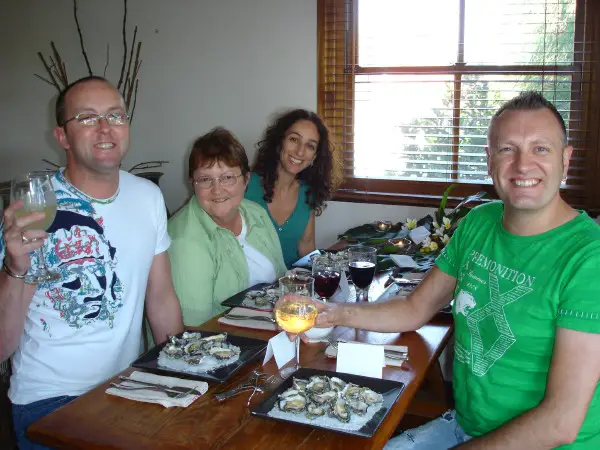 Their house was in a quiet little neighborhood, but also just ten minutes by train to the city center. It was cozy and had a great yard and barbecue area plus an airy balcony that looked out onto trees where you could hear the sounds of birds singing in the afternoon sun. The kitchen and dining room were open and inviting and perfect for entertaining. We opened some wine and toasted to the holiday and new friends. It was exactly what I needed. They could not have been warmer and friendlier. We talked about the great possibilities that come along with travel, the people you meet and experiences you can have.
We laughed and joked all afternoon and gobbled up some pretty tasty food. We started off with, my favorite, a beautiful cheese plate with mild blue and brie cheeses plus sweet strawberries, fresh local kiwis, and ripe red cherries. Next, Craig served up probably the best oysters I've ever had. He served them with a tasty soy ginger cilantro sauce on a beautiful bed of rock salt.
Then, we sat down to a feast of ham, turkey, bean & beet salad, mixed greens, potato salad… and finally Sean's masterpiece dessert. It's called trifle (I think it's British). It's a cold dessert of sponge cake soaked in sherry or fruit juice, spread with jelly and fruit, and topped with custard and whipped cream. Wow. It was all so yummy.
We chatted about their jobs, what they like to do with their time, and regular old stuff. But, as I got ready to go, Sean handed me something I've been hoping to try since I got here—a vegemite sandwich!
Down Under by Men At Work:
I said, "Do you speak-a my language?"
He just smiled and gave me a Vegemite sandwich.
Well, actually it was vegemite and butter on a water cracker. I've heard from non-Australians that it is a horrible, disgusting goop. But, the Aussies grew up on it and love it. It looked like a very dark brown paste of some kind. I wouldn't say I loved it, but it wasn't horrible. It was very salty (which I like), but also had a taste of a fermented old Asian hoisin sauce. It actually is fermented brewer's yeast, so I guess that made sense. It reminded me of the hairball remedy we used to squeeze out of a tube and to give our cat Pookie when I was growing up. Well, she loved the stuff so maybe she would have liked Vegemite. I would say it definitely seems like an acquired taste, but then I guess so is our 'national' food served in a can or tube—Spam!
Helen had made sweet handmade cards for everyone. In each one was a cool quote or saying pertaining to that person that we each read aloud. Since I was a last minute guest, she had just made mine after I arrived. But it was perfect—inside it said, "Welcome to Gay Sydney!!!" And I couldn't have felt more welcome.