About five years ago, I returned to Chicago after traveling around the world. And I thought to myself, I haven't even seen much of the Midwest. So I set out to rectify this and started a series called My Midwest. I ventured around checking out revitalized rust belt cities like Milwaukee, Cleveland, Detroit, and Indianapolis. Indy is just a three-hour drive east of me in Chicago and yet I'd really never spent any time there. A couple years ago, I took a bus to visit Indianapolis for a press trip and loved it! I found a thriving, vibrant, and friendly city that even passed my "I could live here" test.
Indy is for Everyone
I've been to Indy as a solo traveler. I've been here with friends and in groups (I just returned again to run the annual Bloghouse travel blogging conference). And it's clear that it is family-friendly.
Yeah, you know the Indy 500 and the Pacers and Colts, but Indy has evolved so much in the last give years. The city has injected a ton of cash and resources into growing its cultural and green/eco-friendly sides.
Indiana's capital city is an easy city to visit for a weekend. It's affordable and inviting – I always feel that Midwestern friendliness here.
It's easy to get around on foot or by grabbing a bike from the Indy Bike Hub at City Market or the Pacer's Bike Share.
It's super easy to ride right through the city on the Cultural Trail, an eight-mile bike and pedestrian path that connects many of the neighborhoods and cultural districts with the downtown core.
There is no shortage of things to do whether you are a museum buff, a sports fan, or a foodie.
Here are my top three reasons you should visit Indy.
Top Three Reasons to Visit Indianapolis
1. Indy is the original farm-to-fork destination.
With a state full of farms literally just a few miles outside of town, the 'farm-to-fork' movement wasn't really a thing here, it just was. The blend of heartland roots and thoughtful chefs has led to a great mix of restaurants and bars all over town.
BlueBeard
Built inside a former warehouse space, James Beard-nominated Bluebeard is everything I like in a restaurant – bright, friendly, full of buzz, and just serving up great food. Creative and comforting, most of the dishes are local and seasonal.
I loved the fresh beet salad and nearly perfect pappardelle Bolognese, but what surprisingly blew me away was the side dish of roasted cauliflower made with anchovies, capers, mint, and sunflower seeds. There's also an on-site bakery, Amelia's. Here, they make hearth-baked bread, pastries, and some specialty grocery items. If there's a wait, a slam dunk solution is to head across the street like we did to Hotel Tango. This war veteran-owned craft distillery is situated in a brick carriage repair shop. I was so sad to learn later that I missed meeting their resident bar cat named Fletcher Pickles. I must return soon!
Milktooth
Another popular James Beard-nominated spot, Milktooth is all about brunch. And that is all they serve six days a week. Set in a former garage turned into a modern-day diner, it's bright and fun and filled with Indy's bearded and tattooed hipsters. We tried a little of everything – from Dutch baby pancakes, a bialy with smoked salmon, and a gooey, raclette-style grilled cheese.
A little behind the scenes of getting this photo!
Napolese
Serving up traditional, Neapolitan-style pizza, Napolese sources local meats, cheeses and produce. The hearth baked pizzas were unique and tasty. My faves included a traditional Margherita pizza plus a whole egg cracked egg on top and the smoked salmon pizza with dilled creme fraiche, capers, and leeks. Yum! It was basically a cream cheese and lox pizza.  Napolese is part of a local, female-owned restaurant group known as Patachou. They started a foundation which serves healthy meals to at-risk and food insecure children.
The last few times I visited Indy, I also enjoyed and recommend other solid spots like:
Black Market
Pizzology
Petit Chou
Plat 99 (check out their gorgeous bar and stellar outside roof patio)
Bru Burger (another fun place along popular Mass Ave. with a lively outdoor patio)
And there's more that I need to check out on my next visit like Public Greens, Goose the Market, Vida, Tinker Street, and yes, the Nine Lives Cat Café. And I cannot believe I've still yet to try the famous shrimp cocktail at historical St. Elmo's Steak House.
Clearly I need to return to pet cats and eat more food.
2. Indy is Arty.
There are murals, sculptures, and other public art objects sprinkled all around downtown. A few years ago, Indy hosted the 46th Super Bowl so in commemoration, the Arts Council of Indianapolis gave dozens of artists free rein to create 46 murals all over the city. Don't miss 38 foot-tall hometown hero and author Kurt Vonnegut gazing down Mass Ave or the newer mural of Indianapolis poet and artist Mari Evans just a block away.
The Indianapolis Museum of Art (IMA) is one of the nation's largest art museums with a collection of more than 50,000 works. It's in a stunning modern building. My favorite part is outdoors. The free 100 Acres art and nature Park is full of whimsical sculptures and signs.
3. Indy is Family-Friendly.
For the kids or just those of us who are kids at heart, Indy can't be beat. This city truly is a great destination for families.
Indianapolis Zoo
Focused on conservation and sustainability, the Indianapolis Zoo is the home to dolphins, orangutans (in the new Orangutan center) red pandas and more. Located inside the sprawling White River State Park and is just a few blocks from the center of town.
Children's Museum
The Children's Museum of Indianapolis is the largest kid's museum in the world at nearly 500,000 square feet and it's getting bigger. They are currently building an outdoor rec and sports area called the Riley Children's Health Sports Legends Experience to encourage kids to get out and move more. It will open next year.
While I don't have kids, what I really appreciated about this museum was its emphasis on fun learning experiences. There are moving exhibits dedicated to Anne Frank and Ryan White demonstrating how children can make a difference in this world. As a traveler, I loved the "Take me There: China" exhibit that delved into the food, culture, music, and language of China. I think it's great to get kids learning about our world and not just what they know and see in their town. Of course there are also lots of dinosaurs, dancing, music experiences, and space exploration exhibits.
Parks and Waterways
Indy is full of peaceful green spaces for playing and relaxing. Take a stroll, a run, or even a gondola ride on the 1.5 mile Indy Canal.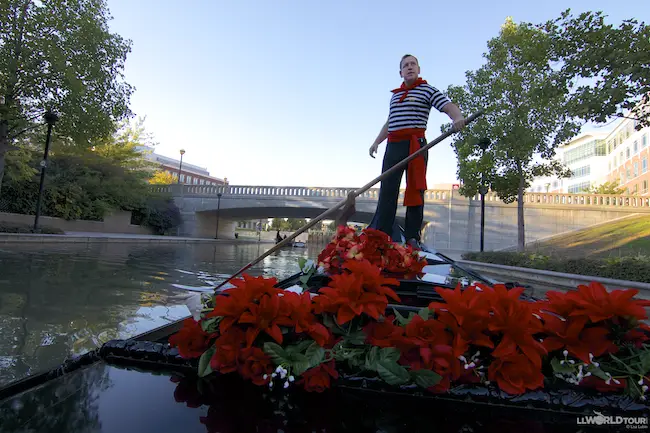 The 250 acre White River State Park is literally right downtown. It's an expanse of green space and cultural attractions including the zoo, museums, and the NCAA Hall of Champions. Also, in the works is a huge project centered around the White River which runs around the western edge of downtown. There are proposals on the table to develop the banks of the river into entertainment districts with restaurants, hotels and parks.
Where to Stay in Indy
During my visit to Indy, I stayed in the highly rated, luxury JM Marriott Indy. With more than one thousand rooms, it's one of the largest JW Marriott Hotels in the world! The glass tower punctuates Indy's skyline while reflecting back the clouds and sky all around.
The rooms are clean-lined and modern. I highly recommend splurging on access to the executive lounge where you can get a lovely breakfast, happy hour treats, and late night desserts every day.
Book a room at the JW Marriott Indy. 
For a smaller, boutique feel check out Hotel Alexander or the soon-to be completed 21C hotel being built inside the old city hall.
Book a room at Hotel Alexander.
Want to read more about Indy? Check out some more ideas from some of the other great travel bloggers that attended this year's Bloghouse in Indy:
The Rest of Indiana
And of course there is so much for to Indiana besides Indy. I have visited Bloomington several times and love the small city/college town vibe there. Now I need to get to some of the other parts of the state, like Lafayette, the home of Purdue University. Check out this post where my friend Theresa, the Local Tourist, tells us all the things to do in Lafayette, Indiana.
Pin It!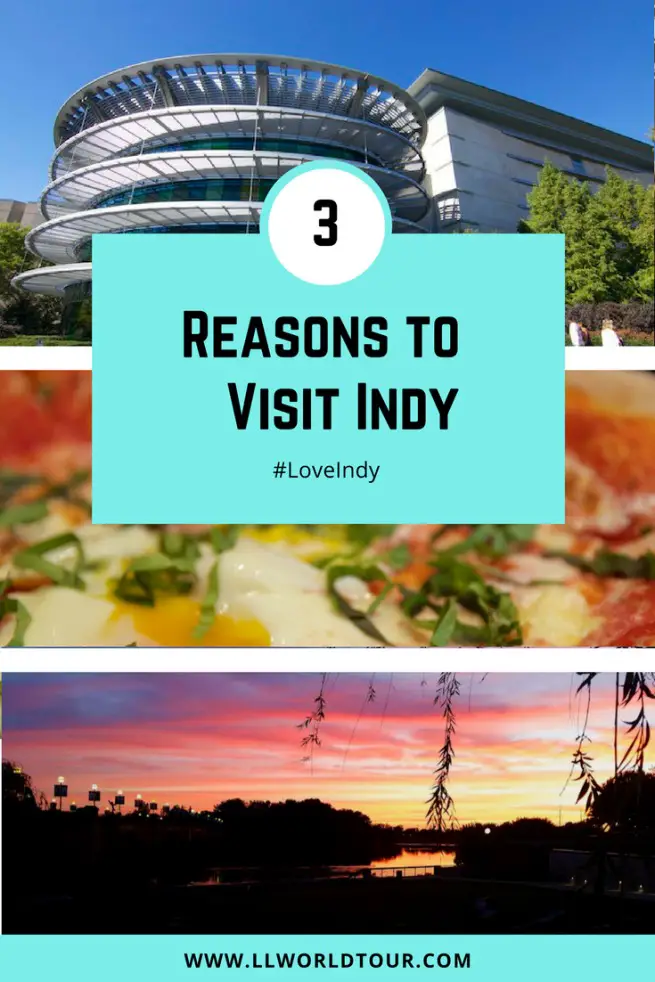 Disclosure: While this is not a sponsored post, I was working with Visit Indy, Visit Indiana, and the JW Marriott during my time Indy for the annual Bloghouse conference for travel bloggers.