[updated July 2019]
The United States is a big and varied place. Our food is as diverse as our multi-cultural population. As a result, there are so many popular American foods.
I didn't realize it until I was older, but we are so lucky to have such a variety of cultures and foods all around us. And because of this variety, one state's pizza or barbecue or even tacos might not be like another's. So what is the most popular food in America? I reached out to a number of travel bloggers and residents all over the U.S.A. to tell us all about their city's best local dish and where to get it! Without further ado, I bring you the most famous food in the USA!
I suggest saving this post so you can reference it when you are traveling!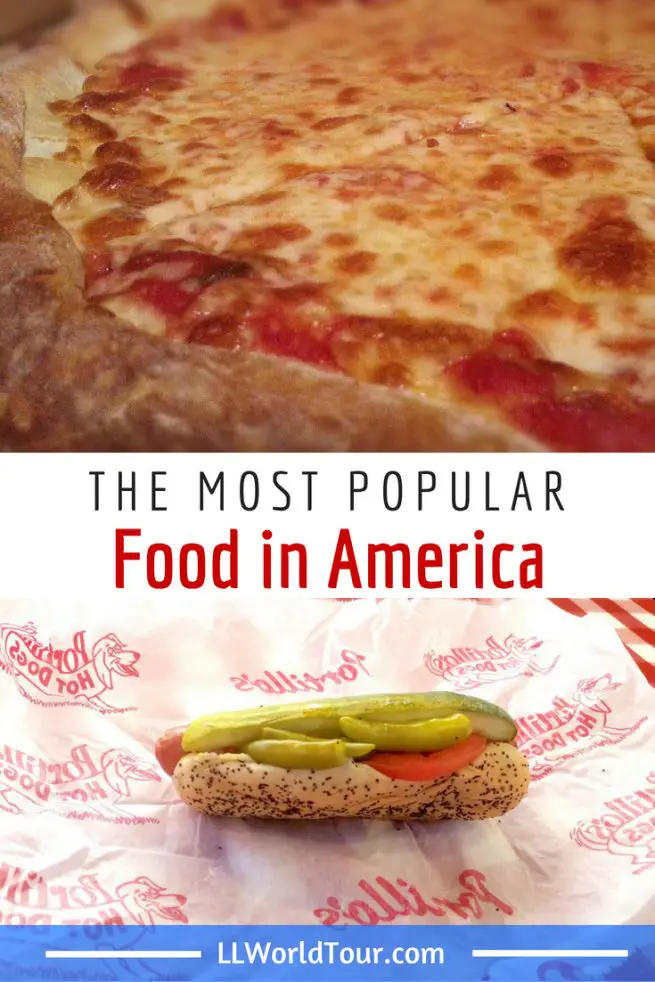 The Most Popular Food in America
Best Local Food in New York City — New York Pizza
One of the most popular foods in the USA, if not the world, is of course pizza. If you only eat one thing while you're in New York City, New York style pizza has to be it. This large, hand–tossed, thin crust pizza is the stuff that foodie dreams are made of.
Simply grab a slice to go and you are all set; just make sure that when you eat it, you fold it right down the middle, hold it in your hand, watch the grease drip down the crust, and proceed to eat your pizza, crust last. In New York City, this is the only acceptable way to eat your pizza.
But where do you go to obtain this culinary delight? I mean, there is a pizza shop on every corner that proclaims they have the "best pizza in the city." Well, for a traditional, New York-style pizza, you can't go wrong with Lombardi's in Little Italy, John's of Bleecker Street, or Best Pizza on Havemeyer Street in Brooklyn. For more Italian-style pizza, you can try Juliana's and any of the Eataly locations.
From Kelly Duhigg at Girl with the Passport. Follow her on Instagram. 
Best Local Food in San Francisco — Cioppino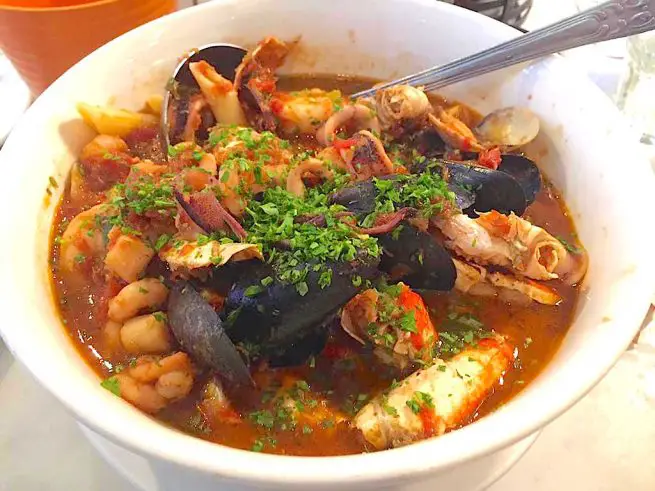 San Francisco is known for its seafood in general, but the ultimate must-try is the cioppino. Forget the tourist-favorite clam chowder in the sourdough bread bowl and make way for "The Best Damn Crab Cioppino in San Francisco!" at Sotto Mare.
Cioppino is a uniquely San Franciscan tradition. The tomato-based soup originated in the late 1880s from Italian fisherman in North Beach combining leftovers of the day's fresh catch, usually a mixture of crab, shrimp, mussels, and fish with onions, garlic, tomatoes, fresh herbs, olive oil, and wine. 
Though Sotto Mare isn't the first in San Francisco to serve the soup to its customers, their cioppino definitely lives up to the self-proclaimed name as "The Best Damn Cioppino!" It's the best cioppino we've ever had, full of rich crab flavor and deliciously fresh seafood.
Because it is seafood, it's also not the cheapest option for San Francisco eats, but it's well worth it. It is a large soup and one order is recommended for two people! They also provide bread and butter gratis so you can sop up more of that soup.
From The Adventures of Panda Bear. Follow them on Instagram.
Best Local Food in Chicago — Chicago Hot Dog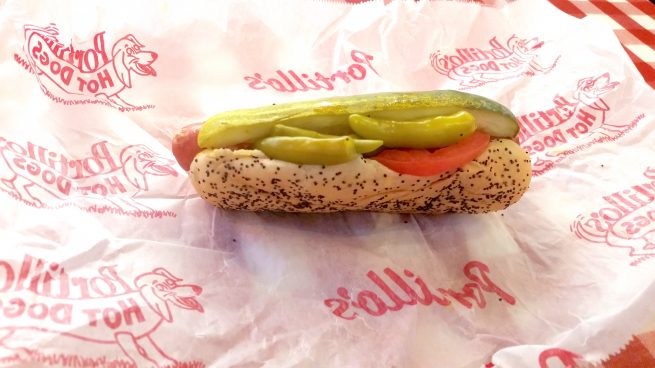 When it comes to the most famous food in the USA, Chicago is one of America's best food cities. One must-try food when visiting my hometown is a Chicago-style hot dog.  A Chicago-style hot dog or Chicago Dog is an all-beef hot dog served on a poppy seed bun and topped with yellow mustard, pickle, relish, sliced tomato, onions, sport peppers and celery salt – ketchup is absolutely not allowed! When ordering you can say "drag it through the garden" to get all the toppings. The classic version is steamed, but some places grill it over charcoal and call it a char-dog.
Staying in Chicago? Check out my Ultimate Guide of Chicago's Best Restaurants!
One of the best and most well-known restaurants to try a classic Chicago-style hot dog is Portillos —the River North location gets packed, but the hot dog is really good and juicy.  Another well known hot dog stand is Wieners Circle in Lincoln Park which is open really late at night and part of the experience is the crude humor and verbal abuse from employees.
If you are willing to travel further from the downtown area, I recommend Superdawg, an old-school drive-in on the Northwest side of Chicago, which serves its own version of the Chicago dog. Don't miss the cute hot dog couple on the roof!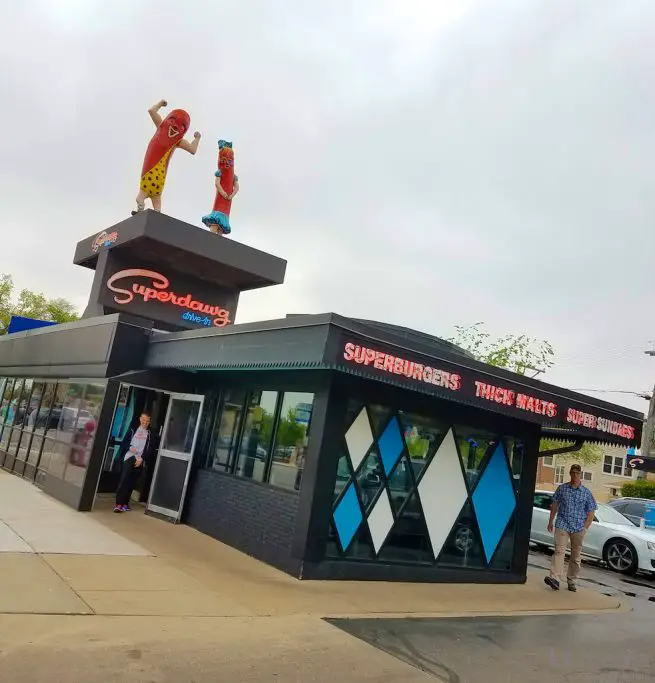 From The Savvy Globetrotter. Follow her on Facebook.  
Best Local Food in Los Angeles — Tacos
Gaining huge popularity as one of the most popular foods in the USA, are tacos. Nothing beats LA tacos. From $1 street tacos, to organic, locally-sourced vegan tacos, there is a taco in LA to feed everyone's taste.
Los Angeles is home to a large percentage of Mexican immigrants and with them come strong influences over our food and culture. Travel all over the city and you'll be able to spot a taco truck, shop, or restaurant that has tacos on their menu at practically every square mile of LA. Downtown and East Los Angeles are especially known for their deliciously authentic tacos.
LA's most loved taco trucks are Leo's Tacos, Taco Zone, and El Chato taco truck. All 3 late-night friendly options serve classics such as carne asada, carnitas, al pastor and more;  but can also make a mean veggie taco too if you ask nicely. For a more traditional sit-down spot that's still casual, Guisados is definitely where it's at.
With over 15 different types of authentic tacos made with home-style handmade tortillas, you really can't go wrong with any of them. Finally, nothing says LA like the words "organic" "gourmet" or "vegan." If you're into something different and a little less authentic, Gracias Madre is a hip and trendy vegan restaurant that's great for tacos and vegan Mexican food in general.
Similarly, Kogi Tacos which is definitely not vegan but still very unconventional, is a fun alternative to your traditional taco. What started as a massively popular food truck has since opened a full on restaurant serving Korean fusion tacos with classic Korean staples like short ribs and kimchee. There are easily hundreds of different types of tacos in Los Angeles and all of them are unique and worth celebrating. I've never met a taco I didn't like, and thanks to LA and all it's variety, eating a taco is never boring. 
From Mona at Monacorona.com. Follow her on Instagram. 
Best Local Food in New Orleans — Po' Boy Sandwich
New Orleans is a food lover's paradise. Nobody agrees on how the famous New Orleans po'boy sandwich was created. The story I've heard most often is that the po'boy was made by a couple of restaurant owners named Benny and Clovis Martin. It's said they created the cheap and filling sandwich in order to feed striking streetcar workers in the 1920s.
Almost anything can be used as filling in a po'boy, but the most common choices are either roast beef or fried seafood. The crucial ingredient is the special style of baguette: crispy on the outside and fluffy on the inside. If you want the bread to be really authentic, it needs to come from Leidenheimer Baking Company.
Check out my list of the Best Places to Eat in New Orleans!
There are two classic places at which to get a roast beef po'boy: Tracey's and Parasol's. They are both located in the Irish Channel neighborhood and there is a bitter rivalry between the two joints. If you prefer a fried seafood po'boy, the best destinations include Domilise's for the special half oyster/half shrimp, Parkway Bakery and Tavern where Obama got his po'boy, or the Rampart Food Store. If you desire a less conventional or even vegetarian po'boy, Killer Po'boys in the French Quarter is the spot to beat.
From Around the World in 24 hours. Follow her on Instagram.
 Since you're exploring the most popular food in America, you might as well also see the best places to visit in the USA.
Best Local Food in Denver — Green Chili
You can't visit Denver, Colorado without trying a bowl of green chili. Now, before you start picturing a massive bowl of strange green chili, let me stop you. Green chili isn't green! It's called that because the main ingredient features freshly roasted Hatch or Pueblo chilies combined with pork, onions, garlic, tomatoes, and water or broth in a variety of heat levels. Every cook has a secret recipe, including myself.
Try it by the bowl, over a burrito, in a breakfast burrito, or any form of Mexican food. Some of our favorite places to sample green chili include D'Corazon, Pete's Kitchen, and Santiago's Mexican Restaurant. Of course, if green chili doesn't sound like your thing, you can always try the Rocky Mountain Oysters!
Follow Heidi at FlyAwayU.  Connect with her on Instagram.
Best Local Food in Seattle — Salmon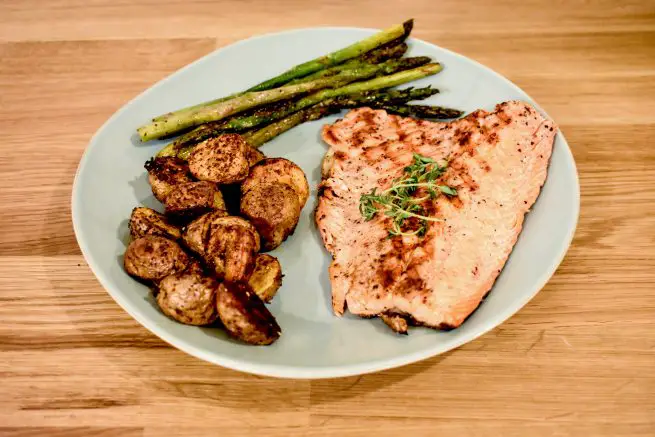 One of the top tourist things to do in Seattle involves a bustling fish stand and fresh fish being thrown about – often a glistening salmon – at Pike Place Market. So it's probably not too much of a wonder that grilled wild salmon is the menu item you can't escape in the Emerald City. But you may not realize just how deeply ingrained salmon is in the culture of Seattle and its surrounding areas.
Salmon runs (when you can see salmon migrating back to the place they were born in order to spawn) are prime viewing locations in the fall. Locals even make yearly traditions of attending salmon festivals, where – you guessed it – you can find some superb grilled salmon on the menu.
If you want to make sure you're getting high-quality salmon while in Seattle, look for King salmon on the fresh fish menu and get it grilled with just a dash of seasoning and lemon. Other popular salmon to eat in Seattle are Coho and Sockeye. The best time to find fresh wild salmon on the menu or at a market in Seattle is from mid-May through September.
From Gina at One Day in a City. Follow her on Instagram.

Hungry for more? Check out the Most Famous Food of Different Countries Around the World.
Best Local Food in Dallas — Barbecue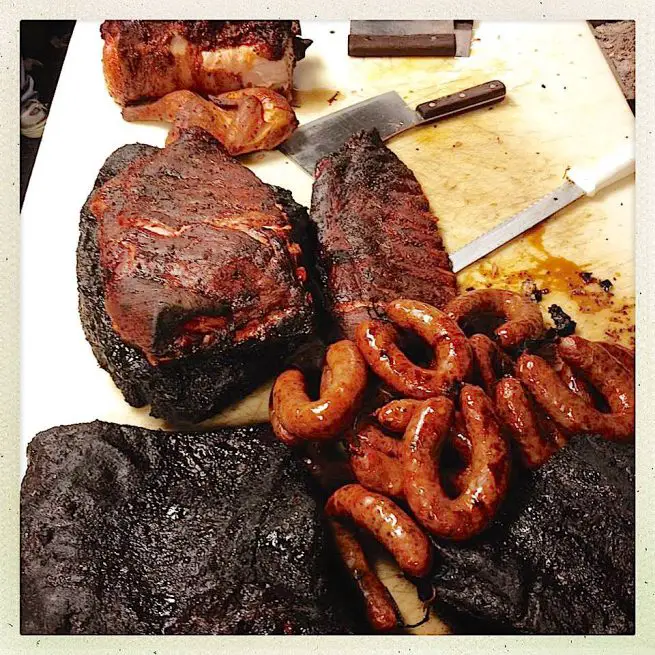 Food is serious business in the South, and when it comes to barbecue the competition is fierce!  Well, here in Texas we greet the competition head-on. For you see, in Texas, we love our barbecue. We love to cook it, we love to eat it, and we love to declare ours the very best! So it comes as no surprise that one of Texas' largest cities, Dallas, has some of the best barbecue around.
In most parts of the country, the sauce is king when it comes to barbecue, but not in Texas. Many of our barbecue joints serve up their tasty creations with no sauce at all, instead it's all about the rub. And that rub tastes best on some good Texas-raised beef. Granted, you will find chicken and pork at our barbecue joints, but around here beef is king when it comes to barbecue.
While in Dallas, head to one of our favorites, Lockhart Smokehouse in the Bishop Arts District, where their motto is "No Forks! No Sauce! Needed." After placing your order, head to your table with your paper-wrapped food and get ready to dive in.  I recommend the brisket, fall off the bone ribs, and a side of their smoked macaroni and cheese! Or if you're feeling really daring, you can have your barbecue on your drink when you order The Burnt End Bloody Mary (it's delicious, but carries quite a kick).
From Michelle at That Texas Couple. Follow her on Instagram. 
Best Local Food in Detroit — The Detroit Coney Dog
Detroit and its surrounding suburbs are dotted with Coney Island restaurants with such regularity that it's hard to go anywhere without passing one. The Detroit-style coney dog is a hot dog – ideally from a Michigan-made brand – served on a bun and coated with coney sauce, which loosely resembles chili, and topped with mustard and onions.
As a bonus, get it with a side of coney fries, which are diner-style french fries topped with the same coney chili. I've traveled all around the United States and while I've seen chili dogs on menus in other places, no one makes them quite like the coneys in Detroit. Coney chili is less chunky than traditional chili, so it makes for a better (though messier) hot dog topping.
The two most iconic Detroit coney establishments can be found at the oddly-shaped intersection of Michigan Avenue, Lafayette, and Griswold. American Coney and Lafayette Coney have operated side-by-side for generations, and it's worth trying a coney from each so you can choose your favorite like so many Michigan residents before you.
Out in the suburbs, you'll find chains like National, Kerby's, and Leo's practically every mile. Coneys are great for diners on a budget too, as you can get a decent amount of food for around $5 at most places.
From Kris at Nomad by Trade. Follow her on Instagram.
Best Local Food in San Juan, Puerto Rico — Mofongo
There are many local dishes that makes San Juan and Puerto Rico unique, but our most authentic and delicious dish is definitely the Mofongo. Mofongo is prepared with mashed fried plantain mixed with garlic. Sometimes, it is filled with some type of meat that can be shrimp, chicken, or flank steak. In some other parts of the area, you can find Mofongo mixed with red sauces made with our secret ingredient made out of different plants: the sofrito.
Check out Where to Eat in Puerto Rico!
For years, Dominicans and Puerto Ricans have been fighting over who makes the true and authentic mofongo.  The main difference between both varieties is how moist it is. In Puerto Rico, it's made to be smooth, in the Dominican Republic, it is crispier.
Some restaurants I recommend: Vaca Brava, La Cueva del Mar, El Jibarito, La Casita Blanca.
I definitely encourage you to visit San Juan and make your own judgement on which is the best Mofongo in the city.
From Brenda at Traveleira. Follow her on Instagram. 
If you liked this post, you may want to check out a few more mouth-watering posts:
What's your hometown's most popular local food? I know there are lots more. Please let me know in the comments below!
Pin it for later!