Motawi Tileworks
For years now I've loved Craftsman–style homes and design. I'm not sure where my love of it came from, but I think it has something to do with the clean-line graphical nature of it. I love driving around looking at the craftsman homes all over, especially on the west coast in Vancouver and in Pasadena, California home to the famous Gamble House, which you may know as Doc Brown's pad in Back to the Future.
By definition:
The American Arts and Crafts movement of the early 1900s (not talking about paste and construction paper here) was a sort of revolt against the mass production of home goods and the ornate design style of the Victorian era. Arts and crafts favored originality, craftsmanship, simple forms and local and natural materials.
The movement thrived included well-known designers such as Gustav Stickley, Greene and Greene, and Frank Lloyd Wright. These designers wanted to bring nature closer to the average person with a type of architecture that put function first and explored beauty through materials and construction.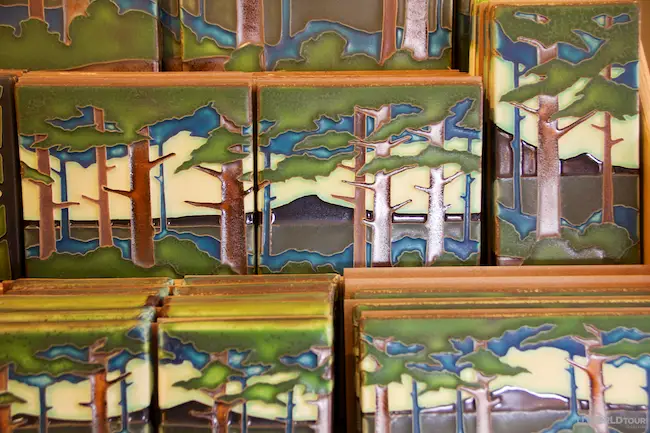 Bringing nature inside is a huge part of the Craftsman style, so of course wood plays a huge role as does hand-crafted tiles. That's why I was so excited to visit Motawi Tileworks in Ann Arbor, Michigan.
The company was founded in 1992 by Nawal Motawi, who started out making tiles in her garage and selling them at the local farmers market. They now make their tiles in a 12,000 square foot facility and sell them in more than 400 stores spread across the United States. They can be used as pure decoration, fireplace surrounds, address numbers, jewelry, framed tiles, and complete home design accessories. I just love them.
Tour the Tileworks for FREE every Thursday at 11am. You can browse the studio gallery, meet the staff, learn about their company history, and observe the tile-making process firsthand. Tours typically last 60-90 minutes and are best for ages 8 to adult. 
Motawi Tileworks
170 Enterprise Drive
Ann Arbor, Michigan, 48103
734.213.0017