[updated October 2019]
I pride myself on knowing where to eat in Chicago. I've been covering the food scene there for about 20 years. But where to eat in New York City is another story. New York City's food scene changes as fast as the taxis whiz down 9th Avenue.  Since I've been traveling and somewhat removed from the big apple, there's no way I can keep up with the hot spot's openings and closings.  This would be a full time job (one I hope to have someday).
Each time I visit I discover new spots, often recommended by friends, that I add to my list of my favorite restaurants in Manhattan.
My On-going List of Favorite NYC Restaurants 
The Park
118 10th Avenue
Great neighborhood gem holding court in Chelsea for more than a decade with Mediterranean-American flavors. It's a huge place and is always a safe bet when meeting friends or dining with family.
The last two times I was there, I was invited by locals, so that's always a good sign. The food is pretty good, but what I love the most is the gorgeous atrium and garden with full-sized trees – a perfect spring and summer spot to dine under maple trees and chirping birds.  But now I have to go back, as I can't believe I had no idea there was a rooftop bar. My friend Michaela told me about the penthouse, that has a hot tub that allegedly gets some action on some late nights.
200 5th Ave, New York
I recently wrote about this fantastic rooftop bar and restaurant in the Flatiron District.  After enjoying the gourmand's wet dream downstairs, climb up for some great views and tasty views under a retractable roof and cozy heat lamps.
75 9th Ave, New York
Inevitably, I always end up here every time I am in Manhattan.  I have a thing for the re-use of old buildings so you can imagine my crush on this former National Biscuit Company (Nabisco) factory where the Oreo was first invented.
If nothing else, you should come to pay homage to this perfect cookie sandwich (do you eat it whole or twist off the top first?).  It's fitting that today it's been re-purposed into an indoor-market of foodie finds – a fish monger, bread baker, gelateria, Italian specialty food market, several fast-casual restaurants, and, of course, home made cupcake shop.
The exposed brick and duct work still help it retain its original industrial flavor with fragments of the National Biscuit heritage sprinkled all over the complex.  It makes perfect sense that the offices of the Food Network are upstairs.
90 Bedfort St., New York
Another neighborhood gem, oozing with cozy (read: tiny) charm, I was introduced to the Little Owl by my friend Marie Elena.  Go ahead and click on their link to enjoy the sweet sounds of Frankie Valli, which to me, evokes the feeling of a warm spring evening in the Village.
The Owl is little, as is the menu and the space: just 30 seats.  But this is no "Chicken Little" when it comes to food, the Owl boasts unpretentious, straightforward food like their popular pork chop and one of the best burgers in the city –  I savored it and have to agree with this distinction…much more flavorful than the Corner Bistro…
First time in NYC? Here are 10 things NOT to do in New York City from a native New Yorker!
852 9th Ave, New York
A recommendation by fellow travel blogger, Jodi, I met my step-sister here for a great after-work scene and dinner.  The front is a gourmet cheese market and tucked in the back is a cozy wine and cheese bar.  My mouth watered over the decadent fondue and amazing Eastern Mediterranean tapas like baba ghanoush, a lemony lentil salad,  and Ajvar, a smoky red pepper spread. It's a great date spot: dark, candle-lit, and full of foods to share.
265 Elizabeth Street, New York
This homey place showcases New Zealand cooking in a modern way.  It is the youngest New York restaurant to receive a Michelin star, after being open just four months. The vibe is sort of rustic-chic with cute a backyard garden. There are plenty of Kiwi wines and some dishes on the current menu include:
Cold smoked scallops, cucumbers, black garlic, pears and sea beans
Tofu gnocchi, tomato dashi, oyster mushroom and Asian greens
Chatham cod, parsnip purée, brown butter, beans and barley miso
53 West 19th Street, New York
A tip from my friend Melissa, Boqueria, looks, feels, and tastes like a tapas joint in Madrid. Crowded, lively and tasty, it serves up all the faves: tortilla Española, dates wrapped in bacon, patatas bravas, as well as some wonderful cheeses and cured meats.
857 9th Ave, New York
A new addition to my list, I was just able to try out Kilo suggested by my friend Aileen.  It's tiny, so make a reservation and enjoy a spot at the bar to get some expert wine recommendations and tastes — most of which is organic. Small plates reign here and I could not get enough of the grilled kale with garlic, octopus and chorizo, and mushroom tacos.
For an even more comprehensive A-Z list, head over to Dish Our Town's Local's Guide to eating in New York City. 
753 Washington St, New York
Need a good neighborhood Italian joint? This is it. Located in the West Village (one of my favorite neighborhoods and where I'd dream of living if I could afford it). Good pasta and a chill vibe. A great place to feel like a local.
205 E Houston St, New York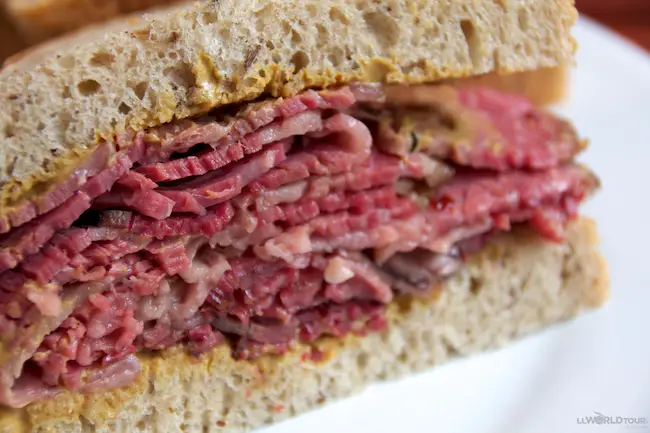 Gotta give a shout out to an old time classic meat haven. This is the real deal. Pastrami piled so high on rye you can't see over it. Get it anyway. Then take half home. I have even been known to get them to vacuum seal half the meat to freeze and make later by dropping the cryo-vacced bag in boiling water.
Looking for dessert? Find out where to get the best cheesecake in New York City!
250 Park Ave S, New York
This place has been here FOREVER! Well, more than 15 years, but that's a long time in Manhattan. Its staying power is a testament to its quality. It's a great mix of some of my favorite flavors of the mediterranean — Greece, Southern France, Morocco, and Italy. It's a great place for a group gathering as its large, lively, and festive.
101 E 19th St, New York
The last time I ate here it was 1992.  But it had a strong and lasting effect on me and my interest in food and dining out.  I grew up a very picky eater. In the summer and fall of 1992, I lived in New York City while I was interning at "Late Night with David Letterman." It was then that I started to eat 'real' food.  And it was at Union Square Café that I tried new things and started to actually 'like' foods that I had always despised. I was finally eating food made right and loving it.  The restaurant is now legendary and routinely tops lists for NY eateries. It's recently moved to a new location, but is still the same wonderful food. A must try!
Places I still want to Eat:
Next time I'm in town…wanna chow and imbibe with me?
DBGB Kitchen and Bar – Looks amazing and love the music on the site too.
Luzzo's Pizza – said to be the new 'best pizza in Manhattan' if there is such a thing? They had me at Coal-Oven.
Per Se – Somebody take me please?
Ouest – Same. Same.
Craft – Ditto.
Crif Dog – Cream Cheese, scallions, everything bagel seasoning? Um…yum. Kind of like sushi's 'Philly Roll' of dogs
Taim – Supposed to be some of the tastiest falafel around. And I love me some falafel since my first food truck in NYC in the '90s.