[updated March 2020]
Newark, NJ has more cherry blossoms than Washington, DC! Here's all the info for a visit in April to Branch Brook Park to see the Newark Cherry Blossoms.
"Hi my name is Alfonso and I'll be your server today. "
Alfonso greeted us at Top's Diner in Newark with an unexpectedly chipper 'hello.' He was more than confirming what I'd read in the Trip Advisor reviews (which name Top's the #3 restaurant in Newark) — that it offered wonderful customer service, perhaps not what you might expect from a typical diner in New Jersey, let alone Newark.
It was a great warm welcome to Newark. You might think of the working class NJ accent and assume the person might be gruff or crass and yet here was a wonderful taste of what was to come.
Newark Cherry Blossom Festival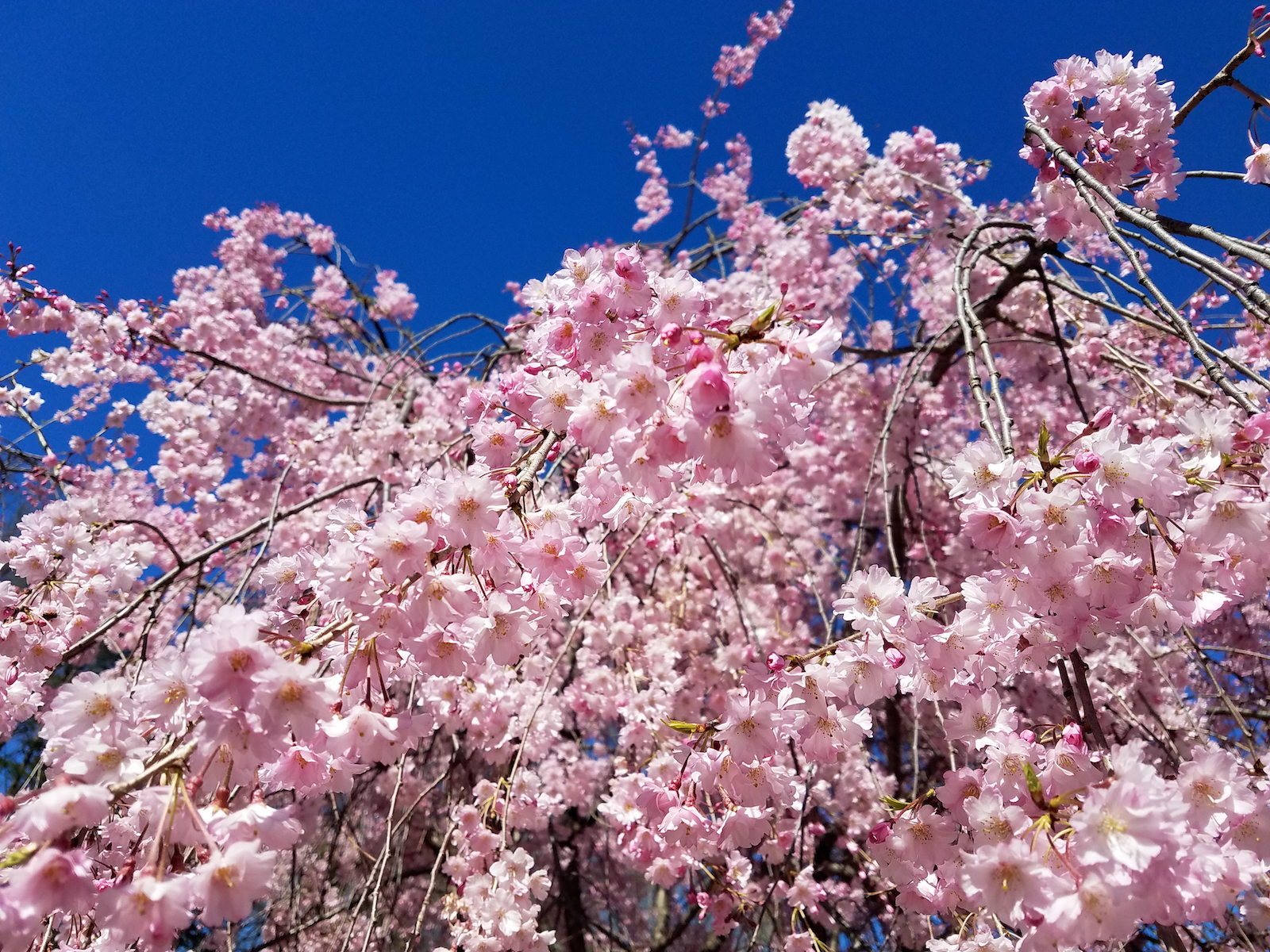 Did you know that Newark, New Jersey has MORE cherry trees that Washington, D.C.?
Every year in early to mid April, the Essex County Cherry Blossom Festival is held at Branch Brook Park. There is a 10K, a family day, and various tours around the park. The culmination is Bloomfest, a day of live performances and attractions during the festival. It attracts over 7,000 attendees from New Jersey and surrounding metropolitan areas for stage performances, cultural demonstrations, and children's activities.
Seeing the Newark Cherry Blossoms
Be warned! Cherry blossoms can be fleeting! At "peak bloom" you may have 5-10 days on either side to enjoy their magnificent beauty. But if you are able to time in right, you are in for a treat of trees bursting with flowers everywhere you look. The dainty flowers range from white to double pink blossoms. Once they start falling, they coat the ground like snow in a beautiful pink blanket.
One of the best things to do in Newark is to head to Branch Brook Park to see the blooms each April. Branch Brook Park is 360 acres — an oasis of green surrounded by Newark, New Jersey's largest city, and one of the oldest in the United States (settled in 1666 by the Puritans).
The best place to start your stroll is at the Cherry Blossom Welcome Center. There is free parking, a playground, and an informational center with maps, bathrooms and a video and display cases that tell the history of the park.
Most of the cherry trees are concentrated around this Welcome Center. Grab a map and just start walking on the paths right outside the center.
Another visitor center is located between Mill Street and Prospect Avenue, where there are also masses of cherry blossoms. Avoid the long, grassy center of the park — you won't find any cherry blossoms there.
Branch Brook Park
Branch Brook Park, NJ is America's first county park and first to be placed on the State and National Registers of Historic Places. Conceived by the one and only American park landscape-master, Frederick Law Olmsted in 1867, the cherry trees were not actually part of the original plan. The initial 2000 cherry trees were a gift from Caroline Bamberger (founder of the former department store) in the 1920s. The park has been undergoing a full restoration with the refurbishment of historic bridges and extensive plantings of cherry trees bringing to total to more than 5000 in more than two dozen varieties.
How to Get There
Via Train / Subway
Take NJ Transit or PATH Trains to Newark Penn Station. Board the Newark Light Rail toward either Branch Brook Park or Grove Street. For the Southern and Middle areas of the park, exit at Park Avenue. Exit at Bloomfield Avenue to reach the Northern and Middle part of the park; the Northern section is also accessible from the Davenport Avenue stop. The Branch Brook Park stop provides access to the Extension.
Via Bus
A variety of bus routes provide services to Branch Brook Park. These include NJ Transit's bus lines #11. #27, #28, #29, #41, #72, #74, #90, #92, #93, #99 and #108. For schedule information, visit www.njtransit.com.
Via Car
Nearly two miles long and, on the average, one-quarter mile wide, there are multiple entrances for cars. Follow Google directions to the Cherry Blossom Welcome Center in the north end of the park between Branch Brook Drive and Heller Parkway.
If you are flying in to Newark Airport, Branch Brook Park is surprisingly close by, but feels a world away. It's exactly what I did – I flew in and we immediately went to the park. Or you could schedule extra time before your next flight out to head to the park first. Then you can head to the airport having already made your airport parking reservations and away you go!
Where to Eat in Newark
Nearby to the park, there are a couple good places like Top's Diner where we ended up. It felt like more than your typical diner with great customer service and above average food.
If you have time you can drive to East Newark Ironbound district, an area of deep European roots. Because of Newark's location as a railroad hub and later huge shipping port, over the past 100 years, immigrants, mainly Italian, Brazilian, and Portuguese, have come here in search of jobs. They settled down, making a home away from home for themselves in the semi-isolated east ward of Newark and infusing the area with restaurants, bakeries, and markets that evoked the culinary traditions they had left behind. Ironbound is now a hub for authentic European cuisine.
One of the most popular old-school spots is Iberia Peninsula. Known more for its atmosphere than for its food, it has been a Ferry Street staple since 1926.
Also on Ferry Street is Fornos of Spain, one of the pricier and fancier spots in the area. Get the signature, paella Valenciana, an array of shellfish, chicken, and sausage, served over saffron-infused rice.
Try Mompou Tapas Bar & Lounge, a more contemporary eatery. Textured copper ceilings and exposed brick give the spot an urban look, and the Spanish-inspired menu puts a modern spin on the classic tapas that Ironbound is known for.
The Spanish Tavern is a cozy family restaurant famed for its traditional paella and seafood dishes.
Back at Top's Diner, I started gabbing with our server, Alfonso. He reminded me of some young, fresh-faced American Idol hopeful. So being one who often shares her thoughts, I told him as much. He said no, but actually he is this big gaming influencer. It's a new day!
He was super friendly and bubbly and not what you might stereotype as a young kid who grew up in Newark (and now lives in nearby Kearny). We told him we were headed to Branch Brook Park to see the cherry blossoms. "Oh man, it's so beautiful," he said. "You're going to love it." His pride in his hometown was palpable and infectious. And set the tone for our entire time there. Once again, it's always about the locals you meet.
Pin it for Later!