Some Norway facts that might explain why this country is so great. 
Just last month, the Wall Street Journal ran this story on the world's happiest countries. And unsurprisingly, Norway was number two. It and its fellow Scandinavian countries are often at the top of these lists. So I wanted to learn some facts about Norway to find out what makes this place so great.
Why is Norway so happy?
I can't say as a local, since I was only there a couple weeks. But here's what I've learned.
Norway is prosperous, happy and free.
Norway is rich
According to the Daily Mail, in the 30 years from 1971 to 2001, Norway's gross domestic product rose by 177 percent.
This somewhat sparsely populated country (the entire country has a population of 5 million), is one of richest in the world with 2nd highest per capita income. But you wouldn't necessarily know this from walking around here. Norwegians are modest. They don't flash bling or drive big, fancy cars, but I hear this is changing a bit.
The biggest reason Norway is rich: Oil. It is one of the world's largest exporters of oil (ranked 8th according to the Economist) since it was first discovered here in the North Sea just in 1969. This changed everything.
But it's more than the fact that they struck it rich with oil – it's what the government did and didn't do with the cash. First, they used it to pay off debts.
In 1990, the government established an investment fund, the Norwegian Petroleum Fund – now known as the Government Pension Fund – to pay pension and health costs for aging Norwegians.  They put billions away for future generations.
Norway is a big champion of human rights (something other oil-rich nations often lack). And to further their smart and ethical behavior, the Global arm of this fund can only invest outside of Norway and avoids any countries or companies accused of human rights violations including Boeing and Wal-mart.
Norwegian Social programs
Health-care services are considered among the best in the world and are available to everyone, with the cap on out-of-pocket expenses at $200 a year. Working women get a compulsory 6-week minimum maternity leave with full pay that  extends to about a year which, get this dads, can be shared between both parents.
Will Norway become Carbon Neutral?
Norway has declared it will become carbon neutral by 2030. The government unveiled plans to cut its greenhouse-gas emissions to zero and thus become the world's first "carbon-neutral" country.
But this is more by giving money elsewhere than by cutting its own output. These 'on-paper' tactics and trading of carbon offsets, are now widespread but don't necessarily face the problem head on.

According to the NY Times: "In the short term, the country is poised to become carbon neutral by financing environmental projects abroad, as allowed under the United Nations environmental accounting policy. That means that emissions at home can be "canceled out" by things like planting trees or cleaning up a polluting factory in a faraway place.

Heidi Sorensen, secretary of state at the Norwegian Environment Ministry, acknowledged the contradiction.

"We are living in a constant dilemma in Norway because we have grown rich on the petroleum sector, releasing CO2 into the atmosphere. So there's a lot of discussion about what responsibility we have. If we're going to tell countries like China and India to lower emissions, we have to do something too."
But for a tourist, all of this also means one thing:
Norway is beautiful, but exorbitantly expensive.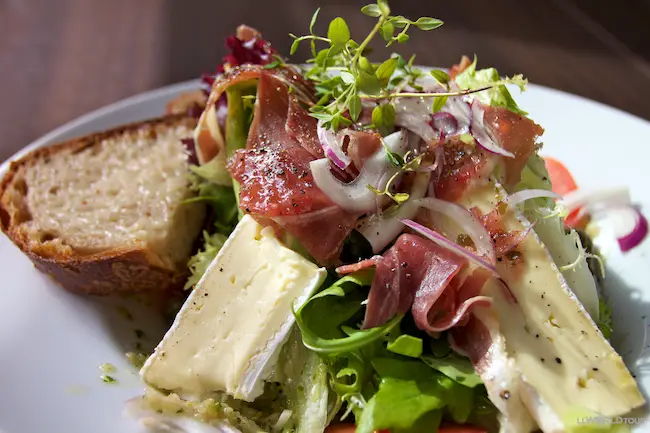 When I was there, a "large salad" at lunchtime at a nice café in Oslo cost me around $35.  A beer at a brewery in the countryside was about $16! I suppose if you live here, salaries are more relative to the cost of living, but…wow! Visitng as a tourist traveling solo is somewhat manageable (although I still had help – see below), but I can't imagine coming as a family, alhtough it's SO family friendly!
For more on Norway, check out my other posts
Have you been to Norway? What did you think about the costs?
Disclosure: During my time in Norway, I was a guest of Visit Norway, but as always all opinions and writing is my own.