Ft. Lauderdale. The name alone can conjure up several images. One may be that of a spring break party scene circa 1980. It also may make you think of a huge transplanted community of former New Yorkers who moved here for their slice of the 'good life.'
My Ft. Lauderdale
As a child, that was the Ft. Lauderdale I knew and loved.  My grandparents were snow birds, part of the great New Yorker migration who flocked down to the warm and sunny shores of "FLA-rida."
This microcosm of our aging society and their lives is documented in the new Oscar-nominated and Kickstarter-backed film Kings Point.
Every single summer, my brother and I counted down the days until we were off to the magical vacation world of Florida. We flew on our very first flights (we got our wings!) and often flew alone – the stewardesses (as they were still called at the time) doting on us and making sure we were reunited with our grandparents at the end of the jet way when we disembarked the plane and felt that first rush of Southern Florida humidity.  Ah, remember the days when anyone could walk around all areas of the airport to greet family right at the gate?
We stayed there for a month, or sometimes two, and I thought it was the best place ever. We played in the pool just about every day under the hot Florida sun while our grandpa took photos of us on his cool Polaroid camera.  "This is the tropics," our grandma would say. "Don't forget to keep applying the sun block." We got sunburned anyway, swam until we were prunes – playing Marco Polo, perfecting our underwater somersaults, and diving for pennies all day long.  Sometimes we took a break and played shuffleboard behind the pool and community clubhouse. We didn't even really know the beach or Intracoastal waterway. The local pool was enough for us.
When it rained, we splashed in puddles outside in the driveway or we lounged around inside, soaking up the luxurious central air (something we never had back home in New Jersey), and played cards. When we were really lucky, they took us to ride the go-karts or go to, my favorite, the waterslide park.  Some mornings we'd get up at sunrise and our grandpa would take us on a neat bike ride farther than we could go alone. In the evenings when it was cooler, my brother and I rode our bikes by ourselves exploring around the various condominium (something I always thought were just for 'old people' until I bought my own condo years later) communities.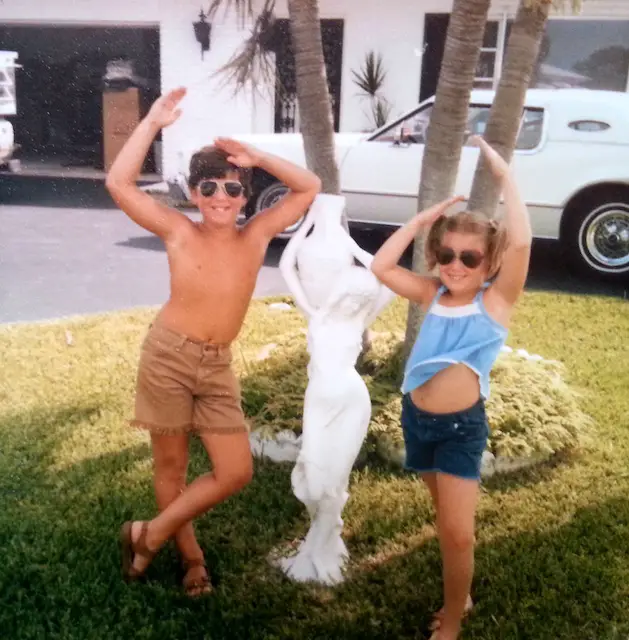 We spent the evenings eating grandpa's awesome big salads and grandma's meatloaf and rice, followed by a multi-course dessert consisting of M&Ms or Hershey's Kisses, then maybe a bowl of ice cream topped with Hershey's Syrup. We definitely packed on a few pounds each summer.
After dinner, we all sat side-by-side in chairs watching their favorite TV shows like The Golden Girls, Hart to Hart, or Magnum, P.I. on their tiny, white 13" kitchen television.   It was great. We didn't have an Xbox or Wii. We didn't have Internet or phones or laptops. Sometimes the power went out and we all played cards or Boggle by candlelight. I wrote postcards back to my friends at home and rushed to the mailbox each day to see if anything had come for me.
They did what grandparents do best – spoiled us rotten – but less with 'stuff' and more with unlimited kisses and hugs and laughter and grandma's great back scratches. This was Florida to me.
Do you have a place like this that was magical for you that probably doesn't feel the same anymore?
This is part of a series on Ft Lauderdale. Stay tuned for "Ft. Lauderdale Today…"