[updated October 2019]
Of course one day in Memphis ain't enough! But I sure tried to pack in as much food, music and fun as I could in my quick trip to this cool city. What did I miss?
You probably know Memphis mostly for Elvis, the Blues, and barbecue, right? I finally had a chance to visit the city for the very first time and learned what really makes it so special.
The people.
From my local Lyft drivers to the smiley woman serving us a huge platter of ribs at Central BBQ, Memphis reminds me once again that it's the people that make a place. There's a lot to see and do with one day in Memphis and the people are the icing on the cake.
Memphis is the largest city in Tennessee and sits on the banks of the mighty Mississippi in the southwest corner of the state with Arkansas just across the river and the state of Mississippi just to the south.
The city turned 200 in 2019. Right now is a great time to visit!
One Day in Memphis
I had a whirlwind couple of days getting to know the Bluff City. I was in town to organize and run the Bloghouse conference.  In between workshops and masterminding sessions, I would say I stitched together roughly a 24 to 36-hour itinerary. There's obviously a ton more to do here, but here are my top picks for what to do if you have just one day in Memphis.
Where to Eat in Memphis 
Memphis is hot, in more ways than one. On a summer day, the air can be hot and heavy. But more than that, Memphis is known for hot grills smokin' up its world famous barbecue. When figuring out where to eat in Memphis, Barbecue has to be on your list.
Memphis has more than 100 barbecue restaurants cranking out Memphis-style barbecue, one of the four most famous American barbecue varieties. Memphis BBQ is typically made from ribs cooked in a pit. "Dry" ribs are covered with a dry rub seasoning before cooking and "wet" ribs are brushed with sauce before, during, and after cooking. Let's be honest, this is a tough place for vegetarians or anyone watching their calorie intake.
For some of the best barbecue around, beeline it to for Central BBQ. One of Memphis's newer joints, Central consistently wins awards for its tender barbecue. Huge portions are par for the course and I really enjoyed the sides like mac n cheese, baked beans and collard greens. Try to get a table on the semi-outdoor patio.
Other popular barbecue spots include Bar-B-Q Shop on Madison and the very touristy and old-school Rendezvous.
Gus's World Famous Chicken is another joint that is hugely popular with lines snaking down the sidewalk. Admittedly, I might eat fried chicken about once a year, but this was damn good. Crunchy, spicy, and flavorful, let's just say I went back for another piece. Don't miss fun sides like fried pickles (better than I imagined!), more mac n cheese, beans, and potato salad. Down home simple and delicious grub.
For something more hip, duck into the new Gray Canary. The menu offers up a raw bar of oysters, crab claws and some smoked fish dip (one of my favorites!). There are a bunch of sharing plates like French raclette cheese, mortadella, and octopus. Plus larger mains cooked over a wood-grill like chicken, chops, and a T-bone.
Try the kitschy Beauty Shop restaurant in the Cooper-Young neighborhood. With a menu highlighting flavors from around the world, the mod restaurant has fun playing up the fact that it used to be Priscilla Presley's curl-and-dye spot.
Get Milton's picks! I take a stroll down Main Street in Memphis with Milton Howery III, the Public Relations Manager at Memphis Tourism. Milton gives us all his top picks for the best places to go and eat while in town.
Where to Listen to Live Music in Memphis
Memphis is synonymous with music. This city is said to be the birthplace of rock n roll, blues, and soul.
A multitude of musicians got their start here – so many names you know like Aretha Franklin, Al Green, Otis Redding, Jerry Lee Lewis, Roy Orbison, Johnny Cash, Elvis (of course!) and even Justin Timberlake.
The famous Beale Street is a national historic landmark and lined with blues clubs — one of the best and most famous is B.B. King's Blues Club. At night the strip is buzzing and jam packed (with many partying tourists), but it's still worth a stroll even if you just stay outside and listen to all the competing music blaring out of each bar.
Old favorites like Hi Tone Café and Lafayette's Music Room in Midtown have recently been renovated and continue to attract great acts and crowds
And in the summertime, there's noting better than sitting on a picnic blanket with some snacks and a cold beer while listening to outdoor concerts at the Levitt Shell.
What to See in Memphis
If you only have one day in Memphis, I highly recommend the moving National Civil Rights Museum at the Loraine Motel. It's worth a couple hours at least. Although you can whizz through in about 90 minutes, there's so much to absorb you will have to pick a few highlights. The motel and now museum marks the site where Rev. Dr. Martin Luther King Jr. was assassinated in 1968, fifty years ago now.
The museum takes you on the journey of blacks in America – from slave ships and sit-ins to de-segregation and the 15th amendment from 1870 which prohibits the federal and state governments from denying a citizen the right to vote based on that citizen's "race, color, or previous condition of servitude" (although, as the museum drove home for me, this meant very little since for years after, blacks were turned away at the polls by many means).
The numbers were pretty staggering. By the time of the civil war, America had nearly four million slaves. Investment in "human property" exceeded investment in all of America's banks, railroads, and factories combined. Northerners, who slowly abolished the practice of slavery, still grew rich from businesses based on the use of slaves.
Basically, slavery made America one of the wealthiest nations in the world. The poignant exhibits bring us right up President Obama's election and the present-day Black Lives Matter movement. It is such a troubling and important part of American history and a story that still continues to unfold.
There are also a ton of museums surrounding the historical music scene in Memphis. You might need more than one day to check out the best Memphis museums.
If the King is your thing, of course Graceland is a must. And recently, they also opened a new, $45 million, state-of-the-art entertainment complex, "Elvis Presley's Memphis," a complex of museums, shops and restaurants and the largest expansion since first opening to the public in 1982. While the Graceland Mansion tour presents the personal and family side of Elvis' life "Elvis Presley's Memphis" tells the rest of the story, exploring the beginning of the incredible music and pop culture explosion that all started here in Memphis, with the "King."
The opening of this expansive entertainment complex follows the grand opening of The Guest House at Graceland resort in October 2016. It's the largest hotel to open in Memphis in 90 years.
Other must-sees include Stax Museum of Soul Music as well as Elvis' recording room at Sun Studio.
There's a lot of outdoor spots to discover in Memphis. The new Big River Crossing is the longest public pedestrian/bike bridge across the Mississippi. Walk or bike across the mile-long span and you are in the neighboring state of Arkansas. I will have to return to check out Shelby Park Farms, one of the nation's largest urban parks, which encompasses 4,500 acres with a herd of buffalo, free yoga class, and bike rentals. Sounds like my kind of place to explore on a nice day.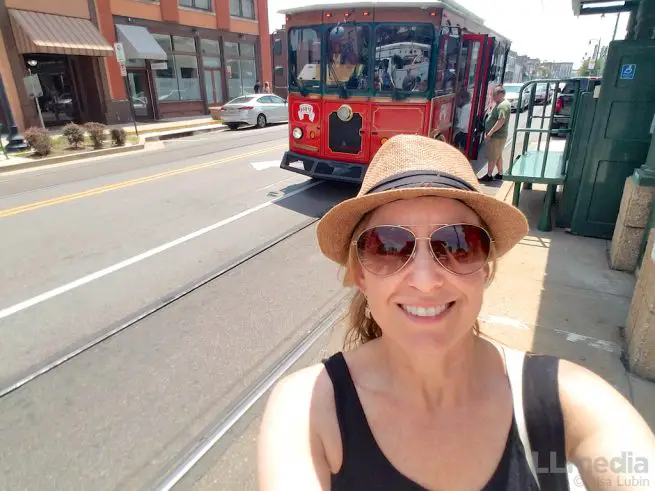 Where to Drink in Memphis
Memphis has a steadily growing microbrewery scene. Check out the Ghost River Brewing tap room right downtown on the newly revitalized Main Street. Then head to High Cotton Brewing Company in the Edge District and Wiseacre Brewing Co. for some cold beers and outdoor bocce and music. Both have brewery tours Saturdays.
The Old Dominick Distillery is housed inside what was an old Tannery just off the banks of the river. The massive building was recently renovated and turned it into a distillery in 2016, becoming the first time whiskey was legally distilled in Memphis since prohibition.
They offer tours of the operation consisting of a crash course in distilling booze and an interesting story of their founder who emigrated from Italy to Memphis in the 1800s plus a tasting at the end One of the my favorite parts is the rooftop indoor/outdoor bar.
Railgarten in Cooper-Young and Downtown's 1.5 acre Loflin Yard are sister spots that are an amalgamation of fun – outdoor bars, game pits (volleyball, corn hole), and all-around lounging and drinking.
Fun Fact: Loflin Yard's main building was actually the coach house and stables for the original carriage horses for the Peabody Hotel. Railgarten has a diner and even an ice cream parlor. It's a one stop shop of fun!
Where to Stay in Memphis
While in Memphis, I stayed in the historic Peabody Hotel.
The original hotel was built in 1869 and named after philanthropist George Peabody. Room and board was about $3 each day! Today's building was built in 1925 and was designed by Chicago architect, Walter Ahlschlager. The Peabody is possibly most known for its resident ducks and duckmaster. The ducks live on the roof in the cushy "Royal Duck Palace" and come downstairs on the elevator at 11 o'clock everyday to splash around in the marble fountain in the lobby.
The Mallard ducks (one male and four female) come from a local farm. I was happy to hear that each duck "team" stays at the hotel for only three months before being returning to the farm to live out the remainder of their days as wild ducks.
During the summer months, the Peabody also throws some pretty big rooftop parties with live music, food and drinks plus a pretty spectacular view of the sun setting over the mighty Mississippi. 
Peabody Hotel 150th Anniversary
The Peabody opened its doors to great fanfare in 1869. Memphis's  just celebrated its 200th birthday, and the Peabody had its 150th!


Have you been to Memphis? What did I miss? What do I definitely need to go back for? Is it a sin that I missed Graceland?! Comment below!
 Pin It for Later!
Disclosure: During my time in Memphis, I was managing Bloghouse Memphis. Thanks to our partners, Memphis Tourism, The Peabody Memphis, Mediavine, and Tennessee Tourism who hosted some of my stay.