[updated October 2019]
An escape to Paradise – Reviews of stays at the Paradisus Palma Real and Paradisus Punta Cana All-Inclusive resorts in the Dominican Republic.
We disembark the plane and that familiar waft of tropical, thick air hits us at once. Woven-palm ceiling fans slowly rotate overhead and the sounds of bongo drums start to lull us into vacation mode. We shuffle into the immigration line and after a few quick stamps, we are back out in the hot sun. And then just as quickly, we are whisked into a freezing minivan, which thus begins the rest of our luxurious, climate-controlled weekend of all-inclusivity. My boyfriend and I are in the Dominican Republic – a very popular getaway full of resorts for Americans looking for some R&R. In the 1960s, Punta Cana was nothing but green countryside. They built an airport, a few resorts sprung up, and nowadays, there are 28,000 hotel rooms here and it's all about all-inclusive, luxury brands. And this is my first time here.
Punta Cana, Dominican Republic
Punta Cana sits on the eastern edge of the island. The area is best known for its beaches which face both the Caribbean and Atlantic, and it has been a popular tourist destination since the 1970s. The name Punta Cana refers to the cane palms in the region, and literally means "Tip of the White Cane Palms."
Paradisus Palma Real 
We are staying at the Paradisus Palma Real Golf & Spa Resort, a Melia Hotels and Resorts property. And let me tell you, it makes a great first impression. Once we walk through the main building, we are struck with fountains and columns and a huge turquoise pool which spans much of the property at 37,000 square feet. We cross a bridge over the pool and see the waves of the ocean.  Ahhhh.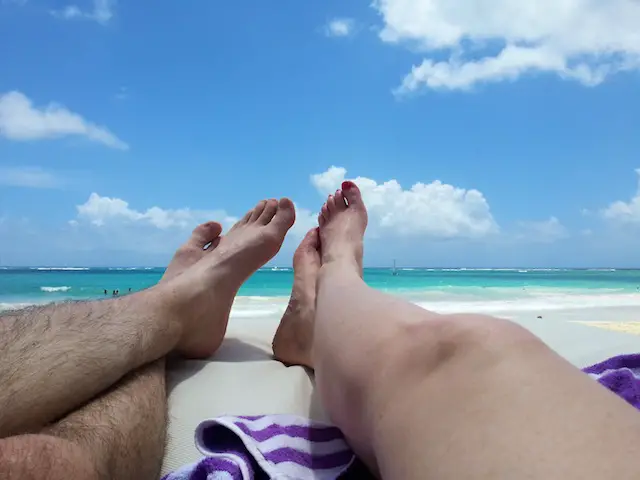 We finally make our way through the large resort at Paradisus Palma Real to our room which is classic Mediterranean with stucco, tile, and rattan.
And here is a perk, I haven't experienced before. We have a butler. Yes, a butler.
Royal Service at Paradisus Palma Real
We are getting the "Royal Service" treatment here. Royal Service is their brand for the adults-only section of the resort with our own 'private' lobby and check-in, access to a private pool and private beach (private except for the other 'Royal' guests of course). We are in the inner, inner sanctum of luxury all swaddled up in a plush bath towel and slippers…AND we have our own butler.
His name isn't Jeeves though and it seems as if it was his first day. He is a bit nervous and to be honest, in most cases, 'using' him is more trouble than it is worth. He is supposed to escort me to the spa, but is late, so I go by myself, which I am quite happy to do anyway. Then "my" cell phone rings. I hate to answer his call on this special Blackberry that we were given in order to communicate with our butler. The thing is, I hate cell phones and being on vacation means I definitely don't want to be talking on a cell phone with someone with a thick accent that I won't understand anyway (Sorry, I often don't understand anyone on a mobile). This part of it actually makes it more stressful than it is worth.
One plus…he does draw our bath one night in our in-room Jacuzzi and fills it with rose petals, a bottle of champagne and chocolates. Instant romance. Score one for the butler. Of course, I doubt this was special for us as they made it seem and probably standard protocol, but nevertheless, it was quite nice!
Dining at Paradisus Palma Real
But besides the fancy digs, Thai-like spa, and huge pool surrounded by comfy Bali beds (that we laze the days away in), we are here to eat.  The resort has 12 restaurants (with only two of those being buffets). This is not your typical all-inclusive, buffet-fest.
With seven Michelin stars to his name, world-renowned chef, Martín Berasategui, has opened his latest creation at the Paradisus Palma Real.  An innovator of Basque cuisine, Chef Berasategui is known for utilizing molecular gastronomy and fresh seafood in his dishes.
The high-end Passion by Martín Berasategui is no tapas joint. This fine dining restaurant highlights the chef's Spanish cooking philosophy and style with the local ingredients of the Caribbean.  "You don't find all-inclusive resorts with this kind of restaurant, so very special and high end," Rafael Torres, the managing director of the Paradisus Resorts in Punta Cana, tells us at lunch one day.
Berasategui, whose eponymous restaurant in San Sebastian, Spain holds three Michelin stars (at the time of writing), has helped elevate his native Basque cuisine to a new level, while carving out a spot for himself on the international culinary stage in the process.
Read more: Check out some of the best beaches in the Dominican Republic.
Paradisus Punta Cana
Just down the road, is another Melia property, the Paradisus Punta Cana. Its grounds are even bigger, but it's a bit more lush, a bit more tropical feeling and perhaps a bit less palatial than Palma Real. With trees around every building, it seems like it has a bit more of a family and party atmosphere.
There are bikes and shuttles to help you get from one end of the grounds to the other. There are nearly 700 contemporary rooms, but because the property is so large, it doesn't feel overly crowded.
The quality buffet spreads are mostly located near the beach and pool. The restaurants here are also higher quality than other resorts. It's hard to keep eating all this food and put a bikini back on. But I'll survive. Plus with beach and pool activities, cycling around, yoga, the high-end fitness center, and all the walking you'll be doing you will get in your steps.  After dinner, you can head to the trendy Gabi Beach Bar, for some dancing or chilling with cocktails and a lively scene.  
Isn't it about time to plan that winter getaway?
More info and to book your stay:
Paradisus Palma Real
Paradisus Punta Cana

Disclosure: During my stay, I was a guest of Paradisus. As always, all opinions are my own.