[updated August 2019]
Cartagena (car-ta-HEY-na) is Colombia's Caribbean jewel. If you are visiting Colombia, a visit to Cartagena is a must as there are so many things to do in Cartegena, Colombia.
The center of town is a UNESCO World Heritage site of walled-in Spanish-colonial splendor. The walled port city is still an enclosed maze of cobbled streets, colorful stucco buildings draped in bougainvillea, green parks, plazas, churches, and palaces.
In the 1500s, this port city became the major northern gateway to South America.  It also was a major target for pirates. Despite numerous attacks, Cartagena persevered and eventually led the way to all of Colombia's Independence movement from Spanish rule.
Video: Highlights of Cartagena
Things to do in Cartagena
I visited Colombia back in 2010. When it comes to what to do in Cartagena, a lot of the main must-sees have remained the same, but some new spots are worth noting. So I tapped my fellow travel bloggers for their recommendations of some of the best things to do in Cartagena.
Walking Along the Wall in Cartagena
Cartagena is a beautiful city located on the Caribbean coastline of Colombia in South America. It's known for its colorful walls, beautiful ladies selling fruit in vibrant outfits and some of the best beaches in Colombia located close by.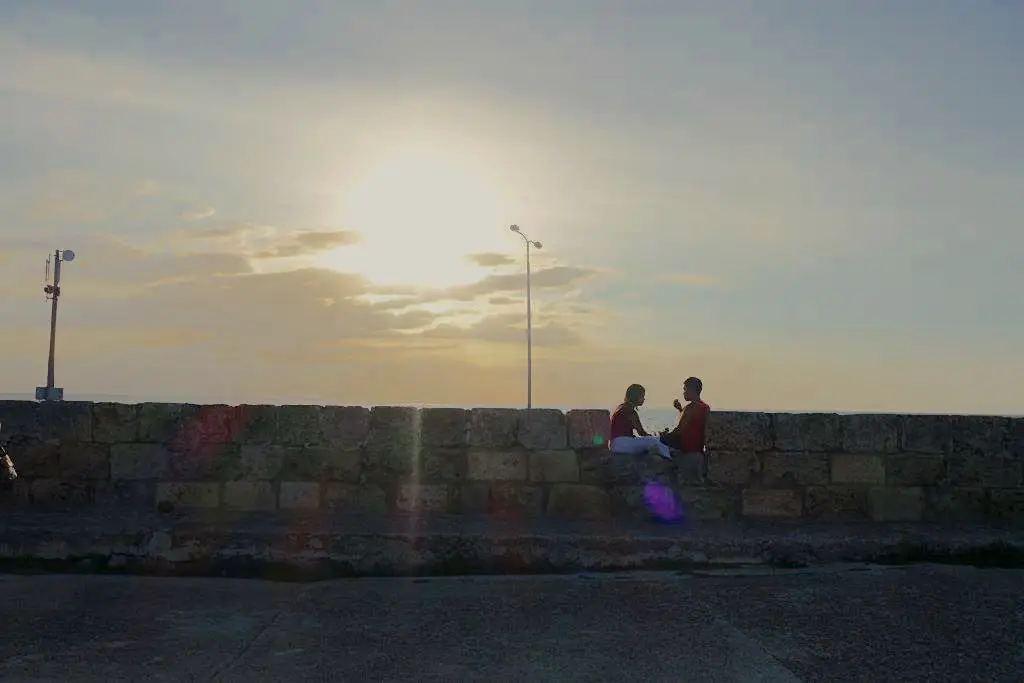 There are so many things to do in this cute historic walled city, so one of the best things to do in Cartagena is to walk along the wall! The wall was built centuries ago to keep the city safe from possible attacks.
There are stairs located at different sections of the wall where you can climb up and see the beautiful view of the oceans to your right and the city on your left. The wall is quite long and goes for 11 km around the port and the old town.
Make sure you bring a hat and some water if you come during the day as it can be quite hot and there isn't much shade along the wall.
At sunset, locals and tourist alike flock to the here to watch the sunset and it's the perfect place for a romantic, sunset dinner with your partner or even just with friends.
I definitely recommend going during sunset and if you're up for it, you can even walk to the end for a drink at the restaurant Cafe Del Mar located on top of the wall!
Recommended by Naomi of Eat Love Explore. 
Explore Colombia's Coolest Neighborhood – Getsemaní
Just a stone's throw outside Cartagena's walled city, the neighborhood of Getsemaní has quickly become the place to hang out in Cartagena.
A historic neighborhood, Getsemaní was home to Cartagena's many free black artisans during the colonial area. It played a critical role in Cartagena's independence, and it is often considered the cradle of Cartagena's culture.
The last decade has seen it become a trendy tourist hotspot, all while retaining its historic and local flavor. There are tons of cafes, restaurants, and bars. From budget hostels to boutique hotels, and everything in between, it is also one of the best areas to stay in Cartagena.
Even if you don't stay here, you must spend some time exploring Getsemaní. Highlights include enjoying the scenery of the colorful, historic homes, seeing the many examples of street art, snapping some photos with the flag pennants hanging over Calle San Andres and the umbrellas over Callejón Angosto, and stopping in to cool off with a drink in one of the many cafes.
Getsemaní is also a popular place to be in the evening. Don't miss the cheap street beers from the corner store and people watching at the Plaza de la Trinidad. You can also sample some of the best street food in the city at the carts at the plaza.  Some of the city's best nightclubs are also located on the Calle de la Media Luna and the Calle del Arsenal in Getsemaní.
Recommended by Adam of Cartagena Explorer. 
San Felipe Castle
While looking for things to do in Cartagena, Colombia you should head over to the San Felipe Castle. For most people, the attraction is without a doubt one of the most interesting sites to visit in Cartagena. Not only to learn more about the history of Colombia but the long Colonial history and the wealth of Cartagena itself. If you are a fan of Colombian Culture and its past, you'll learn all about how this was a strategic point for the Spanish Empire.
With just a short walk or taxi ride from the quaint streets of the walled city, you can get access to the Castle which has a small entrance fee. The castle is built on the second tallest hill in Cartagena and from the top, you'll get panoramic views of both the old and new city of Cartagena, which on a clear day looks spectacular.
While at the castle, don't miss walking around the underground tunnels. There is a whole network to be discovered which will keep you occupied for a while. Lastly, make sure you carry bottled water and sunscreen if visiting during the day, as the sun gets very hot up there.
Recommended by Daniel of Layer Culture. 
Church of San Pedro Claver
The detailed carving work on the stone façade of the Church of San Pedro Claver, particularly around the rose window, makes it possibly the most beautiful church in Cartagena. And while its beauty alone would be enough of a reason to visit, it's also a fantastic place to learn about the history of slavery and human rights in this part of the world.


San Pedro Claver, the church's namesake, was a monk from Spain who lived in the adjacent monastery for the last forty years of his life until he died there in 1654. Claver worked tirelessly to protect and defend the many slaves brought from Africa to Cartagena. Of course, he also tried to convert them to Christianity. Nevertheless, he is remembered as a human rights defender and was called the "Black Man's Apostle" and the "Slave of the Slaves" in his day.
His body is kept underneath the altar at the front of the church, and if you visit the monastery you can also see the cell where Claver lived and died and the well where he baptized slaves.
Recommended by Wendy of The Nomadic Vegan.
Centennial Park
There are many reasons to fall in love with the charming city of Cartagena, but what I really loved was spotting wildlife in Centennial Park.
I stumbled upon the urban park by happy accident after walking around Cartagena's charming old town. While walking through, I saw iguanas, exotic birds, squirrels, and several monkeys.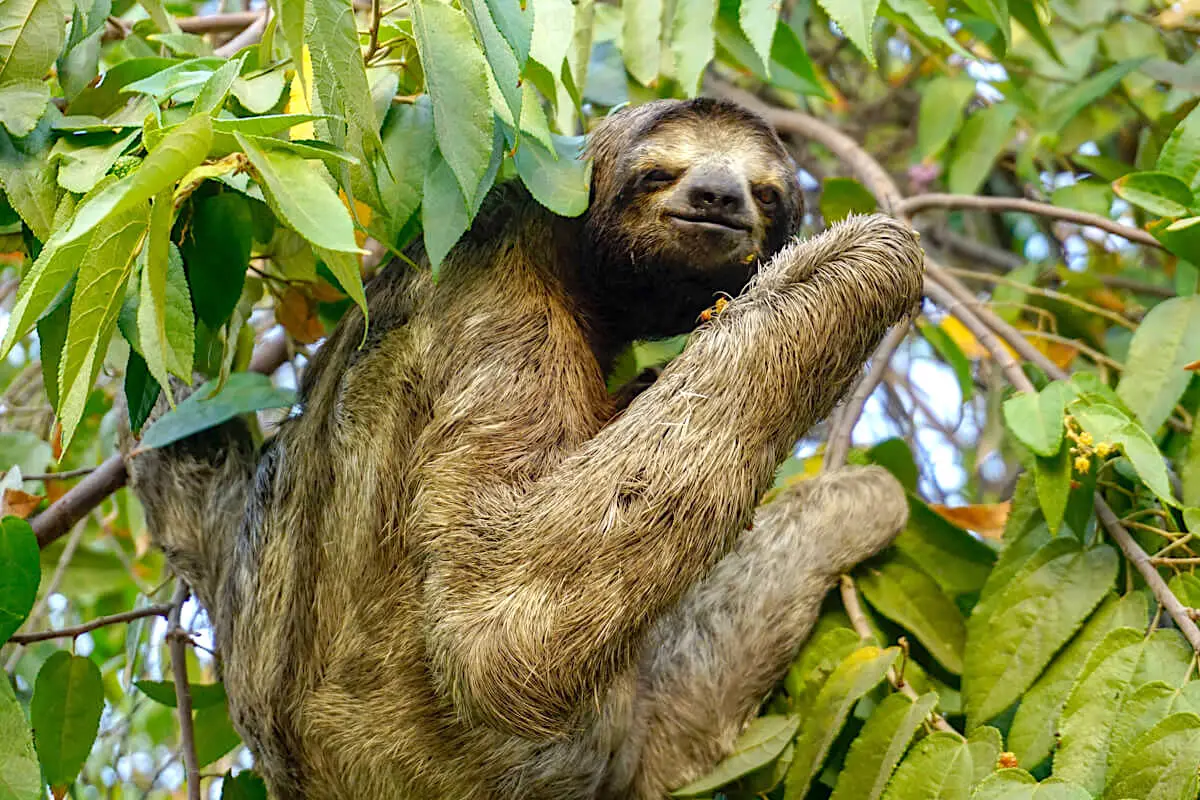 But what really surprised me was to see a family of sloths hanging out in a tree. After paying to go on many guided wildlife tours to see sloths in South America, I couldn't believe that you could see them for free inside a city park. The best part was that they were hanging low enough in the tree that you could get great photos.
Aside from the wildlife, the park is a lovely place to hang out and take a break from the Colombian heat. The park was originally built to commemorate the 100th anniversary of the proclamation of Cartagena's independence in 1811 from Spain, but was extensively renovated in 2013. It offers visitors and locals a lovely green space to relax with plenty of trees, gardens, benches, and fountains.
Recommended by Lora of Explore with Lora. 
Have Dinner in a Prison
The Restaurante Interno is a non-governmental organization that has been set up within the San Diego women's prison in central Cartagena. Providing work-based training and money for the inmates, it is staffed by those imprisoned here.
It's quite surreal to be eating dinner inside a prison. Your dinner here isn't cheap, but it provides the makings of a second chance for those who are prepared to work for it. No doubt it will make you – like us – unique amongst your friends who can claim they've eaten dinner in prison. And then still able to walk out again afterwards.
The restaurant has a set menu and the meal includes a starter, entrée and dessert. Fruit juice is included with your meal, or you can buy a bottle of wine for an additional cost.  You won't even notice the prison as you walk past it, it's buried in the old town, but you can book via email phone or WhatsApp.
We recommend you book as soon as you arrive in Cartagena as the restaurant is only open for dinner.  You can pay for your dinner with a credit card, or, if you have cash, then Colombian pesos.
Restaurante Cárcel de Mujeres de San Diego, calle 39, Barrio San Diego, Cartagena.
Reservations: +57 (310) 2 600 134  or  restauranteinterno@gmail.com
Recommended by Sarah of A Social Nomad.
Eat Ceviche
If you like seafood, you'll definitely want to try ceviche while in Cartagena. This coastal city does ceviche really well — probably better than anywhere else in Colombia — and you can find different versions of this dish at different price points.
While you'll find ceviche on menus all around town, two of the most famous places to try it are La Cevicheria and El BolicheCebicheria. Both are known for serving up the best ceviche in Cartagena, and you may even have to wait in line to get a taste. With ceviche starting around 60,000 COP ($20 USD), a meal at these establishments doesn't come cheap, but it is worth the splurge if you are a foodie and want to try the best in the city.
However, if you're on a tight budget, look for one of the many street vendors selling seafood. They serve up different varieties of ceviche and offer small tasting sizes all the way up to jumbo containers, so you can get as much as you want. We went to Ostreria Sincelejo and ordered a medium-sized portion of ceviche de camarones (shrimp ceviche) for around $6 USD.
Recommended by Katie from Two Wandering Soles.
Find a Rooftop Bar at Sunset
Cartagena was a highlight of our 16-day Colombia itinerary, and its many rooftop bars are perfect places to spend your time. Come sunset, this is where you'll want to catch a breeze and people-watch.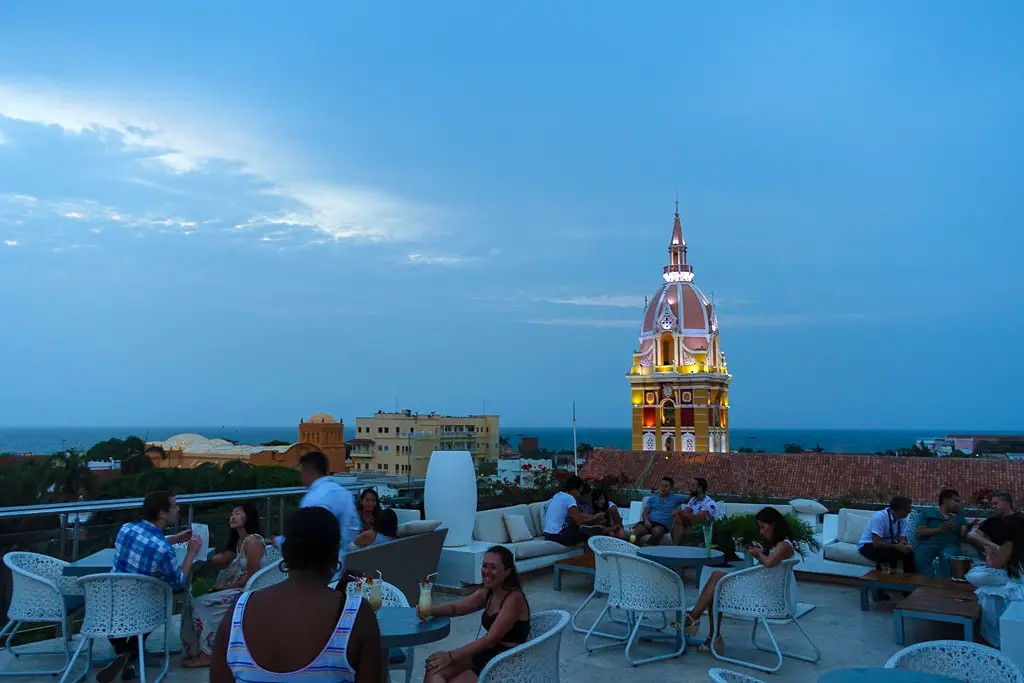 For a fun atmosphere and world-class cocktails, Alquimico is my pick. This trendy but friendly cocktail bar has three floors – each with its own mood and menu – but the rooftop is probably its most popular.
For knock-your-socks-off views of Cartagena, though, it's hard to beat the Movich hotel. Don't worry if you're not staying there – the rooftop bar is open to all. And it's so romantic that we literally witnessed a proposal, complete with roses, violinist, surreptitious photographer and shrieking bride-to-be. Or if you go during the day, you can buy a day pass and pose for Instagram – I mean swim – in the pool.
Also worth checking out are Mirador Gastro Bar, which has enviable views of Cartagena's iconic clock tower, and the Townhouse hotel – if you get bored of the view, there's a jazz club downstairs.
Recommended by Lisa of Rebellious Tourist. 
Take a Day Trip to the Rosario Islands
Cartagena ranks among our favorite cities in the world, rich with history and traditional culture. Once you've fully explored the city's many colonial treasures, it's worth taking the short 45-minute boat ride to the nearby Rosario Islands for a day trip immersed in the tranquility of nature. This little-known ecotourism treasure is an archipelago comprised of 30 small Caribbean islands, which are part of the Corales Islas del Rosario Natural National Park.
The park was created to protect 4,633 square miles of reefs, sea grass, and mangroves, and of course the aquatic species that inhabit them. As you might expect, the snorkeling and scuba diving here are superb. You can have an equally amazing time just curling up in a hammock with a cocktail, watching the spectacular sunset over the sea. If you'd like to spend a few days in this uncrowded tropical paradise, the Coralina Isla Boutique hotel is a serene, foodie-friendly haven that blends elegant sophistication and laid-back simplicity.
Recommended by Bret Love & Mary Gabbett of Green Global Travel.
For more on Colombia, check out my other posts:
Things to do in Medellin
San Gil Paragliding
Villa de Leyva
Things to do in Bogota
Pin It!