International Food of Berlin
It is no surprise that Berlin is a huge international city. When exploring the food of Berlin, I found it much easier to find Turkish food than authentic German food. In fact I waited on line (in the cold!) just to taste the famous doner kebab at Mustafa's stand in Kreuzberg. You must check out Mustafa's awesome website, it's really fun and cool and I probably like it more than I actually liked their kebab. It was decent, but I still love the amazing grilled bread and köfte at Gel Gör on Kottbusser Damm…a great recommendation thanks to my friends at Uncornered Market and the Taxi Gourmet.
During our time in Berlin, we had our fair share of döner kebab, Thai noodles, Syrian and Lebanese falafel and baba ghanouj, Vietnamese spring rolls, even Ethiopian lentils and Mexican tacos.  And since Berlin still remains relatively cheap, it's a great place to eat out and not break the bank.
German Food in Berlin
This was in some ways harder to find than other foods. CurryWurst is the true street food and I found my favorite at Curry 66 in Friedrichshain. I have to admit, the first time I was in Berlin, I tried this at the Konnopke Imbiss (Imbiss means snackbar) in Prenzlauer Berg and thought it was just okay, nothing really special.  Or perhaps I just didn't know how to order? But, this one was charred all crisp and nice like I love and was downright tasty!
During one of our first nights, I treated Sherry to one of our nicest outings at Schneeweiss in our neighborhood. She had the über local schnitzl and I tried a vegetarian dish, of which of course I forgot the name, which was delicious.  It was a soy based 'meat'…well, just look at the picture. Doesn't it look pretty damn tasty? It was.
Want to see more on Berlin? Check out my other posts:
First Time in Berlin
Back in 
Getting Local in Berlin
Bavarian-Korean Cooking Class
I took a unique, fusion cooking class at Goldhahn & Sampson, a cute little gourmet food shop and cooking school in Prenzlauer Berg. This was a blast. Our chef and teacher, Lauren (a Korean gal originally from LA and Chicago), aka Fraulein Kimchi, moved to Germany about six years ago to pursue her opera-signing career. In the meantime, she brought her cooking skills and family recipes with her and saw there was a void in the Korean food department. She started making and selling her own kimchi and the rest is history. She teaches here once a month, but there are different classes nearly every night at this neighborhood spot. I learned (sort of) how to make a Bavarian-Korean meal – and before you think, 'how weird', let me tell you…it was delicious!
From soup to amazing kimchi käsespaetzle to a cured, roast ham, it all was phenomenal! The class was just the right mix of learning, doing, and enjoying. All washed down with some great German wine and wonderful Korean tea.
Kockhaus shop
This unique shop  in also in cute Prenzlauer Berg. Kochhaus basically means Cooking House. It's like a 3D cookbook. Inside, there are several cute tables with wooden bowls and tins of ingredients. Each 'station' is one recipe. You can select what you want to make for dinner and then all the ingredients are right there already measured out and just loose so there's less packaging. Not only did I drool over all the different recipes and ingredients on display, the shop also has some gourmet food items to buy, and a small café, where I had some quiche before I head off to wander down Kastianallee, a popular street full of cafes and boutiques.
Gastro Rallye
I loved this Berlin food tour. In essence it is like doing a pub-crawl, but with food, good food.  We had a separate course at these four different restaurants in about four hours:
We started at what may have been my favorite (and a place I returned to twice)!  This tiny, hip looking place simply serves what they call naan pizza. Made with toppings like fresh arugula, sundried tomatoes, and a garlic artichoke spread, I was in love.  Seriously good.
Next up was an upscale Italian restaurant. Here we had a fish course of Salmon Tartare and Wolf fish with shrimp. Wolf fish? Yep. Just as pretty as it was tasty. Multo Bene!
Our third stop was at the hip and trendy Mani Hotel and restaurant. Everything was black glass in that sort of 1990s German "sprockets" feel. They describe their food as Tel Aviv to Paris and it was fantastic with dishes like dry aged roast beef with hummus, roasted onions, pickles; fried goat cheese with truffle, cardoon (artichoke thistle), & tomato jam; beet root with yoghurt, pecans, & pomegranates; yellowfin tuna encrusted in pistachio with quince & Jerusalem artichoke.
We had our dessert course at Rutz, the one restaurant on our tour that has been awarded a Michelin star. I'm not a big dessert gal so this was okay, but the place was lovely.
Kosher Food in Berlin
I also managed to find a Jewish deli in Berlin. The Jewish community here is having somewhat of a resurgence and you can't get more Jewish (NY Jewish) that a thick pastrami on rye sandwich.
Mogg and Melzer is located in a former Jewish Girls' School. As the thumping bass hip hop music in the backgroundgives away, owners Oskar Melzer and Paul Mogg are former DJs and club owners.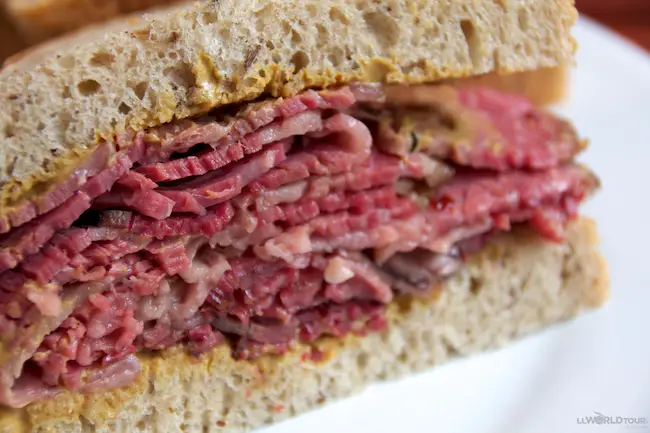 Looking for vegan food in Berlin? Check out mostly Amelie's blog on the best vegan restaurants in Berlin.
Berlin Dinner Parties
Since we had an apartment with a kitchen…we took advantage of it! So we hosted two dinner parties during our time in Berlin.
Mexican food has started to finally come into Berlin and as Joanna and Eitan said, "Authentic, does not always mean good." They've studied Mexican food and have brought some amazing fresh flour tortilla tacos, caramelized onion and cheese quesadillas, and zippy guacamole to Berlin at their restaurant in Friedrichshain: No Hablo Espanol. Que bueno!
Our second party had a Mediterranean vibe. Ofir moved to Berlin from Israel and has been sharing is love of what he calls holyland cooking with Berliners.
In fact, he has created the HolyLand Cookbook with some of his delicious recipes. And we washed everything down with some very local beer brewed right in our 'hood from Hops and Barley just a few blocks away.
Want to see more of my Berlin photos? Head over to my Facebook Page.
---
 Disclosure: During my entire time in Berlin, I was a guest of Go with Oh and Oh-Berlin. I was also a guest of the Goldhahn & Sampson cooking class and Gastro Rallye food tour. As always, my writing and opinions are my own.