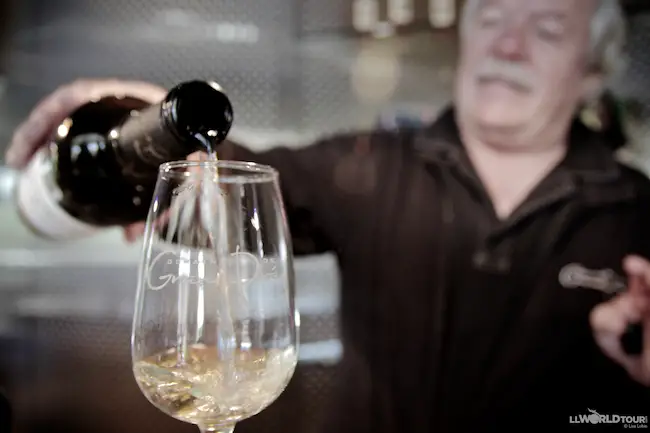 Nova Scotia Wines? Oh, yes.
Our last stop on our tour through this beautiful little province brought us to a small, boutique winery.
Bought and renovated by a former CEO of an electric company in Switzerland, the Domaine de Grand Pré Winery on the northside of Nova Scotia is a beautifully landscaped spot with charming cobblestone walkways – perfect for a short stroll, wine tasting,  or lunch.
In 1993, Swiss businessman Hanspeter Stutz bought the property and began renovating buildings and replanting vineyards. It took over seven years to restore the winery and uncork the first bottle of wine. Now in its fourth year, the new Domaine de Grand Pré has won barrels of awards for its wines and attracts locals and visitors from the rest of Canada and the world.  And the winery's restaurant, Le Caveau, was recently named one of the world's best winery restaurants by Wine Access Magazine.
What was interesting to me, was their approach to winemaking. Unlike most New World wineries producing Old World wines (Chardonnay, Merlot, etc.), Hanspeter and his son, the winemaker, develop distinct varieties based on particular soils and climates and only make wines with 100% Nova Scotian grown grapes. So you won't find any Cabernet Sauvignon here, but should try the L'Acadie Blanc or Maréchel Foch for something new and quite good.
Disclosure: I was a guest of Southwest Nova Scotia, the Nova Scotia Tourism, & the White Point Beach Resort, but, as always, my writing and views are my own.