I have been blogging for nine years now and while I don't normally talk about the "business of blogging" on this very blog, I will say that in large part due to my blogging (and traveling) over the last decade, I've met some incredible people who are reshaping their lives and I've made some wonderful friends.
One of the things I do behind the scenes here is something called Bloghouse.
What is Bloghouse?
What is Bloghouse, exactly? It's an intense three-day and night workshop and retreat for newer travel bloggers who are serious about being a professional travel blogger and looking to up their game.
We are lucky to have partnerships and sponsors including Trip Advisor's FlipKey (apartment rentals – great for getting local while traveling), which has worked with us on nearly every one.
We present talks on things like writing, photography, social media, and working with public relations and brands. I always say we are proud of what we do and looking to raise "better bloggers" while elevating this newer profession as a whole. Plus, we develop great (face-to-face!) relationships and foster a safe environment based on trust and transparency.
AND we also have a whole lot of fun exploring and sharing things about our host city.
Bloghouse Milwaukee
For the last five years, we have organized and run Bloghouses all over the world. From Spain to Chicago and Ireland to Toronto. This year we were lucky to have an even better event in Milwaukee, Wisconsin.
I simply love Milwaukee and its good people.
So I've come up with these six reasons you should visit Milwaukee:
Midwestern Culinary Delights
I wrote about the amazing food in Milwaukee in an earlier post.
But of course, during this visit, I was able to enjoy even more of the great farm-to-fork fare. From another visit to the awesome Milwaukee Public Market and a fabulous al fresco dinner at Wolf Peach to Cupcakes from Classy Girl Cupcakes and some local Kringle (like a Danish!) from Racine, Wisconsin.
Thanks to Visit Milwaukee, we also dug into the city's known goods on the Bikes, Brats and Beer Tour organized by Milwaukee Food and City Tours.
But can I say that one of my favorite foods was not the cheese curds (although yummy!) and not the bratwurst at the Wisconsin Cheese Mart, but the spicy popcorn at Bartolotta's Rumpus Room! Yep. I LOVED this popcorn. I could not. stop. eating. it. Need to find out if I can order it.
Hometown Brew 
Sure, Milwaukee is known for beer. After all, it's the home of MillerCoors, Pabst, and Schlitz…and fictional Shotz of Laverne and Shirley fame. But today, it's also the home of some great craft breweries, the biggest being Lakefront Brewery.
Lakefront produced the first beer to be certified gluten-free in the U.S. and their top-rated tours and fun, full of laughs and a lot livelier than many other hop-filled tours I've slept-walked through.
Getting High on the Hog
I am not a motorcycle person in any way really and yet, I loved the Harley Davidson Museum tour. On my first visit to Milwaukee last year, I skipped the museum as I didn't think it would interest me much. Starting with the first Harley ever produced in 1903, the museum chronicles the history of this American legend and its role in pop culture.
John, our tour guide, was one of the most interesting and engaging tour guides I've ever had. He turned on a dime from fun and quirky to moving and had us all on the verge of tears with one of the final stops on the tour, the Tsunami Bike:
(from the HD website)
A Harley-Davidson® motorcycle was recovered in May on an isolated beach in British Columbia. The bike had drifted over 4,000 miles across the Pacific Ocean after being washed away in a storage container during the devastating tsunami that struck Japan on March 11, 2011. In accordance with the wishes of its owner, Ikuo Yokoyama, the remains of this 2004 Harley-Davidson® Night Train™ is on display at the Harley-Davidson Museum® as a memorial to the tragedy that claimed more than 15,000 lives.
But it's really best to come hear John tell the story in person. Instant goosebumps. And it left us all with a real sense of the Harley pride and spirit.
Casino Stay?
You may not peg me for a casino-goer, and you are right. During Bloghouse we were happy to be hosted by the Potawatomi Hotel & Casino. The casino has been around awhile, but the hotel is brand new and pretty swank!
Rooms are clean and modern with super-comfy beds, but it's all the food offerings and restaurants that are really impressive. We were very lucky to have our opening night reception in the hotel's luxurious Presidential suite.
At $4,000 per night, it is the city's largest and most expensive hotel suite with about 3,000 square feet, including an 800-square-foot patio overlooking the city. The room includes a spacious living area and floor-to-ceiling windows with stunning views of the city.
The Bounty of Wisconsin… just outside the city limits
Actually there is a ton of "outdoor stuff" to do in the city like cycling, rock climbing and kayaking on the river. But then, go a bit further afield and the state of Wisconsin delights with its beautiful lakeshore, state parks and great places to visit like Door County or Lake Geneva.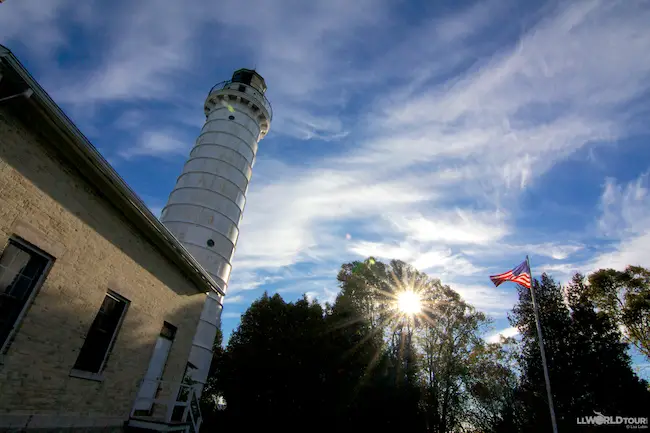 The Groundbreaking (and now renovated) Milwaukee Art Museum
The iconic Milwaukee Art Museum is the city's most recognizable architectural feature. In 2001, the museum added the stunning addition designed by world-renowned architect, Santiago Calatrava. It holds more than 30,000 permanent works and is among the nation's finest collections of American decorative arts, German Expressionism, folk and Haitian art and American art after 1960. And now it's undergoing great changes to make it even better incuding:
New lakeside entrance
Reinstalled Collection Galleries that are brighter and easier to navigate
20,000 square feet of additional gallery space, including dedicated photography and new media galleries
New lakeside coffee shop, offering a place to refresh and socialize in the Collection Galleries
Do YOU want to sign up for our next Bloghouse? Get on the list here!