Going back to my old school
Over the past month, my former home of Columbia, South Carolina has been hit hard with some of the worst, most tragic flooding there in any recent history. I feel such sorrow for so many that lost so much, but also a swelling pride at the resiliency and giving nature of my southern friends.
My First Big Move
After high school, I was ready for a change. I wanted warmer, sunnier weather and perhaps to make a break from a childhood that left me feeling lonely and unhappy. I had only really seen the east coast of the U.S. so I guess I felt most comfortable going somewhere in the east.
I enrolled at the University of South Carolina. I had no idea what "the south" meant. And, well, to be honest, I hated it. I missed my boyfriend. I missed my family. And I just missed my comfort zone — the one I didn't even realize I'd been living in until I left it. My roommate was unfriendly, to say the least. I had no air conditioning in one of the hottest parts of the country…in August. And I was generally uncomfortable and out of place.
I cried a lot. I went home as much as I could (it's a 12 hour drive or two-plane flight). But then a few months later something changed. I started having fun.
I made new friends. I met new guys.
And I began a pattern I would continue for the rest of my life: challenging myself and pushing myself out of my comfort zone – flailing through the tough transitions and then reaping the rewards of new, diverse friends and a strong independent spirit on the other side.
I began a life of adventure.
Heartwarming Homecoming
After nearly 20 years away, I recently returned to Columbia where I'd ended up living for seven years, attending journalism school at USC, and then working at my first two jobs in broadcasting at WIS-TV (an NBC affiliate) as a director and Technical Director and WACH-TV (FOX) as a promotions producer and editor. My visit reconnected me with old friends from college and my early television days whom I haven't seen and barely spoken to in 15-20 years.
With nearly everyone that I reconnected with, it was like picking up right where we left off. As usual, I have to thank the power of Facebook since as a non-phone person, I'd likely just never have seen most of them again.
Susan picked me up for dinner and we were laughing right away. She is great — funny, smart, sweet and thoughtful. It was like we'd seen each other a week ago. It felt so good.
Drinks and then dinner and just so much to catch up on in each other's lives. I was elated that a couple other friends were even driving down from Charlotte to say hi and have lunch and later on we had an impromptu happy hour with even more college friends from the past. Twenty years had gone by and it was like yesterday. Everyone was doing well. It all just warmed my heart. Good friends…for life.
TV Days
"I never forgot you," said Emir, a television engineer who came to South Carolina from Bosnia, where he'd worked the Sarajevo Olympic broadcast. In Bosnia, he was a chief engineer and very accomplished. When he came here, he had to learn English and nearly start all over. He was given the entry-level job of a tape machine operator (this was the pre-digital age) at WIS.
"When I was new to this country, and still trying to get my driver's license, you would drive me home after work each night. I was a total stranger. It meant so much."
I hadn't even remembered this until he mentioned it and now, after traveling so much and having so many friends abroad, it made me feel so good that I'd been so welcoming to him as a newcomer to this country.
I was thrilled to learn that Emir is now the chief engineer at my former TV station. Another slice of that "American Dream" right here in Columbia, South Carolina.
I saw other old friends at WIS. I could not have been luckier to have my first professional broadcasting job here. Columbia is a smaller TV market, but WIS is a first-rate operation. I don't think we knew how good we had it or how stellar our team was (in front of and behind the camera) until we moved on. I started here by running studio camera and literally climbing up on the set to change light bulbs. Less than a year later, I was directing (and TDing) the primetime newscasts, marathon coverage, fun ESPN2 sports highlight shows, live Christmas specials, and the famous, Mr. Knozit children's show. I gained such valuable experience from so many talented folks, it shaped me forever.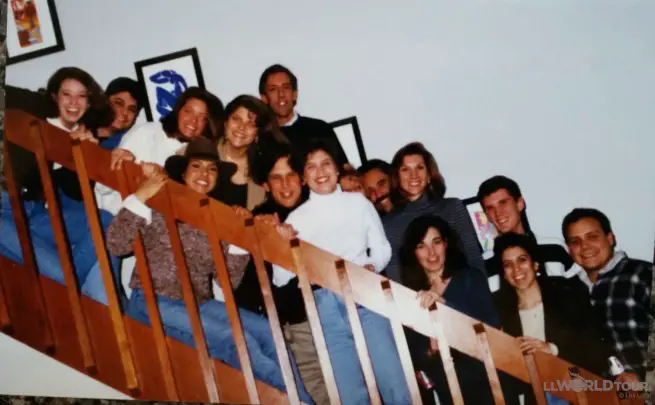 After three years, I was ready for a challenge and change (another theme in my life of constant learning and change). I was lucky to be given a chance as a promotions producer at the FOX affiliate, writing and editing promos for the news and hit shows like the Simpsons and King of the Hill.
After you came for your interview, [the TV station's promotions director] asked me what I thought. And I said 'I think Lisa belongs here.'"
My friend Lisa and I had remained in touch since I left FOX and found myself in Chicago. She's a good, kind-hearted person whom I also loved reconnecting with.
I missed your laugh."
I remember Neil as being such a sweet guy. I liked him because he wasn't like many of the other guys I met at Uni. He wasn't following the pack and getting crazy drunk and partying 'til he puked.  He was working and playing tennis and having backyard cookouts with a small group of friends. I envied what he and his friend Jen had—a special friendship and great housemates.
Ultimately, Neil and I ended up roommates which was great, but we rarely saw each other as he worked nights at UPS and I was finishing up school and also had already begun working part-time in TV.
Nearly 20 years have passed since we lived together and yet we were so excited to catch up. Neil told me how stoked he was when he saw on Facebook that I was in town.
Sure, we could've kept in better touch, but we didn't and neither held a grudge. Life happens and we all get busy and it's the friends that understand that and simply know that it's okay.
I loved my return to Columbia. The city has changed and grown and there are some neat new restaurants and things to see and do. It was cool to see, but I didn't care.
It's all about the people.