…And I don't mean my haircolor.
I have now lived more of my life away from my childhood home than I did when I was here growing up. That's scary. I grew up in suburban middle to upper class Randolph, New Jersey. When I was a shiny, young eighteen-year-old, I left to study journalism at the University of South Carolina about 800 or so miles away. And I never returned.
Now, after about 13 years working in television, several apartments, several boyfriends, one cat, and a two-and-a-half-year trip around the world, I am back, sleeping in my ultra-girly, über-frilly, childhood twin-sized bed with  flowery sheets, a pink flowery blanket, surrounded by pink flowery wallpaper. It's all a bit of a floral overload.
But it does get me in the mood for springtime on the east coast awakening my senses to its glorious first signs – the purple heads of crocuses popping up through the no longer frozen front yard, neighborhood kids riding their bikes and playing on the street, the clean scent of freshly cut grass, and the sweet chirps of blue jays in the trees just outside my window.
Something interesting I notice: the sun seems to shine brighter here, literally. The skies are a beautiful cobalt blue, the air is crisp, and the sun is beaming down, slicing through the atmosphere into my squinting eyes and warming my skin, sending me signals that winter is turning into spring.
Not only am I back for a bit, but it's like I am a teenager again. This is the easy life – I have a nice bed to sleep in, I'm fed, and I have no worries. Just like the old days, I 'borrow' my dad's car to go see old friends or go shopping, making it the first time I have driven any car in about a year. I think because I have been living in Chicago, I haven't seen any reminders of days gone by – but being back here now, enjoying the sunny days and small-town life,  it's hard not to feel a bit nostalgic.
Now my father is getting remarried and will be selling our childhood home. I am finally getting rid of a lot of 'junk' and packing up things of mine that have sat here in this room for the last 19 years like some kind of museum to Lisa Lubin or at least a time capsule of the 'eighties – old Bon Jovi cassette tapes, dusty tired-looking stuffed animals, my old sticker collection (what's wrong with that?), birthday cards from nearly every year, collections of random bits of string, 'friendship pins,' beads, marbles, and even a great bag of cool rocks ("What did you get Charlie Brown?") that I could just not get myself to throw away.
I also read through stacks of old school work and letters bringing back lots of memories of my childhood and teenage years here in New Jersey of the'80s – big hair, ripped acid washed jeans, and heavy metal bands. I even found what is possibly my first travel article ever, a report on Switzerland.
I went to the supermarket and it felt strange how everything was in English and when I went to check out, I understood everything the cashier said. There was no need for phrases like "Désole, je ne parle pas Français" or "Ich verste nicht" or "Turkce Bilmiyorim." It was simple, so simple, in fact, that it was downright boring. Where's the challenge in understanding everything?
And as I recalled from the last time I returned home – there is so much to take in here, but maybe perhaps it is because I can understand it all. When in Turkey or France or Jordan, there was also advertising in my face everywhere I went – still less of course than in some big U.S. cities – but I couldn't read most of it anyway so it's highly researched and tested marketing purpose was lost on me – which I kind of like. But, a very nice thing about shopping in America is that without fail, when leaving most shops you are sure to hear, "thank you and have a nice day."
I went for a run around my old neighborhood in Mt. Fern and was a bit overwhelmed by the flood of memories from more than twenty years ago. I know the tears in my eyes were from the cold wind whipping into them, but the mix of nostalgic flashbacks going on in my head turned them into real tears of times gone by. I remembered playing on our front lawn on what seemed like a big hill at the time, where we would sled down ice and snow in the winter and roll down the cushy green grass in the summer. The now rusty bell attached to our house with the words "the Lubins" written in calligraphy across it, that my dad would ring when it was time to come in for dinner. The Aboia twin's house where we played hide and seek in their small apple orchard.
As kids, we knew all the houses on the block and who lived in each: the Laneses, the Andersons, the Visiolis, the Moores, the Greccos, the Brodbecks, the McLennans, the Marshs, the Wingets, the Tczaps, the Nisivoccias, the Cullums, the Matulas, friendly old Mrs. Voswinkle, my best friend, Holly Zimmerman's old house before she left me in tears in sixth grade to move to Florida, the Campson's house, a family who we regrettably made fun of all the time, my fun little playmate and next door neighbor, Sidhu Raju's house. Sidhu was always my buddy and a willing partner in crime to come out and play with, to hit tennis balls against the garage door, and swing on the vines on the trees in the woods next to my house. I remember riding my bike up and down the street, sitting on May Burgess' lawn waiting for the ice cream truck to ding by. And playing my favorite outdoor summer games with my brother: running bases, kick the can, s.p.u.d., and regular-old-tag.
I walked (or ran is more like it since I was notoriously late) up and down my street every morning and afternoon school day to catch the number 64 bus driven by Mrs. Crane. As we got older the games changed and all the neighborhood kids didn't hang out with each other anymore. We each had our own groups and cliques and the times of being friends with everyone, no matter what, were over. We played less outside and more on our Intellivision game inside or spent weekend afternoons roaming the Rockaway Townsquare Mall, eating a McD.L.T. and diet Coke at McDonald's and buying earrings at Claire's.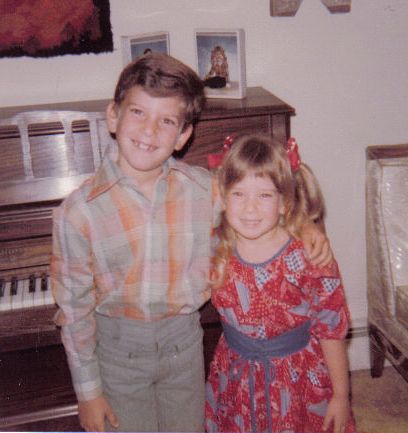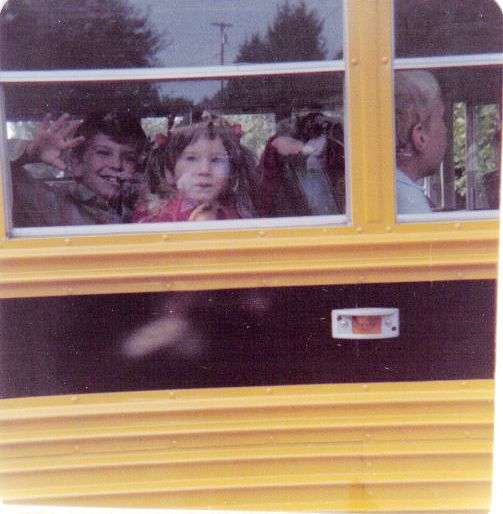 And all this was now more than twenty years ago. Where did all the time go? I've done so much and been so far and yet being back here for the first extended amount of time since then made me feel like I'd barely been gone. Most of the neighbors I remember had moved away. Most of my childhood friends, just as myself, had done the same.
In high school, when I finally got my braces off, replaced my glasses with contacts, and shed my baby fat, well, not much happened. I still felt the same. Eventually, guys started to notice me and I started dating here and there, but it wasn't until the end of my senior year that I fell in love for the first time with a boy that had lived just 2 blocks away from me the whole time. He was the best first boyfriend a young girl could ever ask for. He was so sweet and kind and made me laugh until tears came out my eyes. He treated me like a princess and I think spoiled me for all my future relationships. Sometimes I wonder why there were any future relationships. But, I left him back in Randolph when I went off to university and my days of wandering began.
Now I was back and living 'at home' again. On one of my first nights back, my dad and step-mom-to-be took me to what is possibly, the ultimate symbol of suburban Americana: the Chinese Buffet. Filled with hungry overstuffed, pants bursting patrons, these establishments dot the New Jersey landscape in ugly highway-side strip malls lined with neon signs and surrounded by huge flat parking lots filled with SUVs. The inside is classic: green cushioned chairs and booths and tables partitioned with a lovely etched glass of some forlorn Asian-looking fish. Some extra large patrons shuffled by with plates of food piled so high, I guess they didn't want to hassle with that extra effort of actually standing up too often to help themselves to another gargantuan portion of fried greasy noodles. This is America. At least you knew it in the cross section of people around: Indians, Asians, Russians, and the regular-old former European Jersey rednecks. Oh, and us of course.