Heading to London? Scroll down for a discount code at this hotel!
Hotels are no longer the staid big box chains of yesterday.
Today, we know there are so many options for unique lodging — from airbnb stays to glamping to charming boutique hotels.
Qbic Hotels are in a class all their own. I was fortunate to check out their new hotel to bring you this Qbic Hotel London review.
The idea here was to take unused office buildings and turn them into hotels in a unique and sustainable way. Everything is modular and retrofit into the existing rooms — all the electrical and wiring is self-contained into the modular bed/bathroom.
Currently, they are in London and Amsterdam.
The Qbic Hotel London City opened in 2013 on the edge of one of London's most vibrant areas. Located close to bustling Brick Lane and Shoreditch, the 171-room hotel offers a somewhat different experience for 'urban explorers'. They market themselves toward the Millennial generation with green credentials, modern pragmatism, quirky style and social spaces.
First time in London? There are so many great neighborhoods you can stay in. Check out this guide on where to stay in London. 
Public Spaces
The overall descriptors here all end in a 'ky.' This place was definitely funky and quirky. As soon as you step foot in the lobby, you are met with arty pieces like a saran wrap-dress mannequin.
The cute cafe/lounge has a light, airy feel with light wood tables, white subway tiles, and colorfully mismatched chairs. There are shelves with knick-knacks and quirky art mixed in.
Qbic pays attention to the core essentials that are important for today's modern traveler: affordability without sacrificing comfort thanks to an incredibly cushy bed, a great shower, free and super-fast WiFi throughout the whole building, early check-ins, late check-outs, free bicycles and a welcoming and large common space for guests to eat, drink coffee and work, which I really liked.
My Room
I knew the rooms would be tiny, but was surprised at the creative use of space. I love efficiency and the way they engineered each room makes use of all the nooks and crannies. The handmade furniture allowed for spots for clothes and your suitcase. All the electric was in one spot threaded through the modular bed. I like it in that it will likely prevent you from leaving things behind as they are all in a compact space.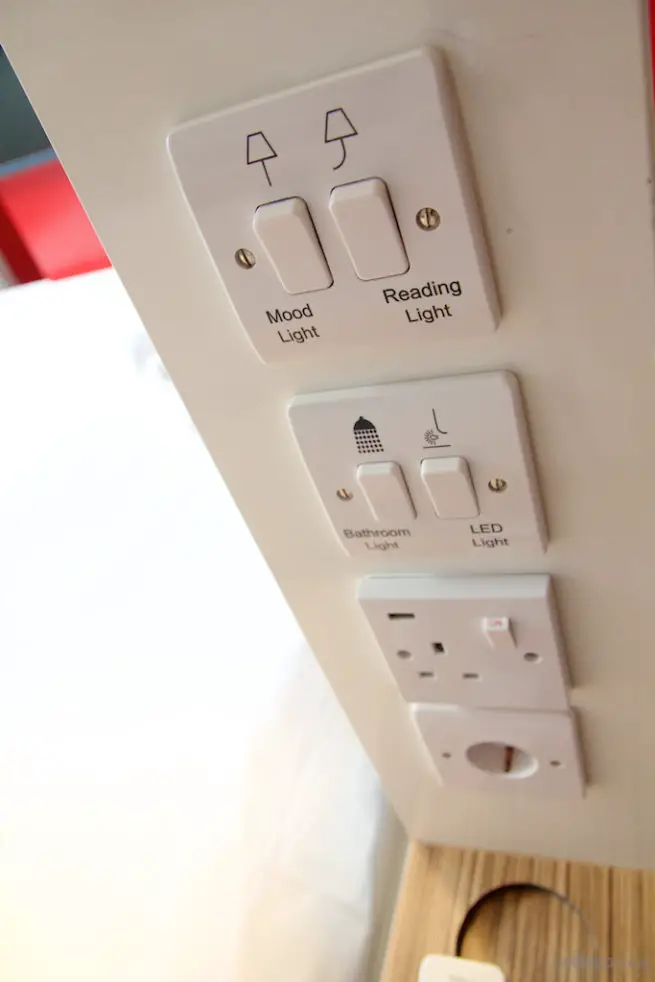 Each of the bedrooms is sort of futuristic in design and features a compact, cube-shaped 'pod' called a 'Qbi', which includes the bathroom and the bed, while the bespoke, handmade furniture and locally sourced fixtures and fittings also add personality.
QBIC Construction Video
Take a look at this video on how they put together each room to see what I mean:
My room had huge windows letting in a lot of light and even though tiny, I still found enough floor space for my daily workouts. It doesn't look like it, but the spot near the door was just enough. And the important amenities were not overlooked — there were still plush towels, a rain shower head, and a flat screen TV built into the foot of the bed.
And the bed. It was wonderful.
It is a handmade, organically produced mattress made in Southwest England in Devon. Created by Naturalmat just for Qbic, it's made from recycled denim, organic lambs wool and coconut fibers. It's hypoallergenic, breathable and wonderfully firm.
The arty and quirky (again!) elements added a bit of whimsy – a huge dog photo headboard behind me, cute sayings hanging in the elevator and on my bathroom mirror, and a plush stuffed "do not disturb" doggie to hang on my door knob. And continuing with the green theme—signs in the elevator encourage you to leave doggie hanging to save time and money on daily, and often unnecessary, room cleanings/towel washings and in exchange you would get a free drink at the bar for each day!
Green Initiatives at Qbic
To put their money where their mouth is, Qbic genuinely believes in being an eco friendly hotel.
According to their site, they provide:
Electric Car Charging Points
Generate part of our own electricity via solar panels on the roof.
Recycle different kinds of waste such as plastic, paper and glass, with the help of a partner company.
All the lighting in the hotel is LED and energy efficient.
When you walk down the corridors or into your room you trigger a sensor that switches on the lights, which then turns off once you're gone.
The bedroom lights only work when the key is put in the door, so lights can't be left on for hours when nobody's home.
Water provided in the rooms in London is filtered. We don't buy in wasteful plastic water bottles.
Our cleaning products are 100% chemical free.
All our showers cleverly mix in air to reduce water use (without compromising power – don't worry, it's still a great rain shower).
We stock natural, environmentally friendly toiletries that are not only luxurious, but also help to provide access to water to communities that don't have it
Our mattresses in London come from a company calledNatural Mat and are handmade using only organic and natural materials such as lambswool, cotton and coir fibre.
We have a towel and linen reuse program to cut down on unnecessary washing.
We work with eco-friendly local charities.
Bikeworks works with local organizations to tackle social and environmental challenges in London using bikes. They've fitted us out with 10 recycled bikes which guests can borrow to go on their own tours of London. The bikes are branded with the Qbic and Bikeworks logos.
Cafe Art is a London based initiative that aims to reconnect people affected by homelessness with society through Art. We have given them space in our London hotel basement to run the charity from as well as showcased some of their artists work.
It felt like a modern, yet friendly and sociable place to stay.
As they say on their website: And, of course, there's all the standard stuff you'll come to expect from a Qbic hotel: free WiFi and sockets everywhere, the comfiest bed you've ever slept in, a lovely hot shower and people smiling at you (but not in a weird way).
If you like modern with a bit of quirk and simple with some touches of luxury, Qbic is a great and fun place to stay!
Planning a trip to London soon?
Use this code LLWORLDTOUR10 for a 10% discount!
(You must book your stay through their website or direct phone call, the code is not valid via online travel agents)
For more info: Qbic Hotels
Disclosure: I was guest of the QBIC hotel, but as always, all opinions are my own.