What if you have only two days in Rome? You can certainly see the big highlights of Rome in two days albeit swiftly. Here are the must-sees, that frankly you can whizz though in Rome in 2 days. Of course, I highly suggest slowing it down and spending more time in the Eternal City.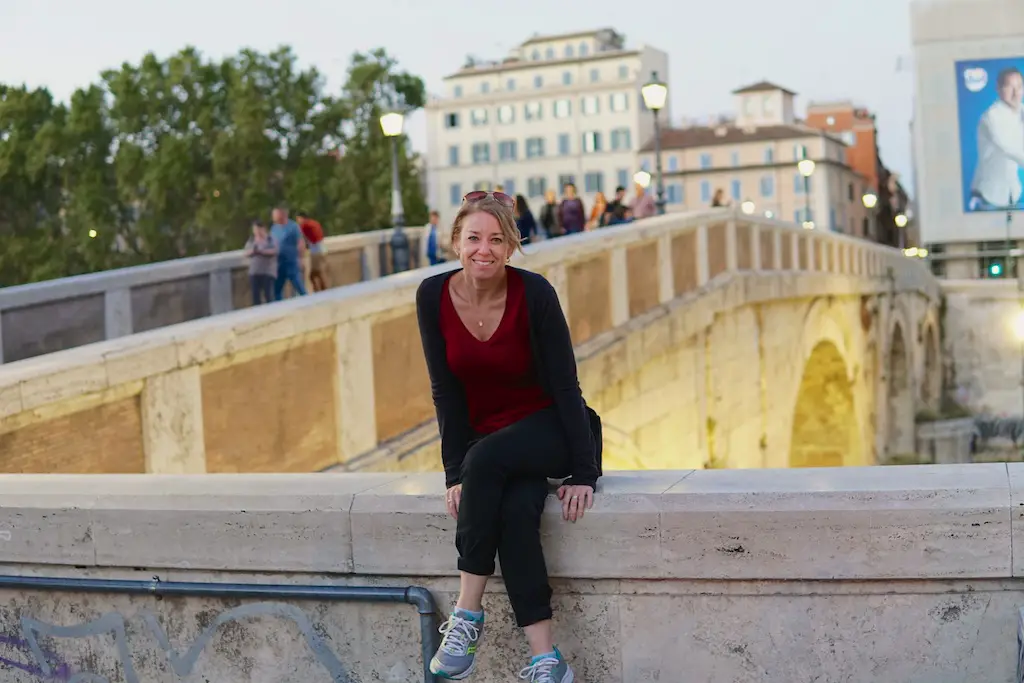 Rome in 2 Days
I can remember my first visit to Italy now 22 years ago. I was captivated by the countryside flying by from the old, graffiti-covered trains and the centuries old buildings with their stucco, stone and working, colorful shutters.
I was back in Italy for the fifth time and back in Rome — ever-changing, yet somehow standing still.
Every time I visit Rome I learn more and as the years pass in between visits, and I myself change, I have new things to discover and old things to see in a new light. Plus, this time I was traveling with my partner and it was his very first time in Rome, so we set off to explore the main sights of Rome in two days.
*Expert Tip
Download Rick Steve's Europe app – it's free and comes with audio guides for most of the biggest sites or if you don't want to listen there is also a written transcript of each guide. This was nice to have on our phones so instead of lugging around a guide book (now with smart phones or kindles, does anyone still carry a guide book with them?), we could still learn some history and info while taking in a particular sight. Plus it enables you to slow down and really learn about what you are seeing so it has more meaning.
Rome Itinerary 2 Days
The Colosseum
Rome's colosseum is the OG of amphitheaters and stadiums. Walking around this massive structure conjures up images of gladiators and perhaps Julius Caesar or maybe Russell Crowe.
Built more than 2000 years ago, this was the home of gladiator battles and some more gruesome spectacles.
Need to Know
When trying to see Rome in 2 days, time is of the essence. To avoid the queues is to buy a ticket directly from the official colosseum ticket office website, which gives you the option to specify an entry date and time for your visit.
Don't be scared about lines or needing a third company tour (although you can do that if you so choose). Buy your ticket online at the official website portal. You can buy combined entry to the Colosseum and the Forum and add on a guided tour from an official guide with the colosseum for just 5 Euros more. This is what we did. You can add on other tours to see more areas of the colosseum, but this tour provides a nice overview and info.
If you do want to take a guided tour, check out this guided tour of the Colosseum including the floor arena.  Or, check out this Underground Tour which is off-limits to most standard tours.
The Roman Forum
Just next door to the Colosseum is the Roman Forum. Since your ticket includes entry to both, it makes sense to wander through the Forum now.
This was the beating heart of the Roman Empire.
Stroll down the lanes where you can see remnants of where the columns from government, civic, and religious buildings once stood. To get the most out of what you are seeing, I suggest listening to the Rick Steves app or take an actual tour.
Pantheon
The Pantheon is one of my favorite sights in Rome. There is something so cool and magical about walking down the narrow lanes of Rome and then suddenly looking up into a big palazzo or square to reveal something as grand and magnificent as the Pantheon.
The Pantheon is the best preserved Ancient Roman monument in the city. It's hard not to be in awe of the massive dome, which even today, two thousand years since it was built, still holds the record as the world's largest unreinforced concrete dome. Originally built as a temple to the Roman gods, the Pantheon was converted to a Christian church in 609 AD.
The Vatican and St. Peter's Basilica 
Its own little country, the Vatican is another must-see on any visit to Rome.
The large symmetrical square in front of the church is the Palazzo San Pietro designed by Bernini in 1656–1667. You'll want to spend some time walking around taking some photos of course. Once inside the basilica, you can take your time gazing all around at the grandeur of it all. Don't miss Michelangelo's famous Pieta and the Cuppola he designed as well. For an extra 5 Euro or so , I recommend climbing the stairs to the dome to take in some great views of Rome and get a perspective on the layout of the city.
The Vatican Museums are a long block north of St. Peter's (closer to the metro stop). They are humongous. You have to enter the museums in order to visit the Sistine Chapel. Because of the size, you may want to plan in advance what you want to see. For example, there are a few shortcuts inside that get your closer to the chapel without possibly seeing some tapestries etc. My favorite is probably the Map Room, well, because I simply love maps.
Need to Know
Tickets: Get tickets to the Vatican Museums ahead of time online at their official site.
Getting there: The easiest way is to take the Metro to Ottaviano-San Pietro
Entry to St Peter's Basilica itself is free, but lines can be long, so arrive by 7:30 a.m. if possible.
Skip all the lines and take this Vatican, Sistine Chapel, and St. Peter's Tour. 
The Trevi Fountain
"Three coins in a fountain…" and as the famous saying goes, you must throw a coin in Trevi fountain for good luck and a definite return to Rome.
Dating from the mid 1700s, the huge, elaborate fountain ruled over by Neptune was designed by Italian architect Nicola Salvi. The Trevi Fountain is the world's largest Baroque fountain and is always a popular (read: crowded) day or night. And of course, don't forget to throw in a coin! Especially if you really only are seeing Rome in 2 days, you must return to see more! It's said that roughly 3000 Euro are collected from the fountain each night and donated to charity.
The Spanish Steps
The Spanish Steps were put on the map thanks to their cameo in the 1950s movie, Roman Holiday, starring Audrey Hepburn.
This 135-step staircase was opened in 1735 to link the Spanish Embassy near the bottom of the steps to the Trinita dei Monti church at the top. Nowadays, it's just a nice spot to sit, take a break, and people watch for a bit.  At no. 26 on the piazza is the Keats-Shelley House where Keats died of tuberculosis at the age of 25.
Piazza Navona
Piazza Navona is known for its over-the-top Baroque architecture and Bernini's Fountain of the Four Rivers, which dates back to 1651. This has been a designated public space since the 15th century. Notice its oblong shape? This is from the Stadium of Domitian, where great chariot races were once held, and whose ruins lie underneath the square.
Navona is busy and lively place to stop for an espresso and people-watch. Just remember that it's also much more pricey to eat and drink here than other areas of Rome. But it's still nice to sit and take it all in.
Campo de Fiore
This lovely square is one of my favorites. It happens to the geographic center of Rome and hosts an open-air food market. After the vendors have left for the day, the cafes and the square come alive. It's an atmospheric place for an evening drink at one of the many cafes and bars that ring the square.
Neighborhoods of Rome
If you are really on a Rome itinerary of 2 days, then it will be tough to see a lot, so I highly recommend stretching out your visit or making sure you come back to have more time to stroll around some more of the 'real' neighborhoods of Rome.
As I get older, new things interest me and I start to visit cities in new ways. Living in Chicago for two decades now has shaped my views of cities around the world. I have gotten to know and love all the neighborhoods that give residents their own small-town vibe and 'main street.' I've learned that just because you are in a big city, does not mean you don't know your local bartender, barrista or supermarket check-out person. As a result, it makes me seek out 'real' neighborhoods of the places I visit. I like to see where people really live, hang out, and go out to eat.
On my other few visits to Rome, I fell in love with the neighborhood of Trastevere and it's still great, but now I realized how central it is and just how touristy it has become as well. What once seemed off-the-beaten path, is now a bit-overrun. So I was excited to explore some newer-to-me areas.
Monti
Situated just a short walk up from the Colosseum, or or down from Termini train station, Monti is one of Rome's oldest neighborhoods. It's a charming enclave of winding cobblestone streets with colorful buildings and picturesque piazzas. There are lots of independent businesses — hip restaurants, wine bars, specialty shops, boutiques, galleries, and small hotels. Grab a beer or bottle of wine at dusk and snag a spot by the fountain in the pretty Piazza della Madonna dei Monti where young locals all seem to hang.
Testaccio
Like Monti, Testaccio is still inhabited mostly by Italians, with a sprinkling of European and American expats who've discovered its local charm. It's a quick metro ride south of the city-center. Just outside from the metro station, its hard to miss the Pyramid of Cestius, built between 18 and 12 B.C., after Rome's sacking of Egypt, when Romans were smitten with all things Egyptian. What was once once Europe's largest slaughterhouse, now houses a music school, a fair trade supermarket, a variety of unique shops, and a branch of Rome's Museum of Contemporary Art.
Testaccio is now the home to many of Rome's young creative and professional types. Thanks to them you will find a thriving music, arts, and food scene. Local's flock here to Mercato Testaccio, the city's most popular food market. Housed in a sprawling glass and metal building, the market has a tasty selection of food stands, delis, cafés, and shops.
Pigneto
Once a somewhat scruffy working-class suburb located east of the city, Pigneto is now becoming a hipster haven thanks to the vast array of bohemian bars and trendy restaurants. It's a good place to go in the evening. Narrow roads are adorned with bright graffiti and the eclectic buildings are a mish-mash of architectural styles, giving the neighborhood a slightly shabby-chic charm. We loved grabbing an appertivo at bar Necci, and then crossing back over tracks and strolling down the pedestrian-only Via del Pigneto, which is lined with bars and outdoor patios illuminated by string lights. It's a lively evening scene and great spot to grab a drink and people-watch.
Trastevere
While, it's no secret neighborhood and generally packed with tourists and expats, Trastevere is still charming. This cobblestoned, ivy-clad district is what made me first fall in love with Rome 20 years ago. The mostly pedestrian area is pretty irresistible, especially in evening when it's even more atmospheric with twinkly lights and candles. Definitely go for an appertivo and dinner.
Recommended Tours of Rome
Strolling around a city on my own is typically what I prefer, but I also often try to find a bike tour and/or food tour as well.
We did a good bike tour with Free Bike Tours of Rome. And yes, the name is true. These are free bike tours although you do pay 10€ for the bike rental (which is good for 24 hours) and then tip at the end and basically "pay what you think the tour was worth." Our tour last about three hours and went all over Rome from the narrow lanes of the Jewish Quarter to Circus Maximus to Trastevere. I had never ridden a bike in Rome and yet, again it showed me how easy biking can be in cities nowadays.
We also took a food tour with Eating Europe Food Tours in Rome. To see more about this tour and where to eat in Rome, check out my post on What to Eat in Rome!
Another great way to see a city, is to go for a run. I run three times a week now and enjoy when I get to run somewhere new. The run goes faster as its always an adventure to just take off and see new streets coming alive in the morning. I mostly ran around Monti, where we were staying, but here's a great guide for going on runs in Rome.
Getting Around Rome
To/From Airport
Train: ($15 ea) The Leonardo Express is the fastest (about 30 mins) and easiest way to get straight to Termini in Rome.
Bus: ($7 ea)  On a tight budget? You can also take the bus. It takes a bit longer (45-60 mins depending on traffic), but is half the price.
Metro Train or buses
Rome is really fairly easy to get around. Many of the main sights are within walking distance to each other. When not walking, I recommend using public transport — the Metro first and then buses to supplement that.  There are some passes and day cards, but mostly I recommend to just buy tickets as you go. It's often cheaper unless you don't like to walk much. A one-way ticket, known as a "B.I.T" costs €1.50 and is valid for 100 minutes from when you activate it.
Single tickets can be bought from machines or a booth person at metro stations as well as at convenience stores and newspaper kiosks. They need to be activated with a timestamp when you first use them. For buses, this means you must insert the card into a ticket machine on the bus (sometimes these are near the rear doors of the bus). To use the Metro you insert your ticket to activate it and go through a turnstile. NOTE: You typically also need your ticket when exiting the Roman metro as well.
There are random spot checks on busses and in the metro. Always activate your ticket or risk being fined…which will be much more expensive than just buying a ticket in the first place!
Where to Stay in Rome
Rome has been hosting visitors for centuries. And I've stayed in some few-centuries old places before. There are infinite choices when looking for accommodation in Rome.
If your stay is short, I recommend staying near the center.
I always recommend Airbnb, as a unique way to stay in a city and get a more local vibe, plus have a kitchen if you want to be able to save some money and at least each breakfast in.
If you're interested in using AirBnB, my link will give you a discount off your first stay. I also have a list of hotel alternatives to help you get a decent vacation rental.
Here are some of the best hostels in Rome. Check them out — they are really cute and you can often get your own room.
Hotel-wise, in Europe I prefer smaller, family-owned properties. They are a bit more unique, friendly and a bit more local-feeling that a big chain. These are a couple I've stayed in and liked:
The Blue Hostel Rome
The Blue Hostel is located in the cool neighborhood of Monti, just a five-minute walk from Termini Station making it so easy when you first arrive to town and just want to drop off your bags. Like many smaller hotels in Rome, it's located within another building with other hotels and/or apartments. In fact, it's actually inside  a former convent dating back to 17th century. Look for the little "Blue Hostel" sign right by the entrance to the building. Head up a couple flights of stairs to find the hotel. The intimate hotel is a bit of a hidden gem and there are just a few rooms. The owner, Ercole, and manager, Andrea, are super friendly and very helpful to point out all the tasty restaurant options nearby.
The rooms are simple and clean with a nice, slight loft feel with exposed wood beams. Plus, all rooms overlook a private courtyard so there is no street noise. It's really a great respite after a tiring day of sightseeing all over Rome!  
Don't let the name fool you, these are separate rooms. Every room at Blue hostel has en-suite bathroom and shower, air conditioning, Nespresso machine, LCD TV, free wifi and ensuite bathrooms. The only thing 'hostel-like' about the Blue Hostel are the prices! They keep prices very affordable for Rome since there is no 24-hour front desk. But rest assured, rooms are cleaned every day.
And the location can't be beat. It's just around the corner from Santa Maria Maggiore basilica. Termini is very close as is the nearest Metro stop. We walked everywhere from here or took the Metro. 
Book at room at the Blue hostel
Beehive Hostel Rome
On a previous stay in Rome, I stayed at the lovely Beehive Hostel, another 'hostel' that is more of a boutique hotel. There are a couple shared, dorm rooms (which I stayed in last time which were still small and fine as it's NOT a party hostel), but also a handful of private rooms
This place is cute, cheery, and bright. There's even a courtyard garden where guests can relax, a small organic, vegetarian cafe for breakfast (and a weekly family-style dinner), and a cozy lounge for reading and socializing.
They are very eco-conscious and use eco-friendly cleaning products, recycle, use LED lighting, washable hand towels & napkins, and they even collect clothes and toiletries to donate to the local refugee center.
For other accommodation choices, I often use Booking.com because they have everything from hotels to apartments to hostels.
Here are some other highly-rated choices.
Rome Facts & Useful Information
Timezone: CET, Central European Time Zone (GMT+1)
Currency: European Euro (€).
ATM Withdrawal: For the best exchange rate, use an ATM (automated teller machine) at the airport and reputable banks to get money. Check wth your bank before your trip to make sure your card will work abroad, what fees will be charged ($2-5 fees are typically on both ends), and also what the daily max withdrawal might be.
*TIP*: Be careful at ATMs – best to use ones indoors and if possible try to make sure there isn't an ATM skimmer attached on it. Check card slot for any removable parts and always cover keypad with your hand when typing your code.
Credit Cards: Credit cards are accepted at most stores and restaurants. Some smaller, independent shops may only accept cash.
Language: Italian is the local language although most people, especially in the hospitality industry, speak a decent amount of English. It is always good to learn a few words in Italian.
Hello = Buongiorno or Ciao
Thank you = Grazie
You're Welcome = Prego
Do you speak English: Parla Inglese?
Yes = Si
No = No
Electricity: In Italy the standard voltage is 220 V and the frequency is 50 Hz. USA appliances are 110V, so make sure your chargers are all rated for 110-220 as most are. But be careful of things like hair dryers, shavers, etc., these are usually not and you'd need a voltage converter to use. Outlets are the European-style two-pin round plugs, so you will need an inexpensive adaptor to plug anything in.
Internet Access: Most hotels and many restaurants offer free WiFi. For data and/or making calls, I advise you to get a local SIM card. Verify with your type of phone (GSM or CDMA) before leaving home. In the United States, Sprint, Verizon, and US Cellular use CDMA. AT&T and T-Mobile use GSM. Most of the rest of the world uses GSM.
Intercity Trains:
Seat 61  –  Thorough Info on Train Travel
Trainline.com – Buy train tickets online here!
Rome2Rio.com – Great maps showing routes and also ticketing option
Pin it!
Disclosure:
During our stay, we received a discounted media rate from the Blue Hostel. Otherwise, the rest of our Rome visit was not sponsored in any way. As always, my writing and opinions are my own.