I try not to return to places I've already visited, but of course, it's a different story when visiting family.  I've written about my mom's town of scenic Silverton, Colorado before. But not when visiting…with kids [cue screeching horror music].
This visit, I got to see the town a bit differently.
If you're looking for some unique family travel, check out this REAL mining town. Much of it is largely the same as it was at the turn of the 20th century.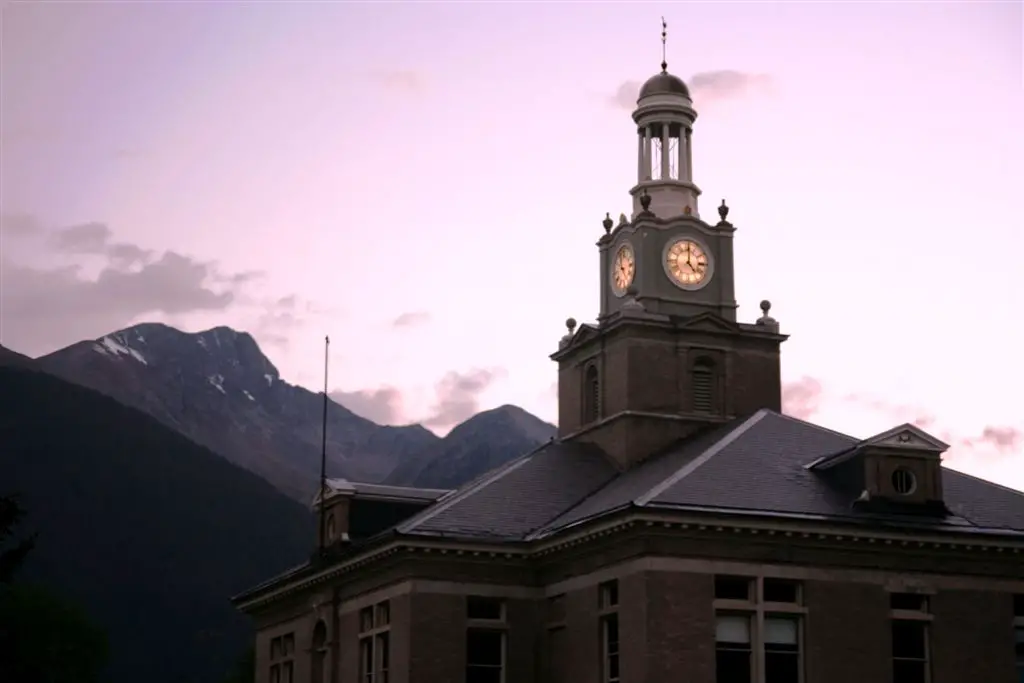 Silverton could be a movie set with its typical western façades, mostly dirt roads, and year-round population of about 500 or so. And no chain restaurants of any kind! It's really a town where everyone knows your name. And if they don't, then you are probably suspect!
Old Hundred Mine Tour
The Old Hundred Gold Mine was started in the spring of 1872 by some German immigrants who staked their claim here and spent thirty years prospecting and developing the veins on Galena Mountain.
Today you can don a fashionable, bright yellow rain jacket and take a tram straight into the mountain (at 10,000 feet!) to get a small taste of what it was like to be a miner and work in the dark all day long. We learned how rock mining was done and saw (and heard!) the different kinds of loud machinery they used back in the day. This is a large part of what the history of Silverton is all about — working in these remote areas, under very treacherous and harsh conditions, made it a very tough life.
Two-thousand feet above the mine you can also see the original 1904 miner's bunkhouse perched on the rocky cliffs of the mountain. Forty men and a cook once lived in the three story structure, cabled to the rock wall so it wouldn't fall off. Eek.
After the tour you can pan for real silver, gold and semi-precious gemstones in the sluice boxes outside the mine. D&D even found their very own silver. Score!
A Real Ghost Town – Animas Forks
Head out the backside of town into the mountains and you can either go to Silverton Mountain, the famous, extreme, backcountry ski area (we will likely never ski that in our lifetime!) or you can head to the ghost towns of Eureka and Animas Forks on the Alpine Loop. The loop is a 65-mile (105 km) system of unpaved roads which connects the small mountain towns of Lake City, Ouray, and Silverton.
In 1883, 450 people lived in Animas Forks, a very hard-to-reach town at 11,200 feet with its own general store, saloon, post office, and newspaper. Formerly a bustling mining community, this town is now eerily empty, but many structures still stand.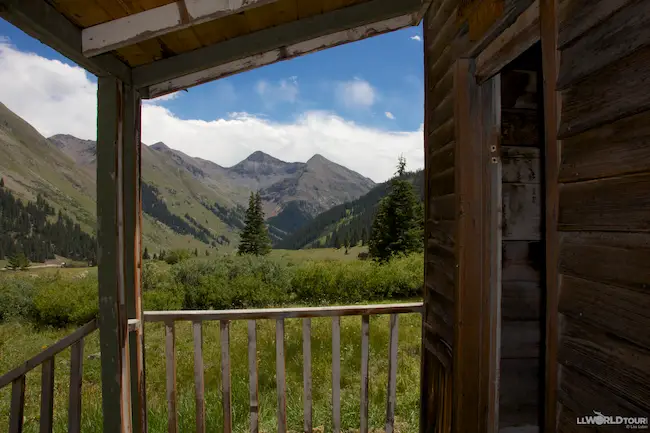 After four-wheeling it out here on the very twisty, narrow road that hugs the mountainside, you'll wonder how these folks did it back then.
Narrow Gauge Train
Possibly the biggest reason people come to Silverton in the summer is to ride this old-fashioned steam-engine, narrow gauge train. The Durango & Silverton Narrow Gauge Railroad cuts through the valley in between Silverton and the larger city of Durango to the south, hugging cliffs, and offering up some spectacular views.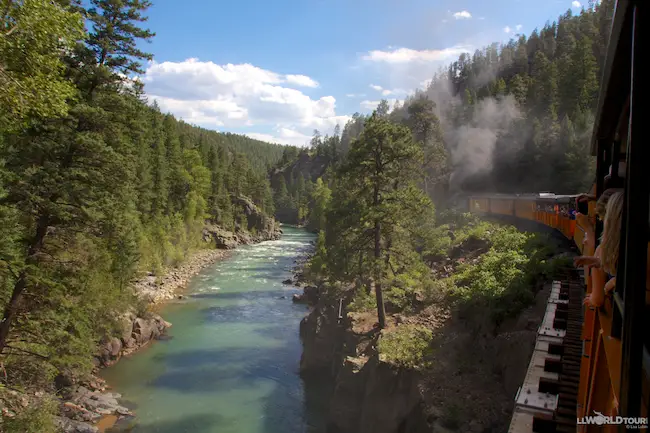 You can choose indoor or outdoor cars. We sat outside as the weather was great and it's good for getting good snaps. But don't forget, it's much colder up here closer to 10,000 feet, so it may get colder than you think!
Vittles
There are a few good choices in town for your standard all-American fare (think: meatloaf and chicken-fried steak) like the Brown Bear Cafe or Handlebars Saloon, which is a great place to eat with kids, as there is a lot to look at. Basically every square inch of wall space is taken up by memorabilia, bric-a-brac, and yes, dead animals. Into taxidermy? This is your place. Real stuffed animals of every kind adorn the place.

Disclosure: During our time in Silverton, we were a guest of MY loving mom at her cute motel: Canyon View Motel. I am completely biased in telling you to stay here. She also gave us some chocolate goodies and hugs. Thanks mom. Pets (and kids) are welcome!