[updated August 2019]
The famous Monteverde Cloud Forest is full of amazing plants and animals. Take a guided tour here to learn all about it. 
Rainy Season in Monteverde Cloud Forest
I love my rain jacket. This is the best thing I packed on my world tour.
I spent three days up in the St. Elena, Costa Rica just outside of the Monteverde Cloud Forest where when they say 'rainy season,' they really mean it.
The actual town of Monteverde (Green Mountain) was founded in the 1950s by some Quakers who'd left the United States to avoid a constant fear of war and an obligation to the military and the taxes that supported it. Ironically for me, my hometown of Randolph, New Jersey was also founded by Quakers. I even grew up right off of "Quaker Church Road." But, oddly, I don't think I've ever even met a Quaker…or at least if I ever did, I didn't know it.
Side note: they are actually named Quakers because in their religion they meditate in a way that actually makes them tremble or "quake."
What is a Cloud Forest?
Cloud forests are the same as rainforests, except they exist only high atop mountain slopes. The warm, moist ocean air is swept up the mountain forming clouds which give moisture to the abundant plant life.
There is a huge amount of biodiversity, particularly with plants known as epiphytes (like orchids and lichens). These plants grow on other plants (including trees) but are not parasites. They collect moisture and nutrients from the air and rain.
A cloud forest also tends to host a large number of endemic species, as their unique climates and specialized ecosystems create habitats that are not found anywhere else on Earth.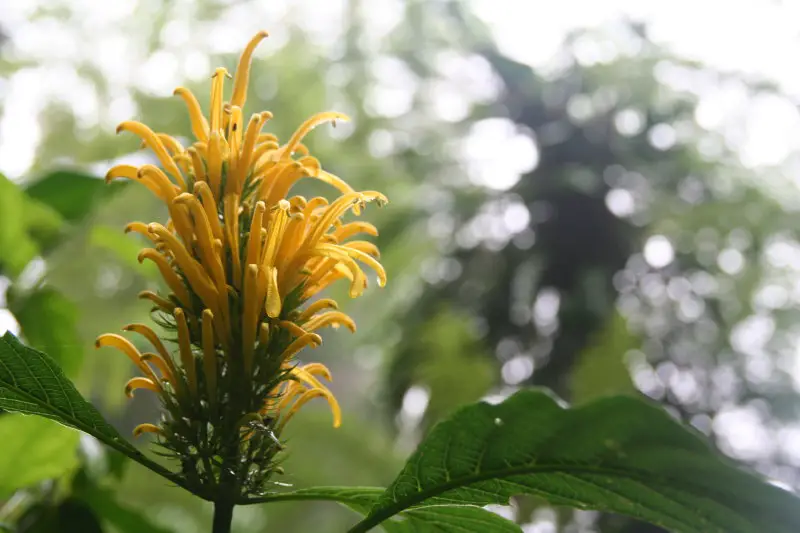 Tour Monteverde Cloud Forest
I took an excellent (and very wet) guided tour of the Cloud Forest given by Vernal, a very knowledgeable and excited young guide. When you go with a naturalist guide you have a far greater chance of spotting the animals who live here.  The Monteverde Cloud Forest Reserve was established in 1972 and initially covered some 810 acres of forested land.
Today it consists of over 26,000 acres of cloud forest and is visited by roughly 70,000 visitors a year. The Reserve consists of 6 ecological zones, 90% of which are virgin forest. It has an extremely high biodiversity, consisting of over 2,500 plant species (including the most orchid species in a single place), 100 species of mammals, 400 bird species, 120 reptilian and amphibian species, and thousands of insects.
 Over 8 miles of trails are available for visitors to explore on their own or with a guide.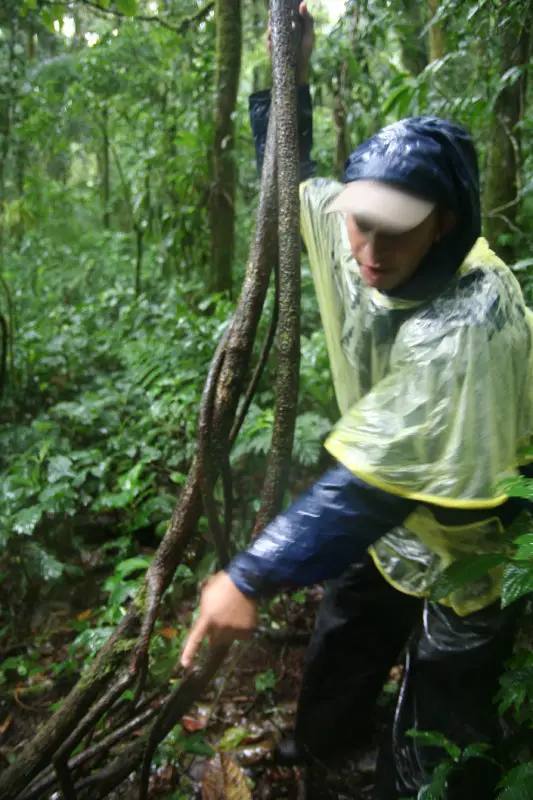 Here are some amazing stats on Monteverde Cloud Forest that I learned.
It has:
2500 different types of plants, including 350 types of ferns alone

1

000 Epiphytes (plants that grow on the branches of forest trees—ferns, orchids, bromeliads)
400 species of birds
100 different species of animals
This was truly a great example of nature at its finest. It was so lush and so full and most of the life was up above in the canopy of all the trees where the sun could get through.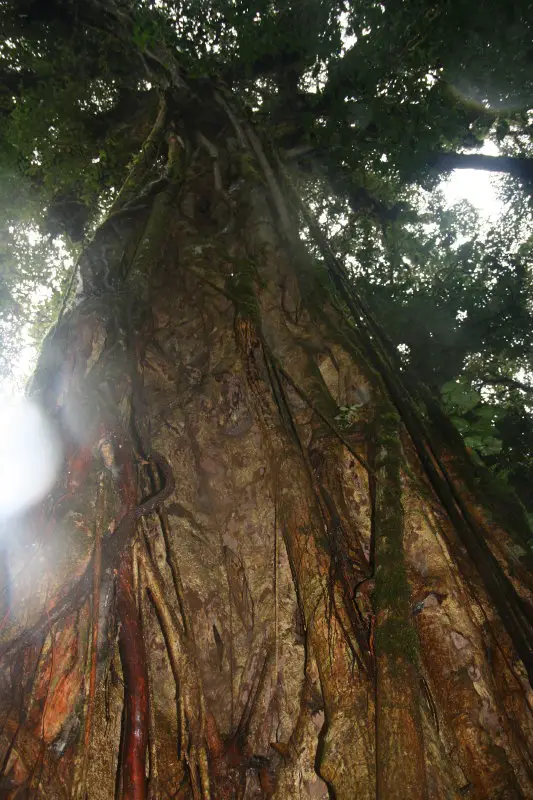 Monteverde Cloud Forest Animals
On our tour we saw a multitude of plant life—ferns, orchids, huge fig trees. Cloud forest animals were a little harder to spot but we saw a 'walking stick' insect, a praying mantis, a poisonous viper snake (thankfully far away and only viewed through Vernal's scope), hummingbirds, a fox, howler monkeys, and even the very elusive and endangered Quetzal bird.
The Quetzal in Costa Rica
Another guide mentioned to Vernal that he'd spotted the bird. Suddenly, Vernal scampered up the wet trail with the rest of us huffing and puffing in tow. He plopped down his high powered scope and with hundreds of trees and branches in his view, he spotted the bird within thirty seconds. These guides are amazing. They know the forest well and know exactly what to look for—certain torn branches, rustling (although with rain pelting everything this seemed impossible), and the areas where certain animals have been spotted before.
The Quetzal was once revered by Pre-Columbian peoples of this region. It is a stunning green and in mating season, the males sport two very long 'tail feathers.' Sadly, today their habitat has diminished and in turn so has their numbers, but thanks to newer conservation efforts—things are turning around.
For more info on tours visit the main site of the Monteverde Cloud Forest. 
See some of my other posts on Costa Rica
Pura Vida
Shiny, Happy, and Green Costa Rica
Drake Bay and Corcovado National Park
Montezuma's Revenge