For me, the best way to travel is to slow down, meet locals, and share local food. It's about immersing more in the local culture and ultimately…connecting. Read on to discover what is slow travel and how you can do it.
What is Slow Travel?
What is slow travel and why should you do it? Well, semantically the phrase is sort of borrowed from the somewhat known food movement: Slow Food. Back in 1986, an Italian formed the Slow Food organization as a way to combat the growing "fast food" mentality and industrial food production. It now has chapters all over the world and promotes using real, local ingredients and traditional cooking.
You know when sometimes you return from a vacation exhausted because you were walking around a city from dawn 'til dusk, trying to see as much as possible in five days? You zig-zagged from the Coliseum to the Spanish Steps to the Trevi Fountain. Your feet hurt, you brain was saturated with cathedrals and tapestries, and really when all was said and done, it was hard to really remember singular details because it turned into one big blur.
Imagine instead, waking up in a local neighborhood, sipping a cappuccino at a corner café, browsing the market for the day's freshest produce and chatting to the woman you bought bread from a couple days earlier.
That is what slow travel is all about. To me, it's about slowing down and maybe sightseeing less, but connecting more.
Slow tourism or travel isn't necessarily literal: taking the slow, local train or laying in a hammock all day. It's about connection – connecting to a place through its culture, its food and its people. And often this is achieved by slowing down your pace somewhat. So in other words, staying in one location longer, immersing yourself and pushing yourself to find ways to meet locals, and not trying to cram in every sight or activity.
Why You Should Try Slow Travel 
Be in the moment
Once you slow down, you can let things happen. Freed from overly planned itineraries, you begin to see the kinds of things (and meet the kinds of people) that most tourists overlook in their haste to cross sights of their list. Don't rush around like we have become programmed to do. Slow your roll and savor all the little moments of a new place.
Save money 
Slow Travel also has a side benefit of saving you money. When you are not cramming in four different cities on a seven-day trip, you are buying less transport, which is typically the most expensive part of travel. Renting an apartment or even housesitting is much cheaper than paying nightly rates at a hotel. If you are staying in one place, it also means you save on food because you can buy food for the week and cook some meals at your airbnb or homestay.
Meet and get to know locals
Now that you are in one place for several days (or more!), you might meet your neighbors and you can start to frequent the same café and get to know your server. Talk to the people you might already be interacting with. Chat up your Uber driver, ask your food tour guide what she likes about living there. Or ask your airbnb host if they want to join you for lunch one day. Learn some key words in the local language and try just starting with "hello" to someone at a shop. I can tell countless stories of how my just chatting with someone turned into a dinner invite at their home or even a weekend getaway! Meeting locals is my number one tip for what can turn a good trip a great trip!
How You Can Do Slow Travel
There are so many great ways to experience slow travel. I asked some of my fellow travel bloggers for some of their best tips and experiences that are sure to give you some ideas for your next trip!
Simply Talk to Locals
By Claudia Tavani of My Adventures Across The World
Slow travel doesn't by definition have to be slow ­— you can travel slowly even when you don't have much time to spend in a place, as long as you take your time to savor the atmosphere, appreciate the local way of life, and learn more about it.
One of the best ways to get into the local vibe is by making small talk with locals. In a lot of cases, this is easier said than done as language may well be a barrier, but at times it only really takes a few words, a smile and a funny comment to end up chatting with a local.
Head out of your hotel, look for the place where the locals love hanging out in the evening. If it is summer time, find a spot that is nice and breezy and you will see kids playing ball games and older folks playing cards and enjoying a sunset drink. Sit on a bench next to a local, say hello and after a while ask a simple, random question or make a comment or small talk. A good conversation starter may be something like, "it's really hot today." You may see that you catch them by surprise, but chances are they will be happy to exchange a few words.
That's how you may learn that Getsemani, one of the oldest neighborhoods in Cartagena, has undergone some major changes and improvements in recent times; or that people in Porto Torres, a small town at the North of Sardinia, aren't really happy with the new mayor.
The key is to keep it casual, to be friendly, and to listen to what others have to say.
Slow Travel through Transport
Ride the Verde Canyon Railroad
By Theresa Goodrich of The Local Tourist
One of the most relaxing experiences I've ever had while traveling was a ride on the Verde Canyon Railroad. This four-hour round trip tour departs from and returns to Clarkdale, Arizona, along tracks that have carted trains since 1912. It's only about twenty minutes from Sedona, so you can imagine how beautiful the scenery is.
My husband, Jim, and I tend to be fast travelers. We've taken two month-plus road trips, but because they were both research for my books, we stayed in a new place almost every night. It was a treat to let someone else take the wheel, so to speak. During that train ride we could truly be present and enjoy the landscape, with its red rocks, cottonwood-lined riverbanks, and cliff dwellings.
It's a pretty social excursion, and we met people from Minnesota and Michigan's Upper Peninsula. We also met Dennis, the train's engineer. Once he found out that Jim's a classically trained musician, Dennis belted out Man of La Mancha. Turns out he was also classically trained and has a range of three octaves! That's the kind of experience you can only have when you slow down.
Take a Train Across America  
By Laura Clowes of Country Girl Explores
The California Zephyr Amtrak train ride is one of the most beautiful and scenic journeys in the USA. The passenger train runs from Chicago, Illinois to San Francisco, California and takes approximately 51 hours to complete.
The train cruises through seven different states, taking in the upper Colorado River valley in the Rocky Mountains and the Sierra Nevada. It passes through Denver, Salt Lake City and Reno before landed in Emeryville, in the San Francisco Bay area.
Taking the train halfway across the USA was one of the best decisions I ever made. It left me with memories to last a lifetime and stories to tell everyone about that one time I spent more than 50 hours on a train! Everyone always looks at me like I'm crazy, but just spending over two days taking in the dynamic landscape and views of the United States is something that you miss if you fly across the country. Four hours on a plane or 54 hours on a train with un-missable views? I know which one I prefer.
Top Tip: Get a seat in the observation car for the best views!
Take the Trans Siberian Railway
By Sinead Camplin of Map Made Memories
We travelled on the Trans Siberian Railway as part of a year-long family trip around the world. The Trans Siberian trip formed a section of our overland journey from Hong Kong to the U.K.
We decided to travel across the biggest country in the world by train as we felt we had 'missed out' on fully exploring other countries by flying over large sections of them. Using the extensive Russian rail network, we had the opportunity to slow travel across an enormous, diverse country that spans two continents and eleven time zones.
Long-distance Russian trains are not high speed so, by their very nature, you slow down! During our many hours and days spent on the Russian rail tracks between our sightseeing locations, our family played games, read books and spent hours daydreaming out of the window — activities which are often pushed to the background in favour of timetabled sightseeing and the general busyness of family life.
We had time to chat to other train travelers from Russia and all over the world who also had time to chat to us. Flying would have been cheaper and quicker but nowhere near as much fun or relaxing!
Slow Travel by Bike
By Marco Ferrarese of monkeyrockworld.com
I always believe that often times, the better-known destinations always have some gems hidden beyond their most beaten trails. This is the case of Kochi in Kerala, one of the most visited cities in South India.
If you stroll in Fort Kochi, a former colonial abode with leafy streets, ancient churches and sublime architecture, you'll certainly have a good time, but you'll also share the grounds with an ever-increasing number of tourists who breeze through on their whistle-stop tours.
I, on the contrary, decided to step out of that area and get to know that even Kochi has some beautiful countryside filled with backwaters — open marshland and waterways formed by the accumulation of brackish water between the Arabian sea and the inland rivers.
The best way to see this area was, to me, was pedaling on a bicycle tour of Kochi Backwaters. The perk here is stepping out of the tourist area and its touts, and truly see how locals still live in this region which is pretty unspoilt, and yet just about 10km south of Fort Kochi. Our knowledgeable biking guide took us for a half-day across a land made of water canals, small countryside roads and tiny villages where locals still make their boats by hand with the wood they source from their coconut groves.
By cycling slowly around Kochi's less visited backwaters, I think I had at least a glimpse of what it means to live by the slow rhythms of the tide, and the constant seasonal changes that turn these waters from fresh to brackish, thus influencing the lives of the fishermen and farmers here. If I had remained in Fort Kochi, seated in a boutique hotel sipping an espresso, I would have breezed through and missed out on all of this treasure trove.
Slow Travel by Van Life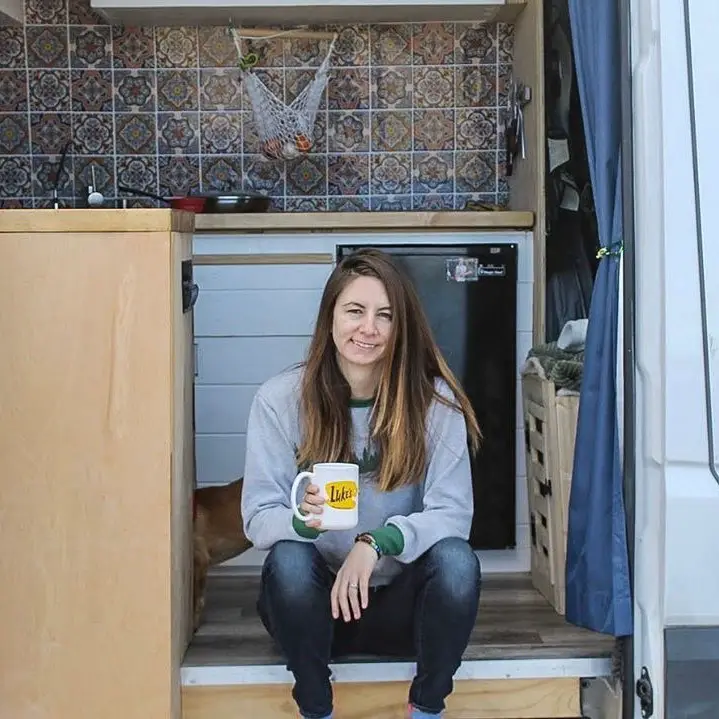 By Brie of Chasing the Wild Goose
I went on my first international trip when I was 25. It was a whirlwind, to say the least. I explored Barcelona, Paris, and Munich in a short two weeks.  Once I finally got my bearings and accustomed to the time difference, it was time for me to head back. Over the next five years I experienced the same type of travel, with short trips to places like South Africa, Iceland, Australia, New Zealand, and Amsterdam. This left me feeling travel burn out, unhappy, and unfulfilled with my desire to travel and explore.
It wasn't until my partner and I decided to build a Sprinter Van into a tiny home on wheels that I was finally able to experience the art and beauty of slow travel.
Living on the road working full time can force you to stay in cities or areas with cell phone service for longer than you planned to ensure you are able to get your remote computer work finished. This spring we stayed a month in San Diego, exploring Southern California experiencing the beach culture. We discovered our favorite coffee shop with the best cold brew we've ever had, the best vegan restaurants, and drank our fill among twenty different breweries inside the city. To read more on San Diego, check out my guide on San Diego.
Slowing down gave us the opportunity to become a part of the local van scene meeting many different nomads from across the globe. We had the chance to experience a new place, like a local, and understand what it would be like to live there. This is my favorite part of slow travel, you get to truly experience a place and the culture instead of just checking off boxes to say "you've been there."
Slow Travel by Walking
By Campbell & Alya of Stingy Nomads
Slow travel for us is on foot. During the last year, we spent five months walking through Spain and Portugal following the famous Camino de Santiago routes. This experience changed the way we travel.
We walked our first Camino from Lisbon to Santiago de Compostela more out of curiosity to see what it's and how it works. After finishing the walk we got completely addicted to this slow way of exploring a country, seeing off the beaten path places and meeting local people.
It even changed our perception of speed. After 30 days of moving only at a walking pace, taking a bus or a train became an incredible experience as all of a sudden you cover huge distances in a short time.
Pilgrims on the Camino live a very different life — there is nowhere to rush, every day you get up, pack your backpack and start walking, you can walk as far and as fast as you want, stop anywhere you want, and there are no rules or obligations of being in a particular place at a specific time.
On the Camino, we got to see some places that we would never visit as tourists — small towns and villages where everybody knows each other. When you go to a local bar (an important center of the social life in such places) you become a part of this small community — you talk to the people and you try local food, which is often cheaper, better and tastier than in popular restaurants in touristy places. Walking through different regions you discover local specialties and unique dishes that you can get only in a particular area like pimientos de padrón or pulpo a la Gallega in Galicia, pintxos in the Basque Country, and tostadas with jamón and cheese in Andalusia. All these enrich your travel experience and allow you to really get to know the country and its people.
Slow Travel Through Food
Take a Cooking Class  
By Cat Lin of For Two, Please
Taking a cooking class at a destination with locals is a great example of slow travel for me. Instead of simply dining out at a restaurant, this type of hands-on experience exposes me to a greater depth of culture through its food.
I recently participated in a cooking class on my trip to Lyon, France. My husband and I joined a local chef at his restaurant, where we went behind-the-scenes to his kitchen and learned how to make traditional Lyonnaise cuisine. Throughout the 3-hour workshop, we cooked a complete meal with starter, main course and dessert, featuring classic dishes like poulet bourguignon. The chef also went deep into the context and history of the dishes we were making. All of a sudden, it made sense to us why they put wine into the chicken stew!
To us, cooking classes are not just about learning the recipes and cooking tips. The most valuable part of this kind of activity is slowing us down to examine how its unique cuisine can reflect the distinct culture and history. 
Pizza-Making in Italy
By Wendy Werneth of the Nomadic Vegan
On my most recent trip to Italy, I participated in a pizza-making class at a lovely vegan-friendly restaurant in Rome, called Origano. I've eaten hundreds of pizzas in my lifetime, but this was the first time I had ever attempted to make one. The class was very hands-on. A professional pizzaiolo invited a small group of us into the restaurant's baking area and showed us how to stretch and knead the pizza dough, then guided us as we attempted it ourselves.
We then added the sauce, cheese and whatever toppings we wanted to our pizza. A couple of us even got to try placing the pizza inside the traditional wood-fired oven with a long-handled pizza peel! Before taking the class, I knew how pizza was made and had watched pizzaioli in Italy doing it many times before, but doing it myself definitely gave me a new appreciation for this local art form.
One thing I really loved about this class was that Origano offered vegan cheese for us to use on our pizzas in addition to the usual buffalo mozzarella cheese. I was traveling with a group of vegans, most of whom were experiencing Italy for the first time, and we were all thrilled to be able to participate in this very important part of Italian food and culture without compromising our values.
Try Meal Sharing with Locals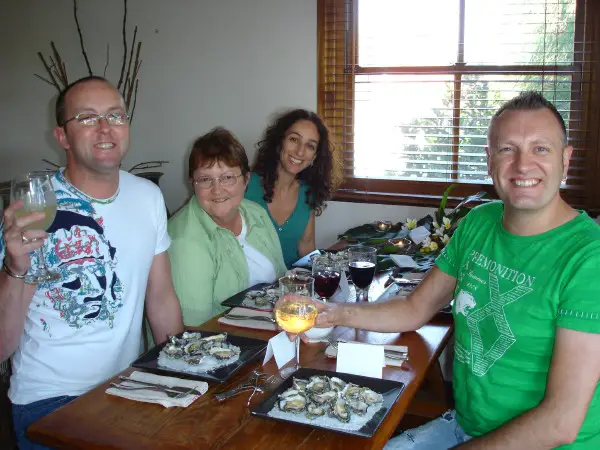 One of the best ways to get local is to share a meal with a local in their home. There have been times when I've met some wonderful people either through friends, or just striking up conversations. Of course you just can't always make this happen, but now there are some companies that help facilitate this! Websites like MealSharing and EatWith are like the Airbnb of meals. You simply put in your destination and see who is hosting a meal while you are in town and sign up! You pay for your meal which helps your host cover the cost of ingredients and get to meet a local who wants to meet you and cook for you!
I've not only done this around the world in places like Rome and Copenhagen, I've even done it in my own city as a way to meet interesting people right in my own backyard.
How to Slow Travel with Your Accommodations
Get Your Own Apartment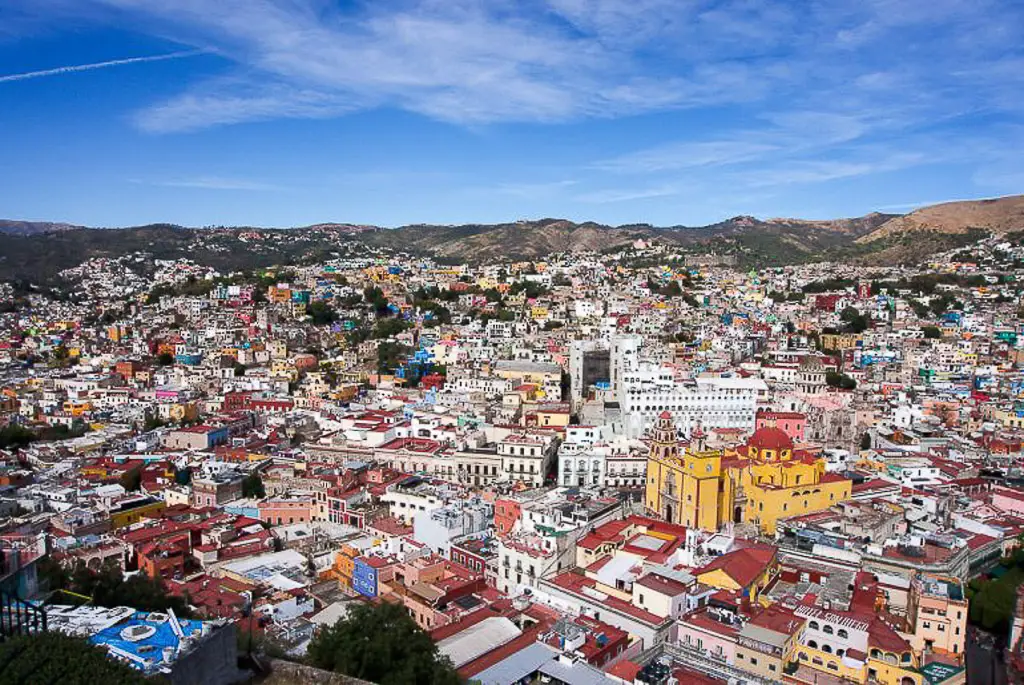 By Jess Drier of Unearth the Voyage
My fiancé and I have done all types of travel, but lately, we have really tried to slow down and spend more time in one place. We decided to do this because we feel we can have a more authentic experience and really get to know a place and the locals when we take more time to explore it.
One way we have found we have more opportunities to connect and get to know the locals is find alternatives to hotels such as renting an Airbnb from a local. We make sure when we are searching for an Airbnb that their profile says they are from that area instead of someone just renting out a property.
We have had some of the most amazing experiences renting an Airbnb from a local as often times they live really close to the property or you can even stay in their house with them. We are frequently been invited over for dinner, been given tours, and have developed a connection with our Airbnb host. We actually connected so well with our last hosts that they asked us to come back and housesit for them. Not only that, they are going to be attending our wedding!
Renting an Airbnb can definitely have ups and downs — but it's one way we have found to connect on a deeper level to the places we visit.
➙ Need a place to stay? Use my airbnb link for $15-25 off your first stay!
Consider House & Pet Sitting
By Brooke & Buddy Baum of TrailingAway.com
We're go-go-go travelers by default. Which is why house and pet sitting has been the perfect way to force us into slow travel. We find all of our house sits through a site called TrustedHousesitters.
When we commit to a sit, it becomes our home for the week, month, or part of the year. And since we started house sitting full-time more than a year ago, it has improved the way we see the world tremendously.
There is something so special about getting to live like a local in a new place – go grocery shopping, walk a dog around the nearby park, find a go-to restaurant, look up unique activities nearby. We leave the places where we've done house sits feeling like we know them intimately.
A great example of this was a five-week sit we did in Inverness, Scotland. Going into it, we really only knew it was close to Loch Ness. But while there, we found a handful of beautiful waterfalls, lush hikes, scenic drives through the Highlands, and multiple castles we had never even heard of. We even went to a local beach – definitely not something Scotland is known for! Plus, we had three pups to hang out with while there who really added to the memories with their silly antics.
We've had similar experiences in places like rural Spain, downtown Munich, lava-strewn Pahoa in Hawaii, and Milan, Italy. There is so much value in richly seeing a place, and we are very grateful house sitting is allowing us to do that.
Housesitting Around Mexico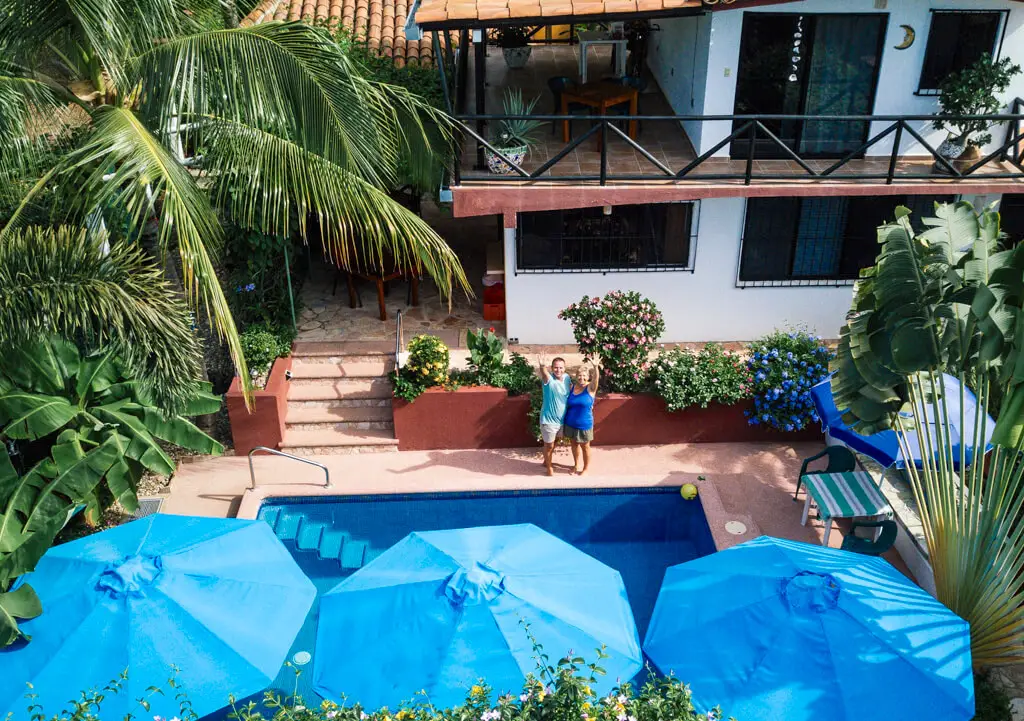 By Crystal Egan of Castaway with Crystal
We love slow travel! We like to stay for a long time in places, getting to know them inside and out…like a local.
Recently, we were able to travel around Mexico for eight months by housesitting as we went. By looking after people's homes we were able to stretch out our budget by eliminating the need to pay for accommodation — meaning we could stay for longer in one place.
On Cozumel Island, we house and pet sat for a month, lapping up the sights slowly with our borrowed motorbike. But our favorite housesit was for with a Swiss couple living in Puerto Escondido that was going back to Switzerland for a month to visit family. Their house was grand with a huge garden and a pool. While we worked hard to keep the place immaculate, we also had a lot of time to explore Puerto Escondido and the surrounding towns and beaches in Oaxaca.
Our Spanish skills were put to the test every weekend at the local markets, buying fresh produce and odd necessities needed to maintain the house. Once they got home, they invited us to stay longer and rent out the spare room for a great price, which gave us even more time to get to know them and live in the town like locals. Even now, we send the couple messages and updates and plan to visit them next time we visit Mexico.
Try Couchsurfing  
By Halef and Michael of The Round The World Guys
When we travel, one of the most effective ways we slow down and really engage with a destination is by using Couchsurfing.com. When we stay in hostels and hotels, we often find ourselves in too much of a hurry to see all of the famous sights and tourist traps, and then move on.
Couchsurfing is different. It's been our go-to method for slow travel since we started using it for hosting others in 2007. We love to stay with locals all over the world. It's helped us discover that seeing a city from a local's point of view, eating in their favorite restaurants, and doing the things they do, is a fantastic way to get away from the touristy crowds. The big advantage is that you come away knowing a lot more about the place than you otherwise would have.
We've all seen crowds and tour groups who visit a city, buy a trinket, and leave. Great Couchsurfing hosts want to show you more about where they live. They want you to see past the tourist traps and really get to know their homes. Because of this, you pace yourself and take it all in. Couchsurfing, especially with multiple hosts in the same city, is the perfect way to relax, learn more about the places you visit, and come away with a much broader, more in-depth experience.
Lisa adds:
Using couchsurfing during my round the world trip from 2006-2009 was one of the best decisions I made. It was truly THE main way I could immerse and get local extremely fast and easy. I made so many new friends and connections. It honestly defined what travel means to me.
Go Wild Camping
By Heather Cole of the Conversant Traveller
Wild camping is the ultimate form of travel that allows you to really slow down and explore the landscape properly, rather than just driving by, or taking day trips.
In the United Kingdom, you can camp pretty much anywhere in the wilderness, so long as you respect the land and local rules. We love wild camping in the Lake District. There's something about being in the hills that really makes us see our location through different eyes. Everyday tasks like making a cup of tea take much longer when we're wild camping, and that's a good thing!
Sitting on a hillside overlooking a lake as the sun sets, whilst waiting for the roar of the kettle as our water boils, is a unique feeling. As our dinner bubbles away on the stove, we notice just how much wildlife there is, and appreciate not having to share it with anyone.
Even the daily chores of packing up the tent and heading off to a new mountain peak are a joy. Here, time stands still. We go at our own pace, never have to be anywhere in particular and can change our minds whenever we like. We're often up early which means we enjoy sunrises, and as night falls it's time for bed. Our day adjusts to be in tune with daylight and nature, there's no need for a watch out here. It might sound like hard work, but it's the most relaxing form of travel we've ever tried!
Experience Slow Travel by Taking Language Courses
By Ingrid Truemper of Second-Half Travels
Combining language study and travel has been the best way for me to forge a meaningful connection to the places I visit. Taking a language course allows you to spend a significant chunk of time in one place, form lasting friendships, and deeply explore the culture.
Language schools don't have to be expensive. Prices are often very reasonable for a package including 20 hours of weekly classes and accommodation, especially outside of Europe, and there are usually discounts for longer stays.
Over the last 25 years, I've attended eight language programs in six countries: Egypt, Argentina, Uruguay, Mexico, Spain, and Brazil. Most recently, I took Portuguese classes in beautiful Rio de Janeiro for three weeks. The school arranged accommodation for me with a nearby host family, providing additional immersion into the language and culture.
During my time in Rio, I made many Brazilian friends; from teachers and staff at the school to locals I met on the daily excursions and cultural activities. Best of all, I was able to communicate with them in Portuguese.
Many of the other students were long-term foreign residents of Brazil, and it was fascinating to hear their stories and get to know them. I also loved being greeted warmly as a regular at neighborhood businesses and by the doormen of my building!
I had visited Rio once before as a tourist, but experiencing it at a deeper level really made me fall in love with the city. I'm already planning my return!
Slow Travel by Volunteering 
Work on an Organic Farm
By Katie Diederichs from Two Wandering Soles
Some of my very favorite travel memories have been when I slowed down and spent time volunteering on farms. While it's not the most glamorous type of travel, it is a fantastic way to really get off the typical tourist path, interact with locals and learn about the country you're visiting past the surface level.
Volunteering on farms allowed me to meet other likeminded volunteers from around the world. It also has given me the opportunity to learn a ton about permaculture, organic growing, gardening, plants, and natural ways to care for them.
It's also an incredible opportunity to see a part of the country you're visiting that few other travelers see. In Ecuador, for instance, the farm I stayed on was located deep in the Andes Mountains, and the only people that ever get to this place are those volunteering on the property. We were able to discover hidden waterfalls and jungle paths.
And while volunteering on a farm in northern Thailand, our host gave us directions to a secret hot spring that only locals know about.
Volunteering on a farm also gives you the unique opportunity to interact with locals in a meaningful way. You can create relationships that go deeper, and you'll get a glimpse into their daily lives. It's a pretty special way to learn about local culture and practice the language.
And on top of all of this, volunteering is a fantastic way to save money, as you typically get room and board covered in exchange for your work.
You can find all sorts of farm work opportunities around the world on sites like WWOOF (World Wide Opportunities on Organic Farms) or WorkAway.
Insider Tip: Not all farm experiences are created equal! Be sure to read the reviews from past volunteers and choose a farm that has consistently good feedback.
Volunteering at a farm near the Amazon Rainforest
By Sean Lau of Living Out Lau
My "slow travel" experience was in a finca (small farm) on the edge of the Amazon rainforest in Ecuador. After traveling for six months straight, the constant movement of changing hostels and going to a new city were getting too stressful for me. So I decided to stay at the finca to volunteer for two weeks. It enriched my whole travel experience in Ecuador.
Even though the finca was not situated deep in the amazon (we had Wi-Fi), I was able to experience a little bit of what it is to live in the Amazon rainforest. The owner of the finca took the volunteers out on hikes into the rain forest where he showed us the different types of plants and their uses. For example, he showed us a tree that bleeds when you cut it, and the tree's blood is actually used for anti-itch and to treat inflammation. He also showed us a fruit, even though completely tasteless, will save you from starvation when you are trapped in the rain forest.
I learned about the different types of spiders that were in the area, including the Brazilian wandering spider, which is the world's most dangerous spider.  There was actually one less than 10 meters from where I was sleeping guarding her egg!
I experienced what the "rain" in word rainforest really meant. There are times where it would be pouring rain for several days straight. It was slowing down my travel that made me learn and appreciate what traveling allows you to see.
Volunteering with Animals in Greece
By Nadine of Le Long Weekend
Volunteering to spend six weeks caring for the stray dogs of Syros, Greece was my first introduction to real slow travel.
The accommodation provided was a simple studio on the grounds of the animal shelter. I'd spend my mornings feeding the dogs and cleaning their enclosures before heading out to walk around the island — choosing a different path each time, or simply following my nose.
Syros was devoid of tourists in the chilly month of January and local encounters were limited to stilted conversations with the staff at the local store and the curious old men who'd see me walking by with a different dog at my side each day.
The caring, but slightly eccentric lady who ran the shelter (entirely on her own, and on a shoestring budget) would sometimes invite me to 'dinner with friends'. These were the most memorable nights of my time in Syros – homemade dinners created with seasonal, local ingredients, and the conversation flowing as fast as the wine. It was an incredible experience and one that cemented my love of slow travel.
Slow Travel by Working
Use Workaway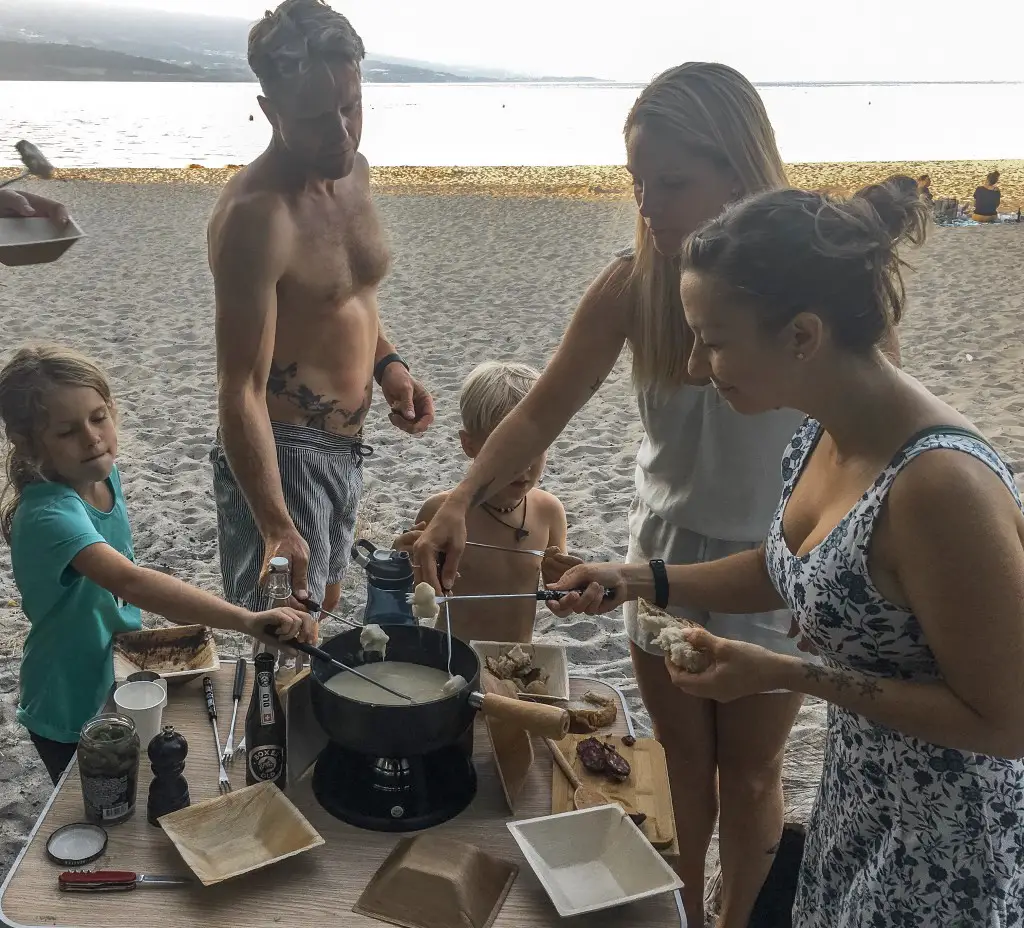 By Erin Morris of Curiously Erin
When I'm traveling, I love to do so by using Workaway programs. Workaway is an online platform that connects volunteers to hosts in 180 countries around the world. It's a fantastic way to slow down and learn about the culture and people within a country.
I am currently doing a Workaway program in Switzerland. I live with a family of six, helping them with their treehouse accommodation business. In exchange for the few hours of work I do each morning, I am invited to eat three meals a day with the family and go on any outings with them. I was able to try my first cheese fondue and was shown how to prepare it and what ingredients are used.  Yummo!
This is the fifth Workaway program I have done this year and I absolutely love it. You get a local's knowledge for exploring the area and usually stay in one place for weeks or months at a time.
Not only does this help you slow down your travels, it s a great budget tip as you receive free food and accommodation in exchange for around 25 hours of work per week. If you would like to know more about Workaway you can read my post on how and why you should join Workaway.
Pin It!