St. Petersburg Metro
This is nothing like the New York Subway or even the Tube in London. The St. Petersburg Metro is one of the most beautiful and elegant metros in the world. Many stations are adorned with columns, chandeliers, and art work. Adding another superlative to the list, it is also one of the world's deepest – the stop near the W Hotel, where I stayed, is the deepest in the entire system at nearly 350 feet below ground.
Elaborate chandeliers hang from the ceiling, ornate mosaics, and reliefs adorn the walls; no, I was not at the Kirov ballet, I was down underground in St Peterburg's Metro, the most lovely I've ever seen.
Not only that, I think it's the most efficient metro I've ever been on. I jumped off to take some photos at various stations and in just maybe five minutes, 2 more trains came by. Every time I took the metro, I never waited more than 60 seconds for the train. In fact, what takes the longest is actually the escalator ride down, down, down to depths of the earth, as St. Pete's metro system is one of the deepest in the world.
Total Length: 110 kilometeres
65 stations
5 lines
2.5 million passengers daily
Clean
Grand
Super fast
One of the deepest in the world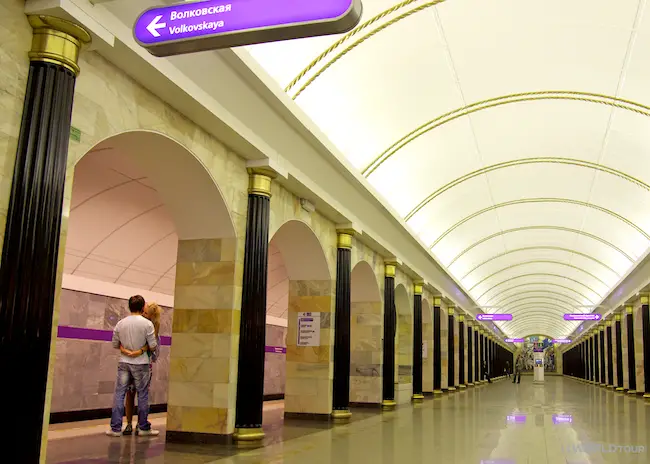 Due to the swampy nature of the city, the Saint Petersburg Metro is one of the deepest subway systems in the world. The system's deepest station, Admiralteyskaya, is 105 metres below ground.
Of note: Until the summer of 2009, all photography and video filming in the Metro required a written permit. Now, photography without a flash can be done without a permit. So enjoy this photo essay.