It was time to put our new Volvo into 6th gear (yes, some Americans — including both of us — can drive a manual transmission; both of our first cars were Hondas with a stick) and hit the E-6 highway south into Skåne (Scania in English or more simply "South Sweden") and visit Malmo, Sweden's third largest city.
See the first parts of our Road Trip in Sweden:
Part I:  Trip t o Sweden with Volvo Overseas Delivery Program
Part  II: Fjällbacka & Weather Islands
Coffee Break in Sweden
What's a road trip without fun snack breaks or a coffee break (called a fika in Sweden)? Our first stop is Villa Sjötorp, a charming old inn and café in Lyckorna, Ljungskile.  After a little tour of the old-fashioned property, we are back in our auto heading south.
Båstad, Sweden
When we hit the town of Båstad, it is lunchtime, so we head uphill to the Niva Gallery. Overlooking the whole bay, Niva has great little sandwiches and coffee. After refueling our own tanks, we stroll a bit around the gallery and check out the artisans' work and some nifty Swedish designs.
Random Timing: An Afternoon Match at the Swedish Open
We cruise down to the center of town and I like what I see: outdoor cafes and a boardwalk along the harbor. Even better still, we are right on time for the invitingly accessible, Swedish Open Tournament.  We pop into a match after a short rain delay and it just so happens that the winner of the set we were able to catch, will go on to become the women's champion!
Game. Set. Match.
Visit Malmö
Late in the day we finally roll into the city of Malmö, Sweden's third largest city at the southern tip of the country's peninsula (just 20 minutes east of Copenhagen). We check into the newly refurbished Radisson Blu hotel and enjoy its contemporary feel.
Dinner in Malmo: Try a Slice of Swedish Hospitality
Our first night we head over to our new friend's for dinner. Mia Klitte created the program a Slice of Swedish Hospitality. This is a network of Malmö locals who open their homes up to visitors for dinner. I love this idea as I love meeting locals – especially over food. I've been doing it for years now with unique ways to meet locals like through Couchsurfing (you can also just meet for a meal!) or meal sharing.  With Slice of Swedish Hospitality, you can meet host families in their daily lives, and they can share their tips for Malmö over a home cooked meal.
Mia (and one of her sons) make us…what else? Swedish meatballs with salad and potatoes. We have a great time chatting and laughing and getting to know her and her husband, Niklaus. It is a special night, and I love sharing my favorite part about travel — meeting locals — with CP who also gets a glimpse into how wonderful and heart-warming it can be.
What do to in Malmo
We spend the next few days in Malmö walking its pedestrian lanes, cycling its super bike-friendly streets, checking out its world famous Turning Torso by Calatrava, drifting through the city under its bridges on a canal boat tour, and chatting over beers at Lilla Torg, a picture-perfect medieval square filled with outdoor cafes and bars.
Where to Eat in Malmo
And we eat. And eat.  And eat. One day it's on the waterfront at organic restaurant Salt & Brygga, located in Malmö's newest district of residential and commercial: Western Harbor.
For modern and local eats, we hit trendy Bastard where they update their menu daily depending on the availability of the freshest local and environmental friendly produce and meat.  We savor delicious dishes from a charcuterie platter to locally raised fish and meat.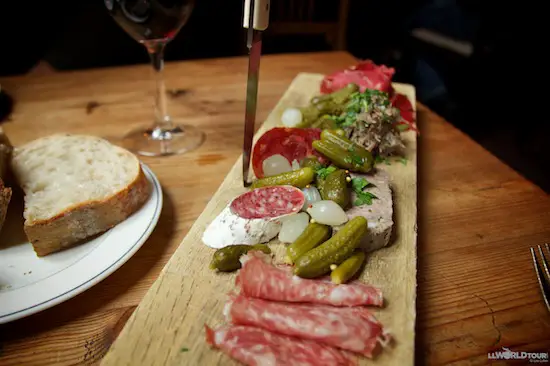 Another night we venture over to a hipster and multi-culti area of town to try  Belle Epoque.
And it seems we met the animal inhabitants of Malmö during our time here as well. 

Traveling with a Partner
I know I often wax poetic about the merits and joys of solo travel. But I have to admit, this was a great trip. Yes, beyond having someone to watch my bags when I pee, or drive while I navigate/look at the map, being able to share my love of travel with CP was pretty damn wonderful. More than that, it was great to see him enjoying it — the new people, the new foods, and the precious time we were able to spend together.
Looking forward to the next trip. In the meantime, I continue to go solo and am happy to be able to do both!
This is part three in a series of posts on my road trip in Sweden.
Don't miss the other posts:
Part  I:  Trip to Sweden with Volvo Overseas Delivery Program
Part  II: Fjällbacka & Weather Islands
Part IV: Video of West Sweden & Skåne