Why go to a drugstore or camera store that charges $12-20 when you can take your own free passport photos? I recently needed and new passport photo and some new visa photos for an upcoming trip to Tanzania. The last time I needed visa photos I was in Bangkok and I got at least 10 copies for under $5. With a tiny bit of research, I was able to find legitimate and super easy ways to take epassort photos myself.
Up to the challenge of taking your own passport photos? Trust me, this is all you need to do.
1. Take your own free passport photo
Use a White Background
All you need is a small, white wall or background and a camera. I have a white wall in my kitchen and just removed two framed prints that were hanging there. The light switch is there, but since the photo is so cropped, you can't see it. So don't think you need a huge background. If you just can't find a wall, simply tape some white paper to the wall or if you must, buy a white board (but I really don't want you to buy anything!).
Use a Tripod or Friend
Since I was alone, I simply set up my tripod and have a camera on which I can spin the viewfinder LCD screen around so I can see myself.  I was able to take several shots until I was sure I had a couple I could use. BUT, if you don't have this, all you need is a friend to take it for you. There are some guidelines you need to follow, but they are not as complicated as you think.
Follow These Photo Guidelines
The basics from the U.S. government site for passport and visa photos:
White background
Neutral 'look' (you can smile, as I always have, but it just can't be goofy or over exaggerated—basically just look natural).
Just head and shoulders (keep it simple…no glasses, jewelry or crazy hair)
2.  Crop and Save Digital Photo
Go to Travel.state.gov site to see the specific guidelines.
You will also find the "photo composition template." You can use this sizing to crop the photo yourself in any photo program on your computer.
Or you can use the "photo tool." You can upload your chosen shot and zoom your passport photo in or out to fit the "green" guide (see photo below) of where your head should be and then simply crop it there and save it. No measuring necessary!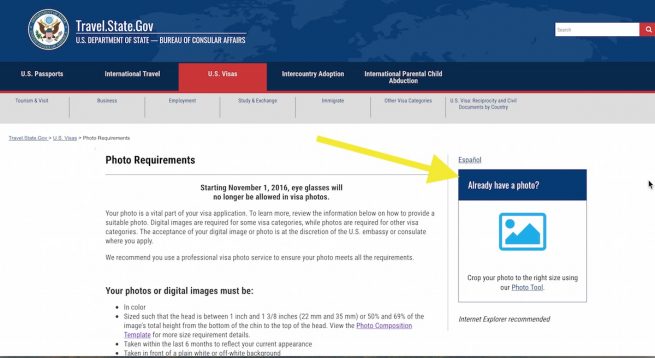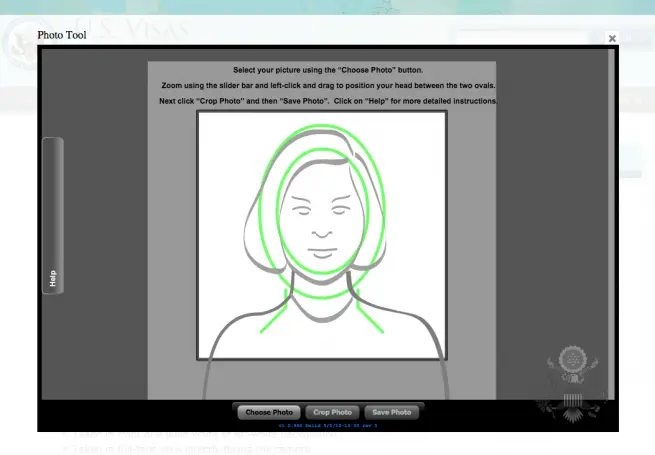 3. Upload the resized shot to epassportphoto.com
epassportphoto.com easily creates a photo sheet grid on a 4X6 print. For another option, you can also use Pixelied's online passport image tool to create 2×2 photos.
4. Print Your Passport Photo Grid
ePassportPhoto gives you 3 different printing options:
Mail it to you –  They print it and mail it to you. Starts at $7.99 for two photos or $11.99 for four. Shipping is "free" (read: included).
Pick up at your local drugstore the same day –  They work with Walmart, Walgreens, and CVS. Starts at the same $7.99 for two photos or $11.99 for four.
OR, my choice, and the best/cheapest option is to simply download the photo grid right to your computer for free and print it out yourself. In my case, since I got rid of my printer to simplify things, I easily saved it to a flash drive and walked over to my local CVS drugstore and printed it at their self-operating photo printing station for about 20 cents! Boom.
Voila! Four passport photos for less than 50 cents. And so much less than what you'd pay for the two you get at the drugstore.
I just used it and it worked great, plus I had a coupon at CVS so my photos cost me practically nil.
Good stuff.
What about you? Any passport/Visa photo tips and thoughts you can share? Leave a comment below!
Pin it!