Most that know me today probably think of me as a city girl and rightly so. I love living in the 'hoods of Chicago—very diverse and brimming with ethnic eateries of all kinds (if you also know me, you know it's all about the food!). But for the first eighteen years of my life, I grew up in a suburban bordering rural, wooded town in New Jersey. Yes, NJ has its rural woody side.  We lived on the edge of the woods, with tall leafy oaks and elms, where we would often go play and literally swing from the vines. There were no street lights on our hilly street and I would sometimes gaze up at the night sky full of twinkling stars while crickets chirped happily all around. The trees and stars are probably what I miss most about living away from a city.
Manhattan was only forty-five minutes to the east of our house, but we rarely went there. The times we did it was mostly to visit the grandparents.
My mom's parents lived in Brooklyn so we'd drive over the double-decker George Washington Bridge, pass what my brother, David, and I called the tower of "Dr. Shrinker," which was an ABC TV show in 1976, (the tower itself was actually the High Bridge Water Tower, built in 1872, for the Croton Aqueduct), and through the borough of Brooklyn to the neighborhood of Canarsie.
Or we'd be visiting my other Grandma, Esta, who then lived in ritzy Grammercy Park and now in, the 'it neighborhood of the moment,' Chelsea. We'd drive through the engineering marvel that is the Lincoln Tunnel where our radio would die out and David and I would shout out when we whizzed by the "New Jersey/New York" border line painted on the white tiled walls of the tunnel.
After eight thousand feet of riding under the Hudson River, we'd shoot out into the stinging daylight of New York City to be welcomed by the ubiquitous and grungy 'squeegee guys.' These 'working men' would just start cleaning your windshield whether you wanted it or not with a filthy rag (anything for a buck!), which would usually make the glass dirtier than it was when you arrived in the Big Apple just moments earlier. Like many things that have been 'cleaned up' in NYC, those squeegee guys are no longer there. At least the nuisance is gone, although, maybe now they've resorted to something more illegal, yet more profitable, like selling crack.
We would head straight to my grandmother's apartment building without passing 'Go' or ever stopping for some good New York pizza (the best!). So I really wasn't a city girl at all. And of course the New York City I saw of the 1980's is not the same city it is today. Even though I was only ten years old or so, it really was a scary place back then—graffiti everywhere, sirens wailing at all hours, and some of the worst crime in the world. But all that has really changed. Times Square, once a nasty home of drugs and 'triple-x' peep show houses, is now the center of entertainment and is a shiny mini-Disney World. Like many areas, the 80's were a rough time, in large part to the cheap drug, crack. And, like many cities now, downtowns and old warehouse districts are being rebuilt, refurbished and rehabbed.
It wasn't until I was in college and landed a few internships in New York City at WCBS-TV News and "Late Night with David Letterman," that I began to appreciate the 'city that never sleeps' for some its finer offerings. I discovered it had neighborhoods—virtual villages where people could feel part of a smaller community. And I started discovering some of the best food I'd ever had. Growing up, we rarely went out to eat except for the occasional Chinese take out (a favorite food of Jews everywhere), the rare pizza slice, or a grilled cheese and bacon sandwich at diners like "Bud's Family Restaurant" with my mom for our weekly 'Wednesday-night-divorce-court-approved-dinner.' So when I first tried penne with a tomato cream vodka sauce, or sun dried tomatoes, capers, and pesto or some amazing spice infused mashed potatoes from Union Square Café, I was amazed and delighted at the enormous food world that awaited me (and my stomach!). Even just something simple like fresh basil was new and so lovely to me. Of course, I had some great street food too—juicy gyros, falafel pitas with tzatziki sauce, and lest I forget, the best hot dogs, pepperoni pizza, and bagels known to man.
I continued my city love affair when I moved to Chicago six years later… and here more new foods revealed themselves to me—Japanese Sushi with fresh morsels of maguro, flavorful Indian rice biryani and samosas, Middle Eastern cous cous, and the amazing saganaki, spanakopita, and charcoal grilled octopus of Greektown.
Melbourne, Australia is also an epicurean's dreamland. It has the third largest Greek population after Athens and Thessaloniki, which are actually in Greece. Over half of the city dwellers here have a parent that was born somewhere else in the world. Waves of immigrants have brought major cultural influences from Europe, Asia, and the Middle East. The city sits on and around the banks of the Yarra River and is chock full of different ethnic neighborhoods. In one night in Melbourne you could dine on cuisine from any corner of the globe.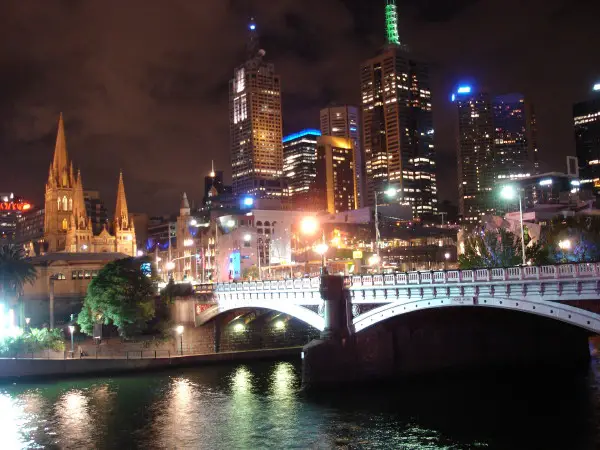 My first week here I had a cold Australian beer at an outdoor production of Shakespeare's A Midsummer Night's Dream in the Botanic Gardens, shopped the rows and rows of colorful stalls of fruits, cheeses, and knick-knacks at the huge Victoria Market and strolled through Fitzroy, the city's bohemian enclave and home to happening Brunswick Street where every other establishment is a café.
And, of course, I ate—Malaysian Penang Curry in ethnically diverse Fitzroy, rich Italian gnocchi on Lygon Street in Carlton, the thriving Little Italy neighborhood, sizzling Turkish lamb souvlaki, and Indonesian Nasi Goreng (fried rice) in St. Kilda. It's a good thing I was walking so much or I'd be as big as a house.
Melbourne already seemed to have a friendlier, down to earth vibe that was missing in Sydney and as a former suburbanite turned city gal–I knew I was going to like this lively, colorful, and tasty town.