One of the many things I like about Hong Kong is its organized chaos. You need some herbal remedies or new fish for your home aquarium? There are themed streets around town that provide one-stop shopping for many specific, and even odd, items.
On Hong Kong Island, I did a walking tour that brought me to a street lined with nothing but dried fish snacks. I know you are salivating now!
For those in the know, these are a very popular treat for most Asians. In fact, I'd done a story on a sweets & fish snacks place (yes, they go together) called Aji Ichiban in Chicago's Chinatown. Well, lo and behold I found the same chain store in one of the malls here.
On the island's Des Voeux street you can satisfy your hunger for dried mussels, flattened squid, oysters, scallops, abalone, sea slugs, fish bladders, starfish, shrimp, and many other kinds of seafood that have been dried and preserved.
Just one block over on Ko Shing Street is the strip known for Chinese herbal medicine. Anything that ails you can be fixed with some of these natural remedies and life preserving tonics. Based on the Asian concept of maintaining a healthy balance between the yin and yang forces in the body, the range of medicinal herbs is startling, including roots, twigs, bark, dried leaves, seeds, pods, flowers, grasses, insects (like discarded cicada shells), deer antlers, dried sea horses, dried fish bladders, snake gall bladders, and rhinoceros horns. The herbalist, after learning about your symptoms (most will not likely speak English) and checking your pulse, will prescribe an appropriate remedy, using perhaps a bit of bark here and a seed there, based on wisdom passed down over thousands of years. A typical prescription might include up to 20 ingredients, which are often boiled to produce a medicinal tea.
Many shops around here also specialize in ginseng and bird's nest, both valued for their aid in longevity, energy, and a fair complexion. The bird's nests are used in soups and are a classic Chinese specialty made from the nest of an Asian bird similar to the swift. These birds attach their nests to cavern walls in Southeast Asia by using their gelatinous spit. Mmmm.
Back on the peninsula of Kowloon, I discovered some more unique markets. First was the Yuen Po Street Bird garden set inside a tree lined courtyard. Hundreds of chirping and squawking birds (if one could translate, I would guess they are saying, "buy me, please buy me!) are crammed in cages here just waiting to be brought into someone's loving home… or to be set free.
The noise of birds all around me was deafening. I'd never seen (or heard) anything like this. Not only were birds for sale, but many bird owners, all men, come to the market toting their cage for a sort of social visit. They sat facing their bird in its cage perhaps trying to strengthen their bond.
The Chinese apparently have a soft spot for pet songbirds—and no where is this more apparent then here. These bird owners hang their cages up by the trees so their chirpy pets can kind of socialize and sing with their "free" bird brothers in the branches. Some set their cage facing other cages as if to see which bird their pet may have a connection with so they could buy a companion. It is either very sweet or quite torturous—I'm not quite sure which. But at least it seems the Chinese really care for their fine feathered friends.
Just around the corner from the sounds of the Bird Garden is the amazing smell of the Flower Market. Shop after open-fronted shop here sells orchids, roses, and other wonderfully aromatic flowers, at prices so inexpensive I wished I could take some home. Hong Kong is definitely a city that tickles all of the senses.
My next stop was the Goldfish Market, again, just a few blocks away. Lining Tung Choi Street are dozens of aquarium shops with bags o' fish just waiting to be put into a hopefully somewhat larger wet living space.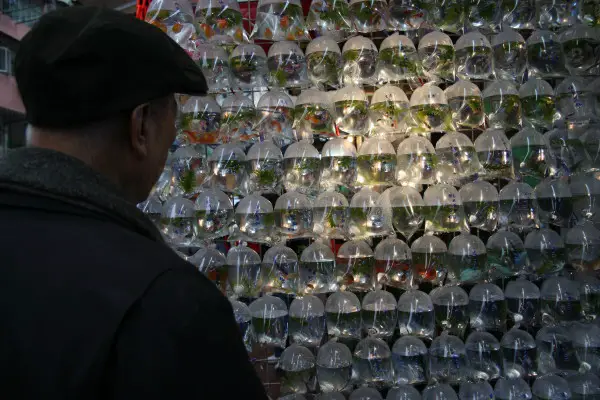 Just a five minute walk south brought me to what is known as the "Ladies Market." Stall after stall of watches, purses, accessories, and clothing from Chinese jackets to cheap T-shirts and even bras.
Lastly, I came upon the Temple Street night market. This market sells items similar to the Ladies Market and is open every night from 4pm to Midnight. Also did I mention the amazing prices at these markets? I bought a 'Kalvin Clein' watch for just three bucks! Who cares if it's a fake? For $3, I can buy a backup!