Australia is popularly known for its beautiful beaches, vibrant cities and plethora of exotic animals, but there's one area which is vitally important to enjoy any trip down under; the food! Whether you're taking a trip down the Great Ocean Road or heading to the famous cities of Sydney or Melbourne, there's no shortage of top Australian foods to try.
We've put together a list of the most popular foods that you should try during your trip to Australia. There's something for everyone–sweet and savory.
Vegemite
This malt based spread which is extremely salty is often compared to Marmite (popular in the UK). As the saying goes, you either love it or hate it! The unique flavor is a combination of malt extract from barley, vitamin B and vegetable extracts. Traditionally its used as a spread on toast or bread, but has even branched out into unusual foods such as chocolate and soups. It's often spread on top of butter. And the key is to spread it very thin!
Lamingtons
One of the top Australian foods to try, the traditional Lamingtons are square shaped pieces of sponge cake, with are evenly coated in chocolate and then covered in desiccated coconut.
The tale behind the famous Lamingtons are believed to have started with a maidservant of Lord Lamington, all the way back in 1901. Lord Lamington was the governor of Queensland, and when the maidservant dropped a piece of sponge into melted chocolate by accident, Lamington came up with the idea of covering the cake in coconut, so that it wouldn't go to waste.
Today, there are many different variations of Lamington, with fans of the treat branching out to try cream or jam fillings.
Meat Pies
The meat pie made its way to Sydney in the 1800's and has become a staple in the Australian diet. These traditional pies are small, roughly the size of a hand, and are stuffed with mincemeat and gravy, topped with a delicious, rich tomato sauce.
With 270 million pies consumed every year in Australia, they're the perfect snack for on the go, and can be enjoyed at any time of the day. More modern takes on the pie include vegan and vegetarian variations, making it suitable for everyone to enjoy.
If you are making your way along the Great Ocean Road, the meat pies at the Apollo Bay Bakery are world-renowned. People come from far and wide to try the scallop pie at this Apollo Bay restaurant.
Golden Gaytime
It's hard to resist ice cream, especially when you're sat on one of the many stunning beaches Australia has to offer like Apollo Bay in Victoria. Golden Gaytime is a much beloved cold treat, which features a vanilla and toffee ice-cream centre. The outer layer is chocolate and biscuit breadcrumbs, making it truly irresistible and the perfect snack to cool down with.
Sausage rolls
Sausage rolls are satisfying and comforting, no matter which country you try them in. A popular lunch time favourite in Australia, the simple sausage roll plays a staple in the food culture here. Made from sausage meat wrapped with a light, fluffy, puff pastry and tomato sauce, this quick bite to go will definitely keep you energized during your adventures on holiday.
Tim Tams
You simply can't go wrong with Tim Tams, made up of two layers of chocolate biscuit, with the middle being a chocolate filling (and then another layer of chocolate coating the entire biscuit) it's chocolate heaven!
Taste wise they are quite similar to the British biscuit 'Penguin', and they can certainly satisfy any chocolate craving. These chocolate snacks became popular due to the success of a horse in 1958, which won the Kentucky Derby. They're a highly successful treat, with the brand Arnott's selling over 30 million packs a year by the end of the century.
Snags
When it comes to sausages, every country has their own take on them. 'Snags' are very similar to an American hotdog, so all you need is sliced white bread, sausages and a sauce of your choice. They can be enjoyed anywhere and at any time, as they make the perfect appetizing treat.
Milo
Milo is perfect for summer or winter, as this malt powdered drink features a satisfying chocolate flavour. Heat it up during winter or enjoy it cold to refresh yourself in summer. Depending on how filling you want it to be, Milo can be mixed with water or milk, and as it contains 8 different vitamins, it's the perfect drink for kids and adults alike.
Kangaroo
Although kangaroos are one of the most iconic animals related to Australia, and are beloved by locals and tourists alike, the meat which comes from the marsupial is actually very healthy.
Commonly bought as sausages, minced meat or fillet steaks, kangaroo meat is very low in fat and high in iron, protein and omega-3, making it not only delicious but a healthy alternative to some other meats.
Pavlova
This meringue based dish is often served for special occasions and during the holidays, and usually comes topped with whipped cream and delicious fruit toppings.
A simple but timeless classic, the pavlova was originally named after the Russian ballerina Anna Pavlova, when she visited Australasia in 1920. Pavlova can be made at home or bought from a bakery, so make sure to give them a try during your trip to Australia.
ANZAC Biscuits
Anzac biscuits are made from flour, oats, golden syrup and desiccated coconut, forming a delicious, tasty treat. They're often eaten during commemorations of the Australian and New Zealand Army Corps (Anzac) which takes place on the 25th April. This is due to the myth that Anzac biscuits were sent to homesick soldiers during WW1. In reality, the biscuits were baked and sold at fundraising events in an attempt to raise money for the war effort.
Today they remain a popular biscuit choice in Australia, and as supermarkets stock them, they can be enjoyed all year round.
Chicken Parmigiana
A good, hearty meal, chicken parmigiana consists of a breaded chicken breast covered with tomato sauce and a layer of cheese, usually parmesan or mozzarella.
This dish is enjoyed worldwide, and has evolved from the Italian version which used eggplant instead of a chicken schnitzel. Australian's take a lot of enjoyment from the dish, and many pubs even hold a 'Parma Night' where the meal can be enjoyed with a nice cold beer to wash it down with.
Fairy Bread
Fairy Bread is a simple but delicious treat which is commonly served at children's birthday parties. It has been popular in Australia since the 1920's, and the tradition of eating on special occasions still runs strong.
It's easy to make at home, so you can even give this dish a try before and after your trip to Australia. All you need to do is cut white bread into triangles, cover with butter and rainbow sprinkles and viola, you have Fairy Bread!
"Avo" on Toast
Avocado on toast is probably one of the most satisfying dishes you can have for brunch, and is commonly found across Australia in cafes and restaurants. With smashed avocados, goat or feta cheese, pepper, olive oil and a poached egg, this healthy meal will certainly give you a boost of energy to carry you through the day.
With these 14 foods to try and countless more when you're travelling around Australia, you'll be surprised how much food will play a part in your trip. Whether you've got a sweet tooth, or a craving for something delicious and healthy, there's plenty of delicious foods to try and the many restaurants and eateries will make sure you get your fill!
Pin it for Later!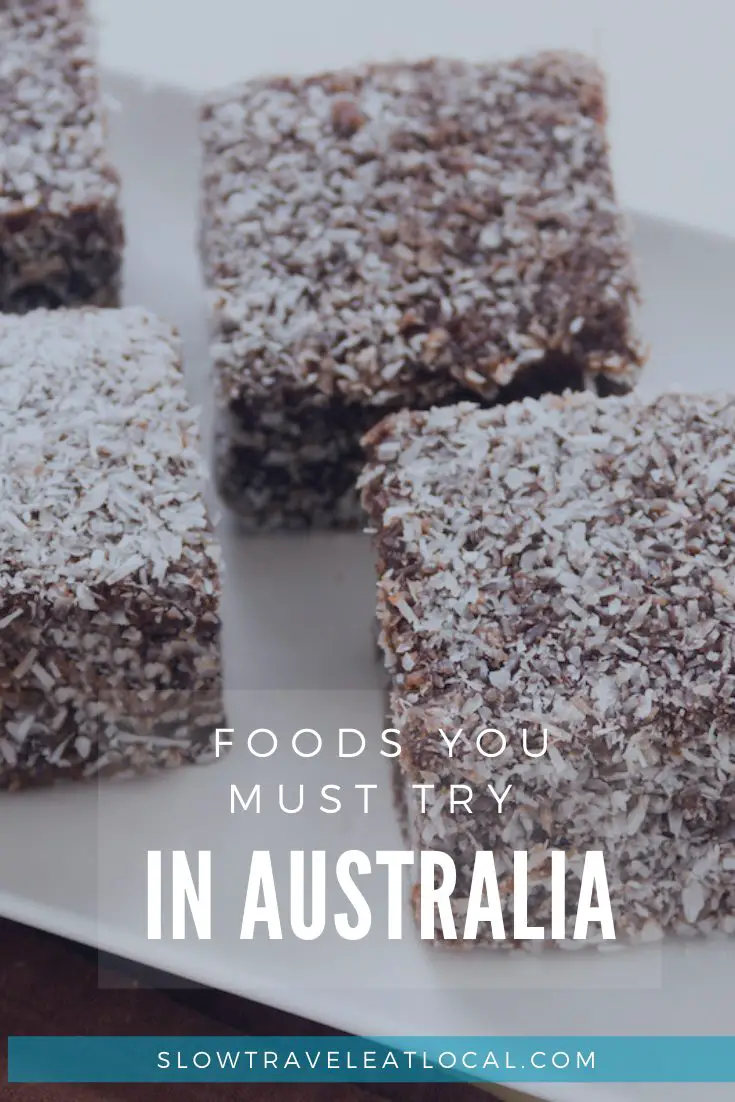 Author bio
Kiran writes for the Great Ocean Road Collective, a website dedicated to sharing the beauty of the Great Ocean Road in Australia. If you are planning your trip, need some inspiration or looking for authentic advice on Aussie travel visit their website The Great Ocean Road Australia.