[updated July 2019]
Check out the beautiful outdoor adventure tours in Puerto Vallarta – from Puerto Vallarta zip line to whale watching to repelling down waterfalls
The warm, humid air made the rubber shirt stick to my skin even more. I turned around and he basically just pushed me off the edge of the cliff. Not much warning. My feet were slipping on the wet rock and voices were shouting below me.
I was repelling down a sheer rock face next to a waterfall in the Sierra Madre mountain range near the western coast of Mexico.I mean I signed up for a Puerto Vallarta zip line tour, but not sure abou this!
Tours in Puerto Vallarta
A visit to Puerto Vallarta can be much more than lazing the day away on a sandy beach (although that is definitely enjoyable as well!). For all kinds of Puerto Vallarta adventures, the geography of this area on Mexico's Pacific coast can't be beat.
There are lots of tours in Puerto Vallarta. We took three different tours while here, which were organized through our tour provider, Funjet Vacations, by local company Island Sun Experience (who not only book your tours for you, but provide transportation to and from your hotel so you really don't have to worry about a thing!) and given by Vallarta Adventures.  Here's a bit about all three Puerto Vallarta tours…and lots of photos of course.
Whale Watching in Puerto Vallarta
This was a no brainer. I had to do this. I think I may have seen whales a long time ago in Cabo while on a TV show location shoot, but this was prime whale watching season and they guaranteed sightings.
We went on a three-hour whale-watching tour (a three hour tour) with our guide, Citlali at the helm contagiously sharing her passion about these amazing creatures and spotting some 'glassy' water where the whales might be just beneath the surface.
After a slow start, we were gifted the rest of the tour with sightings of at least sixteen humpback whales including three babies, jumping manta rays (apparently they jump and flip out of the water to try to dislodge barnacles from their skin with the impact of the water…and hopefully it's fun for them too), dolphins, a turtle and jumping fish.
It was truly incredible.  Getting to see a breaching (lunging) whale continues to remind me of all the beautiful animals with whom we share this planet.
The only thing that that I didn't like was my own doing – I am always trying to get you great photographs instead of sometimes just putting the camera down and watching with my own eyes.
Puerto Vallarta Zip line Adventures
At the last minute, CP convinced me to do a crazy outdoor adventure day of zip lining, repelling, and other wacky jungle adventures.
I'm so glad he did because it was a blast! At first I hesitated as I seem to be growing further away from that adventurous gal that went around the world just a few years ago and said 'yes' to nearly everything that came my way.
As I've been back home, I have seen how easily it can be to crawl back into that comfort zone and cocoon of not pushing myself. And sometimes that's okay too. But other times, I still need to push myself. I know I still like some adventures and this one was super fun…and cold!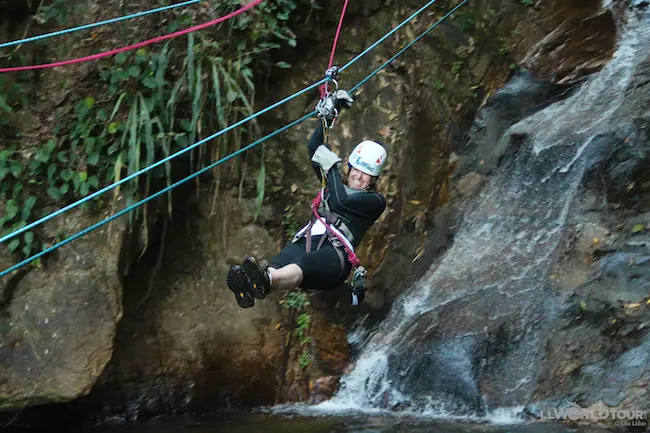 This exciting eco-tour has some of Mexico's highest and longest zip-lines, at almost 1,000 feet long and 250 feet high, and two thrilling water slides.
Check out some more  unique things to do in Puerto Vallarta.
Dolphin Swim in Puerto Vallarta
*UPDATE: In the spirit of full transparency, I regret doing this. It makes my hurt heart and makes me feel really bad that I did it. I only want to support rescue and rehabilitation or animal sanctuaries, not animal shows that are only for human entertainment. I did my research beforehand, but this wasn't a sanctuary. 
We signed up for the Dolphin Signature Swim. It was basically one hour in a large pool with a couple of  dolphins that we were able to touch, swim with and even kiss. My favorite part was just having them swim around us and pet them gently rather than make them do tricks and 'work' for treats.
I had some reservations about swimming with and promoting dolphins in captivity.  It was an amazing opportunity, but I regret it now.  I don't like any animals being held captive (i.e. zoos, circuses, etc.) for much other than rehabilitation.  On one hand I didn't have background on the origins of these dolphins and on the other hand, I had this unique possibility to interact with these intelligent creatures up close and personal.  According to their site:
The dolphins spend only a combined total of less than two hours each day voluntarily interacting with the public. The rest of the day is allocated to the dolphins' private time, valuable training time, as well as play and social interaction. Our dolphins have exhibited a particularly high level of good health. They are strong and robust swimmers, they eat heartily, they are all active participants in their social groups and the adults are reproducing successfully.  This shows us that the dolphins are happy. They have a safe and secure habitat home, they are able to express their different personalities and behaviors and they form social groups which contribute directly to their sense of security, development and contentment.
But of course this still doesn't tell me the whole story. I did write to Vallarta Adventures and asked about the origins of the dolphins. They sent me this:
The first dolphins that started the family of Dolphin Adventure in Vallarta and Cabo San Lucas, were dolphins that lived in the most populated Bays in Mexico. [Through] the years, there have been baby dolphins born here at our dolphin center. Also, dolphins that were injured, stranded or left behind, are cared for at our facilities by our amazing team of experts: vets, trainers, and rescue volunteers.

As a matter of fact, for more than a decade, Vallarta & Cabo Adventures have been instrumental in marine and animal rescue and rehabilitation throughout each Bay area. Our company has worked side by side with local government agencies, including the Navy, to rescue trapped and endangered whales and dolphins, manta rays, sea turtles and lost and stranded sea lions.
What do you think? Would you swim with dolphins?
Disclosure: During my time in Puerto Vallarta, I was a guest of Funjet Vacations. As always, all opinions are my own.