Patagonia is in the far southern region of South America. Here's how to visit Perito Moreno Glacier and Torres Del Paine.
Right now, I'm sitting on my final long distance bus in Chile heading south to Punta Arenas—one of the southern most towns in South America. This three-hour ride is nothing compared to what we've been through the last few days…
From Puerto Natales, Chile
Our Navimag boat arrived in Puerto Natales one day late due to the rescue mission I mentioned in my last post. This delay seemed to have some kind of trickle down effect that messed with all our plans for the next seven days. We couldn't head right to Torres Del Paine National Park as planned because all the buses had already left for the day. So we shuffled around the small lack-luster town for the day doing the normal travel tasks — finding a hostel, some food, and some internet.
The next day we boarded a bus tour headed for Torres Del Paine, the most visited park in Chile. Three hours later we were inside the park…
We were picked up at our hotel around 8am and didn't arrive at our hotel inside the park until about 4pm.
This hotel was the most expensive one of my entire trip and was by far, not the nicest. In fact, I'd say it was one of the worst.
On my cross country US trip, I'd stayed in a much cheaper lodge (surprising for the US) within the boundaries of Yellowstone National Park that was much nicer.
I'd stayed in cheap hostels that were also much nicer than this. One thing I'm learning about the hostel lifestyle is that most are clean, most offer private rooms, and the best part is most have services way better than most concierges. I mean sure, there are a few duds, but thanks to word of mouth, I had been pretty lucky so far.
Hostels can help arrange tours—almost always cheaper than any travel agency–they have free internet, they help you with transportation, bag storage, have kitchens, barbecues, and most cost less than $20 a night.
The Posado Serrano hotel was dusty, smoky, and WAY overpriced. But it would have to do.
Visiting Torres Del Paine Park
The park itself was beautiful. The jagged peaks of Torres Del Paine ('blue towers' in the original native language) rise up suddenly from the flat brown plains. The famous 'torres' of the park grace the covers of just about every Argentinean travel guide and calendar. But seeing them in person was quite spectacular—especially how they just seem to appear out of nowhere.
There are some popular several-day hikes here where you can camp and hike each day, but we were definitely not equipped for that. And after my previous mountain hike gone awry, I was kind of glad.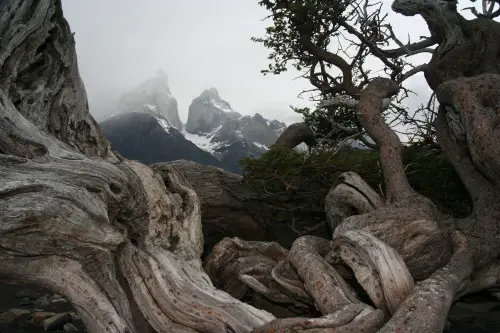 Lago Grey
At the end of our tour we stopped at Lago Grey and Grey Glacier. The 'beach' here was possibly the windiest spot (sorry Chicago!) I've ever been.
The Grey Glacier forms the west edge of the park. It is about five miles wide at its widest point and is part of the southern Patagonia Ice Field which covers about 500 square miles of land. This makes it the 3rd largest in the world after Antarctica and Greenland.
The Glacier was pretty far in the background, but the lake itself was filled with floating massive blue-tinged icebergs that had calved off the glacier and crept toward the beach. It was pretty cool in every way.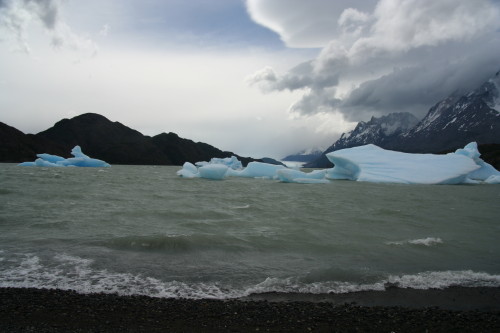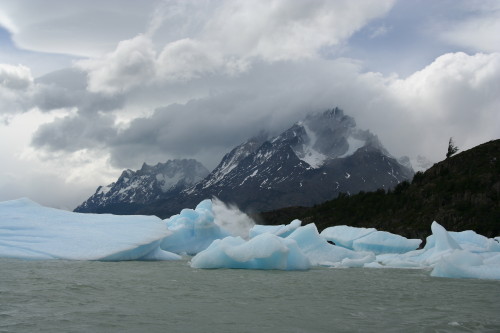 The Long Ride to El Calafate
The following day we decided to head over the Andes into El Calafate, Argentina. On the map, it was practically a hop, skip, and a jump away. Yeah, right.
Our bus picked us up around 1pm. We drove to the border town of Cerro Castillo where we were told we would need to change to an Argentinean bus that would leave at 5pm. We had an hour and a half to kill so we at lunch, browsed the racks of Patagonia souvenirs, and took the requisite bathroom breaks.
At a quarter to five, I moseyed over to the international police office just around the corner (it was a very small town) and was told (in Spanish) that the bus wouldn't come until 6pm or so and even then, we needed a reservation. Huh? I spent the next half hour making sure we could get on this bus.
Then I spent the following half hour getting a dude at the roadside stop to call a hostel from our Lonely Planet Guide, so we would have a bed to sleep in when we arrived in El Calafate, four L O N G bus-ride hours later.
If the roads were paved and the border patrol was faster, I'd say we would've made it there in less than two hours, but we spent a half hour at the border getting all the passengers passports stamped.
Then not one, not two, but three times, our bus actually broke down and wouldn't start. We were in the middle of nowhere. No, actually it was the dead center of the middle of nowhere.
The eerie shades of dusk (around 10pm—we are far south) were settling on the wide rolling plains and cattle ranches with the occasional cows or sheep as our only company (no sheep jokes please). Picture some kind of dry Arizona countryside where everyone speaks Spanish and all the roads are gravel.
The vistas were gorgeous, but it was late and we were tired.
The final breakdown consisted of the male passengers getting out of the bus and actually pushing it until the engine caught and it started up again. Cheers erupted and we were on our way down the final stretches of our journey.
We arrived in El Calfate around 10:15pm (9 hours after our departure in Torres Del Paine) to be pleasantly dropped off right at the steps of our hostel. But, of course, this was too good to be true. They had a sister hostel and we were actually booked there, so we'd been dropped in the wrong place. We lugged our bags back outside and about 4 long blocks away to our final resting place (at least for that evening).
Tour of Perito Moreno Glacier
The following day we had our tour of The Perito Moreno Glacier. It is often called the eighth wonder of the world by locals. And when we rounded the bend on the road approaching the glacier we could see why.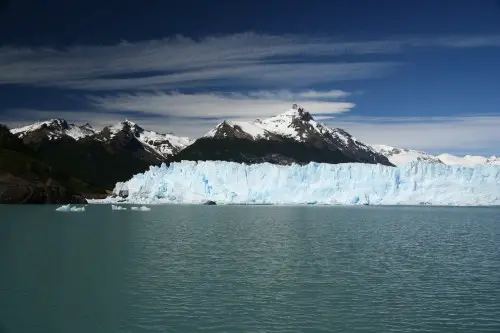 It was ominously huge and looked like nothing I'd ever seen before. The gigantic ice mass sweeps down from the Patagonian Ice Field and collides into Argentina's largest lake—Lago Argentino, where huge chunks of ice break off the face and crash into the water.
The craggy glacier is about 220 feet high. BUT that is just above the water. Scarily looming beneath the surface it reaches depths of almost 450 feet. It is actually just one of more than 300 glaciers coming off the ice field (like the one we'd seen in Torres Del Paine).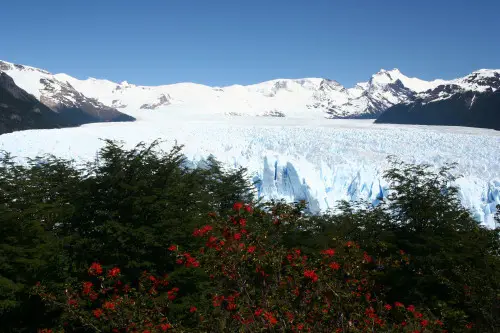 We took a boat that sailed right up to the face of it and then stared at it some more from boardwalks that led tourists around above the waters edge.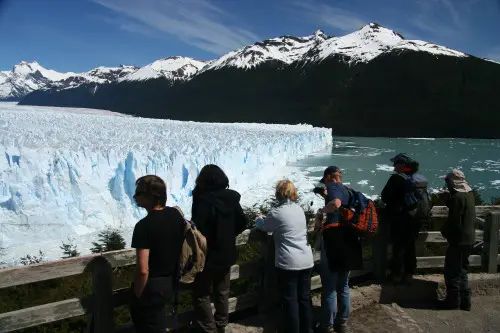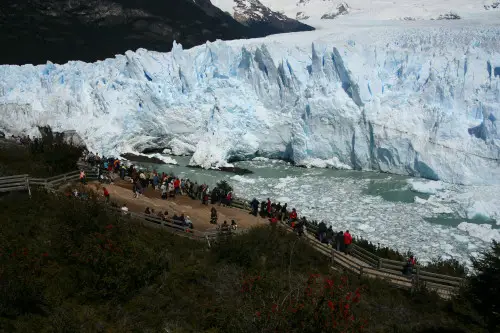 It was truly an amazing sight and I'm glad we came to see it, but we just felt rushed especially since the bus rides to and from Chile were becoming full travel days.
I really wished we'd had more time as I would love to have done one of the tours that hike on top of Perito Moreno.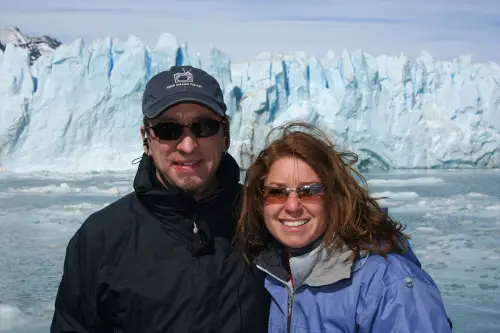 Return to Chile
So we thought the day of travel to get to El Calafate was bad. Two days later, we left town to return to Chile. We were told the bus left at 8:30am. At 8:15am we arrived at the city bus terminal only to be told that the two buses going back to Chile that day were completely full and the next one didn't leave until the next day.
This was not the news I wanted to hear, especially after I'd finally given in to this cold I'm fighting right now with fits of fever washing over me every now and again. Good times.
I lurched into my next all out negotiation. My Spanish was really improving thanks to all these small battles I had to fight.
"There has to be just two seats. We have to leave today." I urged.
"No, tenemos nada. Necesitas reservaciones dos días antes." Coldly stated the gal at the window. We needed to make a reservation two days ago. Great.
I asked another worker. I asked the bus drivers. I made a sad face. Nada. The bus was full. Lleno. Finally a glimmer of hope, one driver said "maybe."
"Por Favor," I begged, "Necesito ir a Punta Arenas hoy porque salgo este país y voy a Buenos Aires mañana." I told a little white lie, as I wasn't leaving the country for two days, but really wanted to get down there so at least we would have a day to relax before another grueling travel day on airplanes.
"Tenemos dos asientos pero, un es en este bus y un es en otro bus." They had single seats in each bus meaning we couldn't sit together for the trip, but ride in separate buses that would hopefully arrive at the same time.
Fine. We'll take it. We'll rendezvous at the border. But then another minute later, another change of plans: Now, there was only one seat and one of us could sit on the floor. Andy gentlemanly sat in the aisle as all my independent feminism flew out the window. I was sick! I couldn't sit on the floor!
We bought our tickets, full price—floor and seat I guess are the same price—and were off down the road. Only about a half hour later the asphalt turned to gravel and we crawled along at about 20 mph. It was slow going and bumpy—especially for the one lone floor passenger.
Finally, three hours later we reached the border. But this time we were in a totally full bus of nearly 50 passengers and everyone of them had to get there passport stamped and fill out a form. This fun task took about an hour.
Oh, but wait there's more. That was just to EXIT Argentina. After driving the 10 minutes or so through 'no man's land' we stopped at the entry check point for Chile and once again went through the whole rigmarole. The positives were we could grab some tasty empanadas for lunch and say hello to the shopkeeper who helped us book our hostel two days prior. We were old friends by now.
Finally, we were off again and reached the town of Puerto Natales where we would need to catch the bus to Punta Arenas. And now we are back where I started on the bus. We will arrive in town around 8pm. A nice day on the road for eleven hours. This is all a lesson well learned that I refuse to rush around from now on or spend less that three nights at any one location.
Now I need to get some sleep.