Updated: October 2021
Place your four fingers on the digital screen. Now your thumb…"
No, I was not being arrested and locked up in some foreign jail (but that would likely make for a far more interesting post), I was at Newark-Liberty International Airport (okay, like a jail to some) having my Global Entry interview.
What is Global Entry
Global Entry is a program offered by the U.S. Customs and Border Protection (CBP). It basically clears you as a "low-risk" traveler and enables you to go to a special automated kiosk at most airports when going through immigration upon returning to the U.S. In other words, while you still might have to wait for your luggage at the baggage carousel, you won't have to wait in line at immigration!
At airports, program members can proceed right to Global Entry kiosks, present their machine-readable passport or U.S. permanent resident card, place their fingerprints on the scanner for verification and complete a customs declaration. This means that you DO NOT have to fill out that card they give you on the plane as you will be answering the same questions at this machine. The kiosk issues the traveler a transaction receipt and directs the traveler to baggage claim and the exit.
What is TSA Pre-Check
Having Global Entry also qualifies you for something called TSA Pre-Check, which enables you to have a possibly more attractive benefit – the ability to cruise through security in a special lane where you do not have to remove your shoes, your jacket or take out your liquids or laptop. It's like a time machine basically transporting you back to 1999, when things were calm and easy for all at our airports. Security was a breeze. It's really nice. Especially the shoes part.
What is the Cost of Global Entry and TSA Pre-Check
Nowadays this comes at a price. $100 to be exact. This gets you in the program for five years before having to reapply again. Note that you can also just get TSA Pre-check by itself for $85, but for $15 more you can have Global Entry too, so it doesn't pay not too. It's only $20 a year and considering all the traveling and flying I do, I finally decided it was worth it. In fact, I really have no good answer as to why I hadn't signed up sooner except that it's been slowly evolving and improving.  It wasn't until I realized that it came with the TSA pre-check security perk (which I read about on a recent post over on MileNerd.com), that made me give it a second look.  Since I don't travel internationally as much as I was during my round the world trip and am always saving money where I can, initially I didn't think it was worth it.
But now that I have it.  I'm never going back.
Credit Card Perks
It is also very important to point out that many higher-end credit cards like some American Express, Capitol One Venture Card, and Chase Sapphire Preferred throw in Global Entry and TSA Pre-check as a perk, so it comes included with your regular credit card fee. In essence this credit back to you makes up for the annual fee!
The Old Days
It is kind of sad that nowadays travel has changed so much in that we have to pay extra to bring luggage, pay so many change fees, or pay extra to not take an hour in the security line. But on the flip side, travel is also more accessible than it's ever been with savings from budget airlines (I heart Southwest) and all the different flight sites like my favorites, Google flights and Kayak.
How to Get TSA Pre-Check & Global Entry
When it first started a few years ago, Pre-Check was harder to participate in. You had to go through your airline of choice and it was usually reserved for high-status, million-miler types. Then PreCheck also became open to those who belong to Global Entry. Global Entry costs $100 for five years and requires a background check, fingerprinting and a personal interview. It is now available in more than 75 airports.
It's a fairly simple process: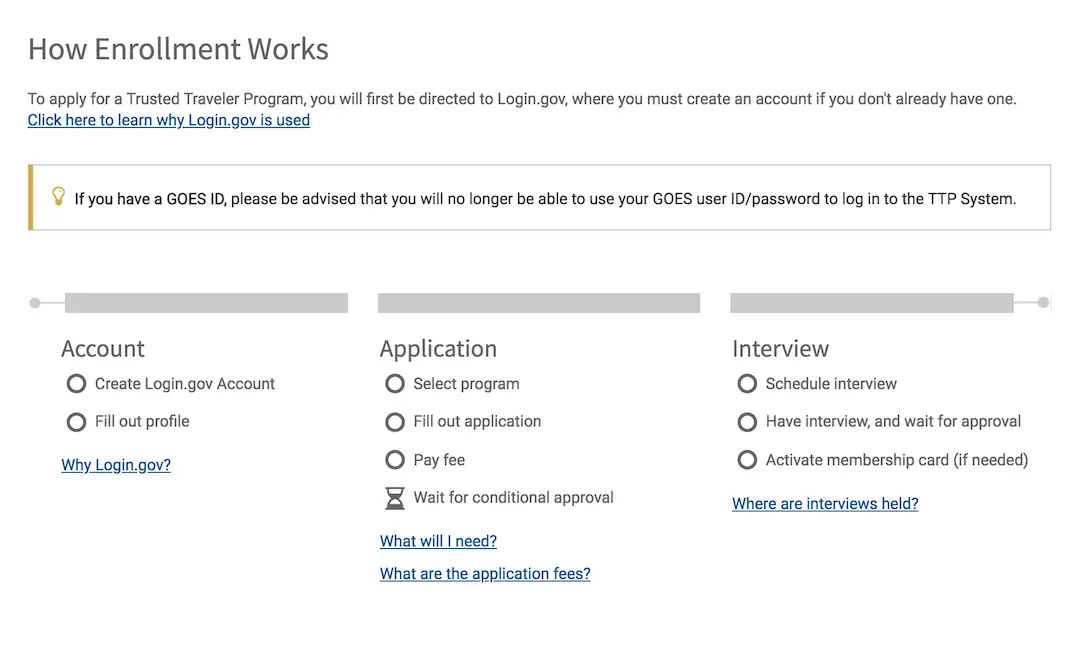 Go to the Trusted Traveler Programs site and apply and pay the fee. Next you will be notified that you have been approved or not and can schedule an "interview" date and time. I was approved in just a day or two.
Schedule your interview appointment. You have to go into an airport that has these offices (your local one or any one you'll be flying through). Some larger cities have 'field offices' downtown as well. Some airports are booked up more than others. I checked O'Hare for October, but nothing was available the day of my next flight so I tried my returning airport (Newark) and times were open. Voila! I made an appointment for about two weeks after I applied. I didn't want to make a special trip to the airport just for this, so try to go when you are flying anyway.
Have your interview. By the way, no interviewing really happens or at least it didn't for me. I was asked into the tiny, makeshift office at Newark International Airport with three other applicants. We all watched a video about how Global Entry works. The officer called me up to the desk to check my passport and license and digitally took my finger and thumb prints. They gave us little info booklets and sent us on our way. No red flags…so I guess I passed!
TSA Pre-check sign up. I was now officially ready for Global Entry, but there was one more step to make sure I got the pre-check. You have to go to the websites of the airlines you use and go into your account info and enter your new "traveler ID number" in the correct field.  Don't miss this step!
That's it. Now when you print your boarding pass for your next flight, the little TSA Pre-check logo should be printed on it.
Using TSA Pre-Check Benefits
My first experience was at the tiny Green Bay, Wisconsin airport which had literally started observing the program THAT very day. But their printers weren't equipped for that special logo, so technically they could not let me do it, even though it was coming up in the computer. Turns out if I used the mobile phone QR Code…that worked, so I was allowed to go through without taking off my shoes, but since they have a 'smaller' program, I still had to remove my laptop from my bag.
But a few days later, I was flying out of the shiny new Indianapolis Airport where TSA Pre-Check was in full effect: signs, logos, printing capabilities and everything! It was great.
I was able to get on a special line for VIPs like me (or saps that paid the $100 for this 'privilege').
I walked through and was able to keep my boots and jacket on and all I had to do was throw my suitcase and backpack on the belt and stroll on through…no need to take out anything. Done in sixty seconds. It felt good. Well, it felt like it always used to feel before security went off the rails after 9/11.
Re-Register for New Global Entry Site
If you had previously applied through the old Global Online Enrollment System (GOES) system, be aware that the Department of Homeland Security has changed the website to the Trusted Traveler Programs (TTP) System website. This website is now the place for managing Global Entry, NEXUS, SENTRI and The Free and Secure Trade (FAST) programs.
Every member has to re-register with the new website before being able to change any information, update their passport, renew membership, or apply for another program.
Renew Global Entry
Global entry expires every five years so you have to renew it. Previously, you had to return for another in-person interview, but now fortunately, they are offering online virtual interviews!
To be eligible for the remote interview, TTP members must:
Be conditionally approved for a TTP renewal;
Be at least 18 years of age;
Have a photo on file with CBP that was taken (1) within the past 10 years, and (2) after the applicant was 14 years of age;
Have previously submitted fingerprints to CBP.
Interviews take just a few minutes during which you have to verify your info, hold up your passport  to the camera and answer just a few more questions. Easy peasy!
Happy flying!
What do you think? Is it worth it?