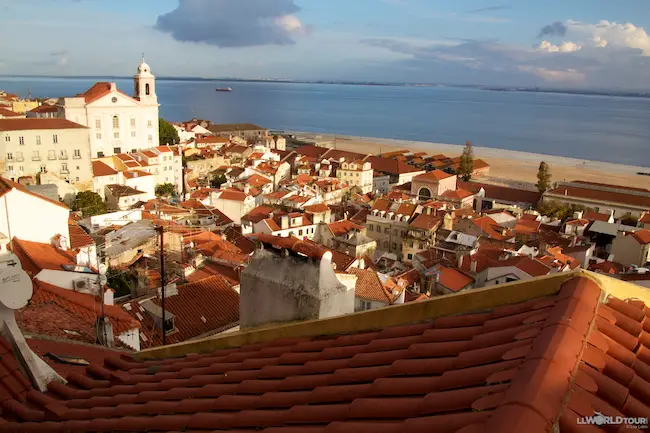 After countless visits to Europe, I finally made it to Portugal. It's not as if I didn't want to go before, but the more I travel, the slower I travel, and places I once planned to see get knocked down the list for a future visit. Portugal has always stayed high on my list though and now that I've been, it should be high on yours as well. Friendly people, great food, charming towns, and low prices are all reasons to get here and also to contribute your tourism dollars to a nation very affected by the world economic crisis.
Some facty-facts:
Population:  10.7 million, just a little more than the state of New Jersey. And twice as much as the much larger country of Norway
85% are Roman Catholic
Portugal is Continental Europe's Western most country
The economic crisis has caused a rate of 9.6% unemployment
Has some of the largest solar and wind power plants in the world and even opened an experimental wave power plant harnessing the ocean's power to create energy.
This place has seen its share of rulers:  Celts, Phoenicians, Romans, Christian Visigoths, Moors from North Africa, European Christian Crusaders, and so on.
In many ways Portugal, was ahead of its time.  They abolished slavery in the 1700s (long before the U.S. did) and in 1850 the death penalty was done away with…yes, something still carried out in more than 30 American states.
Of course, they've also had some very hard times.  In1755, Portugal suffered the biggest natural disaster in European history when a tremendous earthquake struck just outside Lisbon, killing tens of thousands of people.  The huge quake was followed by a tsunami and fire that destroyed nearly all of the city.
In more recent history, from the 1920s to the '70s, the Portuguese people suffered under the repressive authoritarian regime of António de Oliveira Salazar, who banned all other political parties.  His government and secret police repressed civil liberties and political freedoms in order to remain in control of Portugal until he died in 1970.
Today Portugal is one of the poorest countries in Europe and workers only earn about a third of their counterparts in the U.K.  And one-quarter of Portuguese households remain below the poverty level.  But despite all this, I felt an optimism and pride in the air.  The beauty and history here, coupled with the fact that it has a reputation as a tourist-bargain, has propelled Portugal into a major European destination.