If you are a fan of gastronomic tourism, then it is time to start planning your trip to Ukraine. Seriously, with hundreds of dishes to offer, this country is one of the best destinations in the world for food.
Many Ukrainian dishes are well known outside its borders, so chances are you've even tried some of them before knowing their origins.
There are literally hundreds of Ukrainian foods that you could try when visiting the country. However, for the first visit, I recommend you to try all the top 10 Ukrainian dishes I list below. Why? Because they are among the most favorite traditional meals that Ukrainians have at least once per week.
All Ukrainian cities offer these foods. So no matter where you are visiting in the country, there will be no difficulty in finding these foods.
First, let's talk quickly about the characteristics of traditional Ukrainian cuisine.
Characteristics of the Ukrainian Cuisine
Ukrainian food is delicious, satisfying and varied. Most of the dishes are made up of simple ingredients and prepared quickly and simply. You can be staying in the country for a year and still have a new dish every single meal.
Due to climate and fertile land, different types of grains and cereals grow well in Ukraine. Therefore, you can find a lot of dishes that have a cereal or flour base. Ukrainians also eat a lot of vegetables, meat and legumes so expect these in many dishes.
Meat, mainly pork, beef, and chicken is usually cooked with garlic, horseradish, and aromatic herbs, but not spicy seasonings. Overall, food in Ukraine is not spicy. So if you don't like your food too hot, you can be sure that none of the local food will give any trouble.
Top 10 dishes everyone must try when visiting Ukraine
1. Red Borsch (Beet Soup)
Borsch is one of the most popular dishes in Ukraine that every traveler should try. The base for this soup is the beetroot in meat (pork or beef) broth. Some people make it vegetarian but for the most part, borsch always has meat in it.
In different parts of Ukraine, people cook red borsch in different ways. In some areas, must-have ingredient besides beetroot and meat broth is beans. Other regions use prunes, mushrooms, or some use smoked meat and potatoes.
It is customary to sprinkle borsch with dill and eat it with sour cream, fresh onions, and pampushky – soft rolls with the crust smeared with sunflower oil and garlic.
2. Green Borsch
The previous dish many people know as red soup or red borsh, this one is green borsch because of the main ingredient sorrel leaves. Sorrel gives the soup a green color and delicate sour taste. Sometimes, additionally to sorrel, chefs add nettle or quinoa to make it more flavorful.
Other must-have ingredients are potatoes, meat, dill, parsley, onions and a boiled egg which comes as a topping. You can also have it with sour cream for a richer taste. Green borsch is common in diners and in a local chain restaurant Puzata Khata.
3. Varenyky (or Pierogi)
Varenyky is one of the most famous national dishes in Ukraine. If you've tried Polish pierogi then Ukrainian varenyky will remind you of them. However, in Ukraine, they are somewhat different. The dough is softer and the filling is very diverse.
You can find varenyky with meat, potatoes, cottage cheese, stewed cabbage, mushrooms, or spinach. Before serving, they are seasoned with fried onions or/and shkvarky – pieces of bacon fried to a crunch.
Also, the filling can be sweet and come with cottage cheese, cherries, blueberries or grated apples. The sweet version is usually served with sour cream or melted butter.
In addition, only in Ukraine, you can try "lazy dumplings." Those are pieces of curd dough cut into a crystal-shape or rolled into balls and cooked.
4. Fried Cheesecakes
Fried cheesecakes are definitely not what you might think. In Ukraine, fried cheesecakes are sweet cottage cheese pancakes, sometimes with raisins, served with jam, berries or honey, and sour cream.
The name of this dish comes from the word "cheese" but for Ukrainians, in particular, cottage cheese. The main components besides cottage cheese (preferably dry) are eggs and flour. They can be sweet or salty, with or without a filling. Many people add apples, dried fruit, nut, and even chocolate to the batter but classical cottage cheese pancakes are still the best.
This dish is one of the favorite breakfast foods in Ukraine as well as a mid-day snack.
5. Nalysnyky (Or Crepes)
Ukrainian crepes are very different from crepes you've tried anywhere else, but they are no less delicious.
Depending on the establishment, the dough for the crepes can be made only with water and flour or with egg and milk base. Crepes always come with fillings of different types and can be served hot or cold.
Since there are more than a dozen fillings, you can have this dish for any meal of the day. Fillings can be sour or sweet. Sour ones can be the same as for varenyky (Pierogi) that I mentioned above. Sweet fillings come with cottage cheese with raisins, apple sauce, and cinnamon or berry sauces.
Crepes in Ukraine usually look like rolls and they can be slightly fried on the pan with butter. One of the most expensive (and incredibly delicious) types of crepes is the one with caviar.
6. Chicken Kyiv
Another very popular Ukrainian food is chicken Kyiv. It's made from a chicken fillet with butter and herbs filling and fried or baked in egg and bread coating.
Even though the name of this dish mentions the capital of Ukraine, Kyiv, it's not the only city where you can find it. Chicken Kyiv is famous throughout Ukraine and many restaurants have it on the menu.
Crispy on the outside and incredibly juicy on the inside, it's impossible to resist and not to try this tender chicken. Some cooks, additionally to butter and herbs, add mushrooms, cheese, egg yolk or garlic.
Chicken Kyiv goes well with potatoes, porridges with thick gravy or only beer. Must try when in Ukraine in any city!
7. Deruny (Potato Pancakes)
Vegetarians in Ukraine will also have something to eat. Although anyone should try these delicious potato pancakes that include only potatoes, eggs, onions, salt, and pepper. They are popular throughout Ukraine and served with sour cream.
Classic potato pancakes are basically the ones with sour cream only. However, it is worth trying other types too. Order options with the toppings that include onion, bacon, garlic, cheese, or gravy of meat, chicken, and mushrooms.
Some cities like Kyiv, Odesa, Lviv have restaurants that serve only potato pancakes. There are 10 or more various types of them on the menu.
Ukraine is very proud of its potato pancakes. There is even a yearly festival in Korosten town in honor of this special pancake.
8. Golubci (Stuffed Cabbage Leaves)
Ukrainians are very fond of the dish of Middle Eastern and Eastern European cuisines. They liked this dish so much that changed a recipe a bit and invented their own one.
Ukrainian dish golubci is somewhat similar to the Turkish sarma (rice wrapped in grape leaves). But only in Ukraine, grape leaves were replaced by cabbage, and lamb by veal and pork.
There are a few different recipes for cabbage rolls, but they all are good. In some places, you may find only leaves filled with minced meat while in others, meat is mixed together with rice and carrots.
Cabbage rolls are usually served with the addition of tomato paste and sour cream. Many restaurants and diners have this item on the menu, so you won't miss it at all.
9. Beet Salad
Beet salad is one of the most known salads in Ukraine that you can find in pretty much any restaurant or cafe. You can order it as an appetizer or salad. It goes well with meat and potato dishes as well as buckwheat and grains.
The salad is very basic and usually is made with grated baked beets, oil, and a pinch of salt and pepper. Some cooks though also add prunes, walnuts or raisins.
10. Uzvar (Drink)
Uzvar is a drink prepared by brewing dried fruits (apples, cherries, pears, plums, raisins) and berries. The secret of this drink lay in the method of preparation. When making uzvar, you don't boil fruits but only bring them to a boil. But before boiling them, all fruits have to soak overnight.
Traditionally, years ago Uzvar was prepared on the eve of the church holidays of Epiphany and Christmas. However today, it is a more common drink which you can find almost in every restaurant or cafe.
PIN IT FOR LATER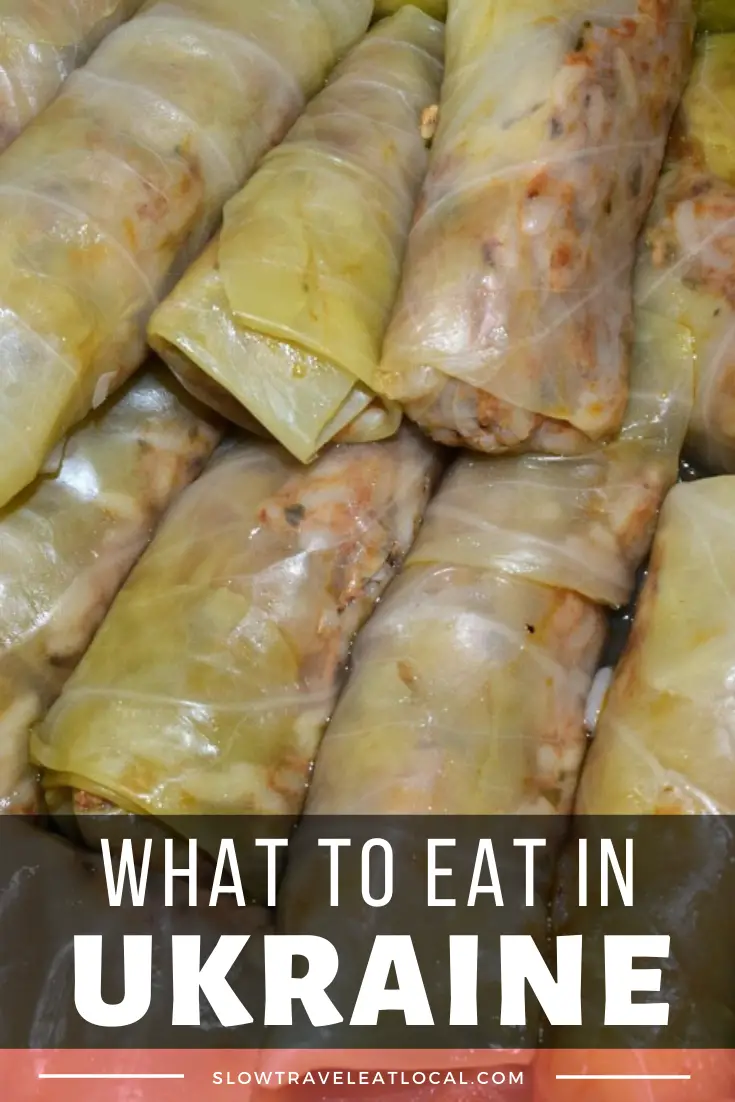 Author bio:
Anya loves writing about her home country Ukraine on her slow travel blog Road is Calling. She is a digital nomad whose goal is to inspire others to venture to off-the-radar places and become expats through finding jobs abroad or working online. (if it is possible, could you please give a second link through the phrase her home country Ukraine).