A version of this piece appeared in the Sunday Travel Section of the Chicago Tribune.
"This is not the city I grew up in," says Alyssa Starr Newerth, the Director of Advancement at Indy Reads, a locally owned bookshop. "So much has changed. People love this city so much now, you can feel it."
Visit Indianapolis
There is a movement under foot, a palpable energy here that Indianapolis is on the cusp of great change. The city is not what you might expect; it feels progressive and some might even say hip – from a larger-than-life Kurt Vonnegut mural overlooking his hometown to "PUPstops" (People for Urban Progress), which are salvaged and refurbished Bush Stadium Seats placed at city bus stops….so you can take a load off, Indy-style.
Indianapolis is More than Sports
Although it's well-known for sporting events (Indianapolis 500, Brickyard 400, the Colts, Pacers, etc.), Indy's becoming so much more. As summer begins, the city of around 835,000 has rolled out nearly $100 million in new cultural amenities.
"Indy is certainly known as a sports city, as we've hosted more than 500 international and national sporting events over the last 40 years," says Leonard Hoops, President & CEO of Visit Indy. "Yet, it's our arts and cultural offerings that are racing into the forefront."
What to Do in Indy
What's being considered as the "world's most important zoo exhibit," the $26 million International Orangutan Center, has just opened at the Indianapolis Zoo. Nine orangutans have been saved from the entertainment industry and are now calling this… home. There's nowhere else in the nation where visitors can get this up close and do things like play computer games with them or take a tram up forty feet to peer into their habitat.
The Children's Museum of Indianapolis, the largest of its kind in the world, has extremely innovative exhibits. Recently, it transformed into an immersive and authentic Chinese experience thanks to a groundbreaking exhibit, Terra Cotta Warriors: The Emperor's Painted Army. The exclusive experience featured real warriors and horses from the tomb of China's first emperor. It was the first time the Chinese government allowed this particular exhibit, with more than 100 artifacts, out of the country.
Now you can rent a bike and hop on the brand new eight-mile Cultural Trail, which connects all six of Indy's cultural districts and paved the way for more than four acres of new city landscaping and more than $2 million in public art without using any taxpayer dollars. The "Circle City" took a pretty bold step to create this trail by removing lanes once dedicated to downtown car traffic. Don't have a bike? No problem. Indy's new bikeshare program also just launched, with 250 bikes and 25 stations all over town and close to the trail making it easy to hop on and enjoy a ride.
While on the trail, head up Indy's 'coolest corridor', Mass Ave. Here you can pop into Indy Reads, the quintessential neighborhood used bookshop and non-profit with all proceeds going to an adult literacy program. For some eclectic finds, browse Silver in the City, an independent shop full of stylish knick-knacks and jewelry, or, as their signage says: "bric-a-brac, cool stuff, sundries, and owls." And there were owls. For a sweet treat, there's Best Chocolate in Town, where you can sample some goodies handmade on the premises.
Ride your bike over to Indy's canal, which just like Venice, has gondola rides Yes, that's right singing gondoliers — in Indianapolis. The refurbished Canal Walk serves the downtown area as a waterside promenade for walkers, runners, bikers and sightseers.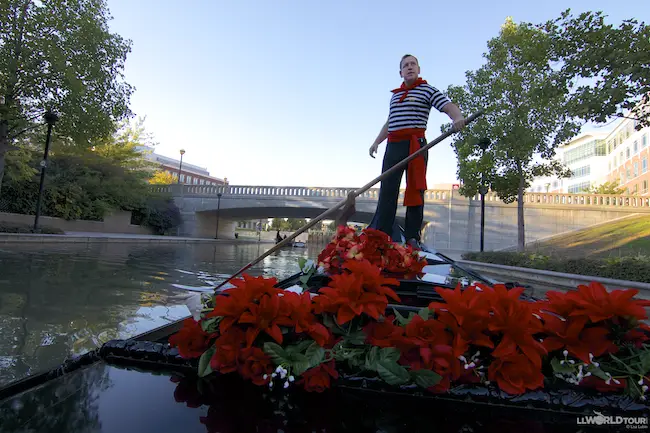 "I can honestly say there's no other place like this in the country," says J. Stewart Goodwin, the executive Director of the Indiana War Memorial and a retired US Air Force Brigadier General.
The imposing neoclassical memorial made of Indiana limestone stands tall right in the center of the city. It's not new, and frankly, it's not easy to miss, but somehow bypassed by many visitors. Take a moment to head inside and get a tour of the jaw-dropping Shrine Room which is made of materials from all over the world, including stately columns made from Vermont marble. Its lit by blue glass windows and tiny blue lights overhead mimicking the starry sky.
The Indiana War Memorial Plaza Historic District contains two museums, three parks, and 24 acres of monuments, statues, sculptures, and fountains in the heart of downtown, making it second only to Washington D.C. in acreage and number of monuments dedicated to veterans.
Also brand new, not just for Indy, but for the entire U.S., is the nation's largest all-electric car sharing program with eventually 500 electric vehicles and a couple hundred charging stations. This innovative program should be up and running by the end of the year. Then you can easily rent a car and drive up one of the city's most renowned boulevards, Meridian Street, gawking at the lovely, historic mansions, on your way to charming Broad Ripple, the hometown of David Letterman. Stop in for brunch at cute Petit Chou before heading over to the free Indianapolis Museum of Art. The nation's seventh largest art museum is home to the original, iconic Robert Indiana LOVE sculpture and an amazing "backyard" park called 100 Acres, which includes woodlands, artwork, and a 35-acre lake.
Where to Eat in Indy
With local ingredients coming right off the plentiful farms of Indiana to its largest city, there is a big farm to fork movement happening here. Over the last decade, the culinary landscape has changed dramatically. Gastropubs and restaurants like Recess, Black Market, and Bluebeard change their offerings regularly with the season serving up more local, sustainable fare.
"A decade ago, there were chef-driven restaurants, but not the movement of chefs and customers now," says Greg Hardesty, the chef/owner of Recess (now closed) which offered a nightly-changing four-course menu with dishes like the smoky Maine hake with sweet corn, bacon, in a scallion guajillo broth or even a Spanish delicacy: percebes or gooseneck barnacles.
"[They are] seventy-five dollars a pound. We're serving them [occasionally] for the joy of serving them," says Hardesty. "We are certainly not making any money on them."
Thunderbird, located in re-invigorated Fountain Square in the former home of a rockabilly nightclub, is making locals happy with a southern-inspired menu and killer cocktails. Also set to open this summer is "fine diner," Milktooth, from a former Recess chef, and chef-driven American cuisine at Union 50 back on Mass Ave.
Where to Drink in Indy
Named one of the best bars in the nation in 2013, Libertine is smack dab in the heart of downtown and way cooler than you'd expect. The dapper mixologists (think vests and fedoras) don't miss a beat with their craft cocktails and small plates.
One of Indy's first hotel bar destinations, Plat 99, opened just last year under a former Libertine bartender inside the Alexander Hotel. This art-filled, contemporary cocktail bar boasts floor to ceiling windows on all sides with views of Lucas Oil Field (home of the Colts) and views of expertly mixed drinks served under 99 colorful glass lanterns.
Where to Stay in Indy
The sleek, one-year-old Alexander Hotel's centerpiece is its bright lobby filled with modern art commissioned by the Indianapolis Museum of Art. Named for Indianapolis' architect and city planner during the early 1800s (Alexander Ralston), the state's first LEED-certified hotel turns a new page on the city's history, but actually now, fits right in with its boutique, artsy vibe.
To book a room click here. 
Check out my other Indy Posts:
Want to read more in the "My Midwest" series? Click through here.
Pin it!