There are some new buzzwords in the world of travel: 'Stay-cations,' 'Volunteer Vacations' and 'Voluntourism.' During my travels, I was fortunate to do all of these. Some of my most memorable moments were while volunteering. Check out an article I recently wrote for the Boston Globe on how to give back while on vacation.
Tired of lying on the beach with nothing to do, but get the sand out of your shorts? Sick of traipsing around a new city with a ripped map and waiting in lines for museums full of other sweaty tourists? Now more than ever travelers are looking for a new kind of vacation. Traveling with a purpose and volunteering during our vacations is becoming increasingly popular. With voluntourism, you can travel to beautiful regions of the world, meet and work with locals, and enjoy the camaraderie of fellow volunteers. And with today's economy forcing many to cut back on their vacations, these types of trips are typically a lot more affordable than your routine all-inclusive holiday at the 'all-you-can-eat' resorts of the Caribbean.
In our global village, we are becoming more and more committed to giving back when we travel; to contributing to communities rather than taking from them. By now, you've probably heard of 'voluntourism', but it's a new day and there are many more options out there for the traveler who may shy away from some hardcore volunteer experiences like risking life and limb with the Peace Corps, pounding nails with Habitat for Humanity, or the ubiquitous English teaching gigs.
Here are some more unique experiences that can not only save you money and give you an amazing adventure, but provide valuable manpower to local communities around the globe.
Crisis, London

'To give is better than to receive;' so why not really give back this holiday season? Travel to London, for a unique program called Crisis Open Christmas. During the weeks around Christmas and New Year's, more than 1,500 'homeless guests' are welcomed at eight different empty office buildings spread around London. The guests are not only provided with warmth, companionship, food, and a safe place to sleep, but also amazing services such as checkups from on-site doctors, professional advice, and other treats like an arts and crafts center, a computer lab, karaoke, live musical entertainment, and even a mini beauty salon for some pampering of massages and hair treatments. Volunteering here for a few days allows you to actually get to know some of the folks by name and give them the gift of friendship and human interaction, something they crave and often do without.
Crisis
66 Commercial Street
London, E1 6LT
UK
Tel: 011-44-844-251-0111
Email: volunteering@crisis.org.uk
Web: www.crisis.org.uk
Pueblo Ingles, Spain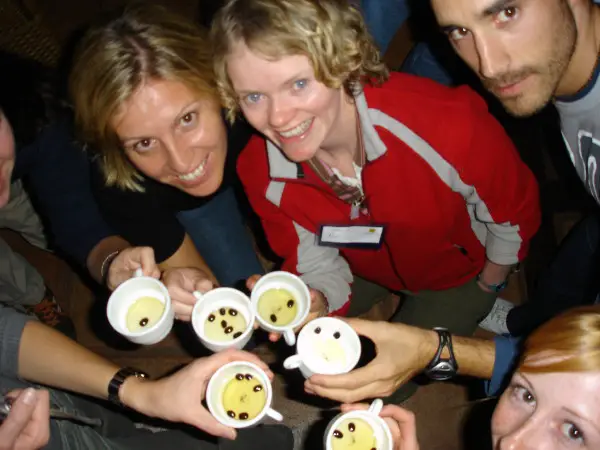 The most rewarding travel experiences always seem to involve interacting with locals and traveling on a more 'down to earth' level. Now, imagine a week in sunny Spain meeting local professionals with all your lodging and meals completely free. There is one catch-you have to speak English. Pueblo Ingles offers Americans a 'different kind of vacation' in Spain by bringing native English speakers from all over the world together with Spanish businessmen and women at a rural 4-star resort in a beautiful countryside setting for an intense week of speaking English, all around good times, and fun. It is basically like a 'camp for English,' but there is no teaching just talking… and lots of it. This is a very unique opportunity-not only for Spaniards to be immersed in the English language for a week, but also for English-speaking travelers to be immersed in the rich culture of Spanish life by really getting to know the people firsthand.
Pueblo Ingles
Rafael Calvo 18, 4A
Madrid 28010
Spain
Tel: 011-34-913- 913- 400
Email: anglos@puebloingles.com
Web: www.puebloingles.com
Best Friends, Utah:
For more than two decades, Best Friends Animal Society has been dedicated to the simple philosophy that kindness to animals builds a better world for all of us. This sanctuary at Angel Canyon, in southern Utah, is home on any given day to about 2,000 dogs, cats, and other animals, who come from shelters and rescue groups around the country for the special care they can only receive at Best Friends. Thirty-thousand folks visit the sanctuary every year to take tours and volunteer. Animal lovers can help with the work of feeding the animals, cleaning their living areas, grooming them, taking them for walks, and socializing with them. There are cabins to stay in on the property or motels nearby in the town of Kanab, Utah.
Best Friends Animal Society
5001 Angel Canyon Road
Kanab, Utah 84741-5000
Tel: (435) 644-2001 ext. 4119
Email: volunteers@bestfriends.org
Web: www.bestfriends.org
Volunteers for Israel
Put on your combat boots and volunteer for the Israeli Army. Meals and lodging are paid for during the week and then you are free on the weekends to explore this history-rich country. The majority of volunteers are assigned to work on army bases with tasks ranging from kitchen duties to simple mechanical repairs. Volunteers will work alongside or under the direction of soldiers and perform duties such as packing food rations or medical kits, changing spare parts, gardening, painting, or cleaning.
Volunteers for Israel
P.O. Box 67532
Chestnut Hill, MA O2467
Tel: 866-512-3255
Email: info@vfi-usa.org
Web: www.vfi-usa.org
Earthwatch Institute
Observe the lives of fur seals and contribute to the conservation of the Bering Sea. Help the world's fastest mammal in a race against extinction in Namibia's ranching heartland. These are just a few of the amazing volunteer opportunities available at the Earthwatch Institute. This international non-profit organization brings science to life for people concerned about the Earth's future. Founded in 1971, Earthwatch supports scientific field research by offering volunteers the opportunity to join research teams around the world. Today, Earthwatch recruits close to 4,000 volunteers every year to collect field data in the areas of rainforest ecology, wildlife conservation, marine science, archaeology, and more. Through this process, they educate, inspire, and involve a diverse array of people, who actively contribute to conserving our planet.
Earthwatch Institute
3 Clock Tower Place, Suite 100
PO Box 75
Maynard, MA 01754
Tel: 1-800-776-0188
Email:info@earthwatch.org
Web: www.earthwatch.org