I love bridges. How marvelous are these sexy, yet so functional spans that get folks from point A to point B in style? Growing up in New Jersey, I could be called "a bridge and tunnel girl", but for me it was because they were so jaw-dropping and fascinating.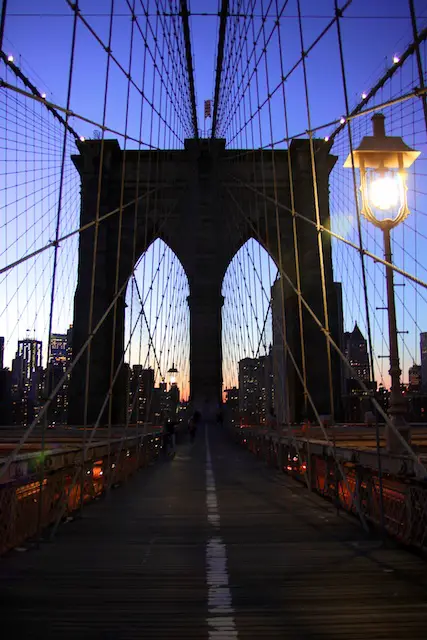 From the behemoth Verrazano Narrows (named for the Florentine explorer Giovanni da Verrazzano, whose name is misspelled on the bridge!) and classical Brooklyn Bridge to the iconic George Washington Bridge (the world's busiest motor vehicle bridge) and the curvy Bayonne bridge (the fifth longest steel arch bridge in the world), I marveled at them all! I have been so fortunate to travel the world and see other amazing bridges in person like the powerful Sydney Harbor Bridge, Calatrava's elegant Puente de la Mujer in Buenos Aires, and the Chain Bridge in Budapest.
Craig Hetue is one of the few Chicagoans whose day job includes hanging from the Chicago Skyway, a nearly eight-mile toll bridge that peaks at 125 feet tall.
As a vice president and certified bridge inspector for HNTB Corporation, Craig spent his early career scaling some of the Midwest's most renowned bridges to maintain their structural integrity. While he doesn't get out in the field – and up on the trusses – as much as he used to, Craig is still a bridge enthusiast who can rattle off how structures around the globe were designed and how they've impacted the visual appeal and community development in their respective locales.
If you're planning your own tour, here are Craig's picks on the most visually appealing, and structurally significant, bridges around the world.
Leonard P. Zakim Bunker Hill Memorial Bridge
Boston, Massachusetts, United States
The Leonard P. Zakim Bunker Hill Bridge is a vibrantly colored bridge located in the heart of Boston's bustling cityscape. The bridge spans the Charles River, which separates the city from Cambridge. It is adjacent to the Esplanade, a popular tree-lined jogging path flanked by riverfront seafood restaurants and attractions.
Why Craig Likes It: A Cable-stayed bridge is perfect to span the distance of the Charles River. Since this Bunker Hill was built, it has spurred development of similar bridges like the Talmadge Memorial Bridge in Savannah and Dames Point Bridge in Jacksonville.
Haohan IA
Hunan, China
Haohan Qiao made headlines for its transparent glass panes and 300-meter-long overpass overlooking Shiniuzhai National Park. Located in Hunan, China, a mountainous southern province, visitors can also visit Mao Zedong Memorial Museum and the revolutionary's original mud-brick childhood house.
Why Craig Likes It: Suspension bridges are typically made of steel rope, steel wire cables and chain links – it's so fascinating to me that this bridge was built with glass and steel, and is still able to handle hundreds of tourists.
The Tilikum Crossing
Portland, Oregon, United States
The Tilikum Crossing sits in Portland's Bridgetown neighborhood and connects the city's South Waterfront, home to an Oregon Health & Science University campus and the Portland Aerial Tram, with the lively Central Eastside, known for attractions like the Eastbank Esplanade and Oregon Museum of Science and Industry, as well as some of the city's premier dining and nightlife. 
Why Craig Likes It: This bridge brings a fresh perspective to Portland. Cable-stayed bridges are relatively new designs (they came into fashion after World War II when Germany had to rebuild its infrastructure) and Tilikum is fitted with LED lights that illuminate based on how fast, deep and cold the river is flowing.
The Helix Bridge
Marina Bay, Singapore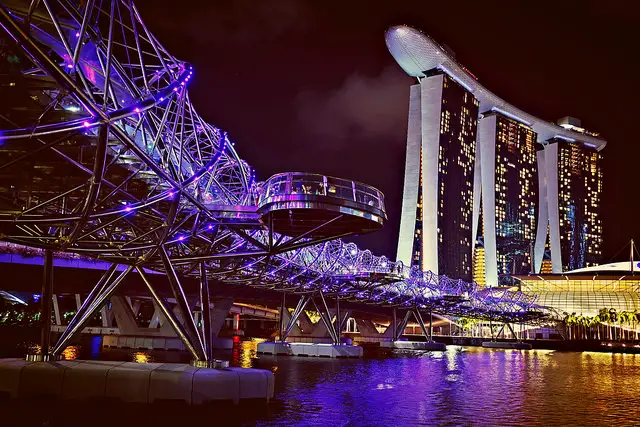 The Helix Bridge is located by the floating platform leading up to the world-famous Marina Bay Sands Resort, home of the Sands Skypark. It is flanked by attractions including Singapore's first art park and the Youth Olympic Park.
Why Craig Likes It: The contemporary Foot bridge is an architectural marvel. It strikes a unique balance between arches, columns and curves. Its customizable night lighting has made the bridge as recognizable as the resort's 57th-floor infinity pool. 
Sydney Harbour Bridge
Sydney, New South Wales
The Sydney Harbour Bridge is one of the most iconic Arch bridges in the world. For residents and tourists, there are countless ways to experience the landmark, including a bridge climb (I loved doing the BridgeClimb Sydney ) and a scenic flight, ferry or helicopter tour, followed by a cocktail at the Sydney Opera House.
Why Craig Likes It: An Arch bridge was a strong choice for this area – not only does it give it that unforgettable "coat hanger" look, but it's equipped to handle the high volumes of tourists that want to take in its beauty.
The Chicago Skyway
Chicago, Illinois, United States
The Chicago Skyway's construction symbolizes innovations in engineering and is a gateway to Craig's city, Chicago, which is near and dear to his heart. All westbound travelers use the Skyway en route to the Second City's main attractions – from Millennium Park to Wrigley Field.
Why Craig Likes It: The Skyway brings in a nice perspective to a flat state – it's a Truss bridge, which provides a picturesque view of the skyline (Chicagoans' favorite part of the city). I wish average travelers would be able to see my view from the top, but we'd have to change several state and local laws to make that possible.